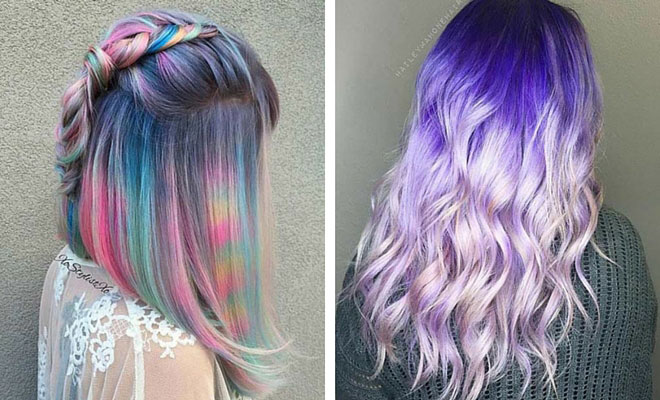 Instagram
Beauty
21 Pastel Hair Color Ideas for 2018
By
|
All the celebs have been rocking pastel hair of late and it's encouraged many of us to give the try a shot for ourselves. If you've been thinking of trying out these new and unique pastel hair color ideas for yourself but aren't sure where to start, how to go about it, and what colors to even pick in the first place, we've got all the info you need to know.
Check out the 21 pastel hair color ideas for 2018 you need to know about:
1. Pastel Rainbow Asymmetrical Lob
There are three things you should definitely do before you try and opt for a colourful blend such as this one. Firstly, get a good cut and work out the right style (taking into consideration the color design you want) with your hairstylist. Secondly, work out what shades will work better on your skin tone and thirdly, condition as much as you can.
Colourful hair won't be colourful for long if you don't take care of it. Bad condition hair will cause the shade to fade quicker. Plus it will look straggly rather than glossy.
2. Pastel Purple Hair & Silver Holographic  Highlights
If you really don't know what color to go for, this holographic looking design isn't a bad shout. It's all different shades of pastel pops – lilacs with blues, silvers and pinks.
For spring time hair, you can't beat pastel hair and with hair this good, everyone will be looking for all the right reasons.
3. Magenta to Pastel Pink Hair
If we're talking pink, we're not just talking candy floss pink just like Emma Stone recently rocked. Although who could forget that stunning powdery shade with that pretty pink lipstick?
If you want to rock pink yourself, you'll be happy to know that these lighter, pastel shades are easily achieved and there's plenty of brands out there offering these colorful delights. Have a look around online and you'll soon start to learn that some brands have a better rep than others. You'll always want to know with the best, healthiest and highest-quality hair dye in order to get the best results.
4. Mixing Vivids and Pastels
Who said you couldn't mix vivid hair colors with pastel beauties? We love this look, one that definitely combines the two but in such a way that it looks awesome and not too much.
Rainbow hair is very much on trend right now and with so many different colors to play with, why not just a few of them at once?
5. Dark Purple to Pastel Purple Hair
This look could almost be Elsa inspired and let's face it, we all loved Frozen. Braids are a great way of showing off the many colors and shades in your locks so learn how to get braiding!
Start with one big braid and add more as you go. Didn't you see Kim Kardashian-West recently? She's all about the braids!
6. Dark Blue to Pastel Sky Blue Ombre Hair
We've seen brighter blues with the likes of Little Mix's Jade Thirlwall rocking a really rich, dark and bright blue pop.
What about trying something a little pastel themed if this is your first time? Pastel colors are easier to wash out and fade than their brighter counterparts. Plus, pastel colors are beautiful. Enough said.
7. Pink and Purple Pastel Hair
When you've got a 'do this good, you want to keep it in tip top shape for as long as possible. You're going to want to avoid washing your hair as much as you normally would as this will cause the color to fade quicker.
Make sure you're taking care of your locks too with plenty of conditioning treatments designed for color treated hair.
8. Fairy Dust Hair
Sweet as sugar, this pastel pop of fairy dust hair is perfect for anyone wanting to make a real statement. If you've got long, glossy locks and want to show them off, this is most definitely the way to do it.
You have more length to play around with so why wouldn't you play around with it? Work different blends and shades together for a look that is completely different to anyone else's.
9. Holographic Hair (Dimensional Silver Violet)
Curly hair is perfect for showing off that perfect array of pastel pretties so grab your curling tongs and get whirling! The curls in this look help to reflect the light on those beautiful silvery, blue and violent tones. It's a breathtaking look and one that we're all coveting.
If you don't have curling tongs, you can use your straightening irons to achieve a similar effect. Rather than pulling them down, twist them and curl them or flick them out to play around with different looks. You can create so many cools from something designed to straighten!
10. Soft Pastel Perfection
Think My Little Pony and you've got about the right idea for these pastel hair looks. Once reserved for punks and rockers, brightly coloured hair has never been so in fashion so think of the craziest colour combo you can and then add a few more shades just to be sure.
Why not? You only live once.