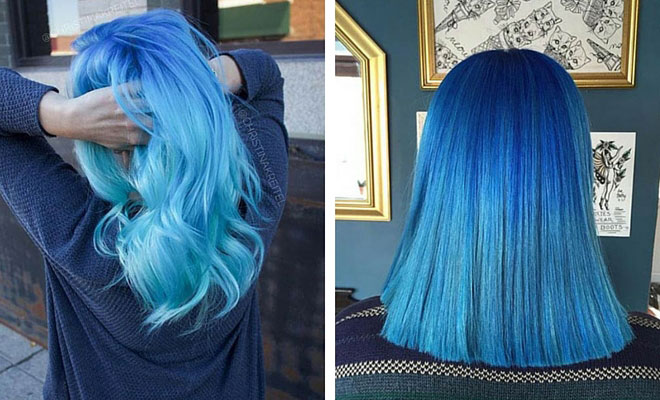 Instagram
Beauty
41 Bold and Beautiful Blue Ombre Hair Color Ideas
By
|
31. Platinum Blonde to Blue Ombre
Blonde and blue ombre looks amazing together. Don't just take our word for it, check out this next pick. The hair is platinum blonde with a mix of dark and light blue ombre. This is a bright and stunning look. You can recreate this look or try a warmer blonde instead of the platinum.
32. Black to Dark Blue Ombre Idea
Our next idea is another dark look. The hair starts black and then blends into dark blue tones. This is a stunning hair idea and is a great choice for the ladies who want to try ombre without being too bold. Hair like this will be easier to maintain too, as it will just grow out.
33. Bright Blonde and Vibrant Blue Ombre
Next, we have another blonde ombre idea. For this look, the hair is platinum and then the light blue ombre begins about midway. This is a gorgeous look and it will make a stylish statement. Blonde like this will suit any blue ombre, so you can go for a lighter or darker shade.
34. Bold Blue to Light Blue Ombre
Looking for a blue hairstyle that stands out from the rest? Then this hair idea could be perfect. This ombre starts off with dark blue and the hair just gets lighter in two different blue tones. We love this idea, it is super cool and trendy. Ombre like this is best suited to long hair.
35. Stylish Blue to Purple
Blue and purple is another gorgeous color combination. The hair is blue at the root and about midway the hair turns purple. This is such a stylish and bold ombre idea. You can recreate this look or try and switch them so have blue at the root and purple at the ends.
36. Platinum Blonde and Multi Tone Blues
Next, we have another multi tone look. For this idea, the hair is bright blonde and then midway the hair changes to two different blue shades. We love the multi tone look and it will make your ombre unique. You can recreate similar ombre to this or choose lighter or darker shades.
37. Bold Black to Teal Blue Ombre
Be bold with ombre like this! The hair is very long and is black at the root, then the hair changes into a dark blue shade. This is another color combination that is dark and subtler than some of the others, but it does make an impact. Ombre like this would look trendy on shorter hair too.
38. Vibrant Purple to Light Blue
Our next ombre look is another purple and blue combination. The root color is purple and then the hair blends into a bright blue ombre. We love this idea because it is a fun and unique take on the classic ombre style. Instead of having a natural looking root color, this hairstyle has a bold color. Pink would look amazing too.
39. Mermaid Ombre
This next pick was described as mermaid ombre. The look features a stylish grey tone at the root and then hair blends into a beautiful, vibrant blue. Silvery grey and blue compliment each other amazingly. This is an ombre idea that is perfect for the trendsetting ladies.
40. Blonde to Navy
It is not just bright blues that go with blonde, but darker shades too. Here we have beautiful blonde hair that has dark, navy ombre. As you can see, the navy looks stunning with the blonde hair. You can recreate this look or try a lighter blonde.
41. Black to Teal Ombre
Another amazing ombre color to try is teal. This hairstyle shows how to wear teal in style. The hair is black with a dark teal ombre. This is a subtle but statement making look. Hair like this is another idea for the ladies who want to try ombre without being too over the top. Teal will look amazing with blonde hair too.
***
What do you think? Are you brave enough to give any of these bold and beautiful blue ombre hair color ideas a try? We'd love to see if them if you do, and we'd also love to see you come up with a few newbies of your own!
Remember to tag us in your social media – #StayGlam and remember – Stay Glam ladies! 🙂