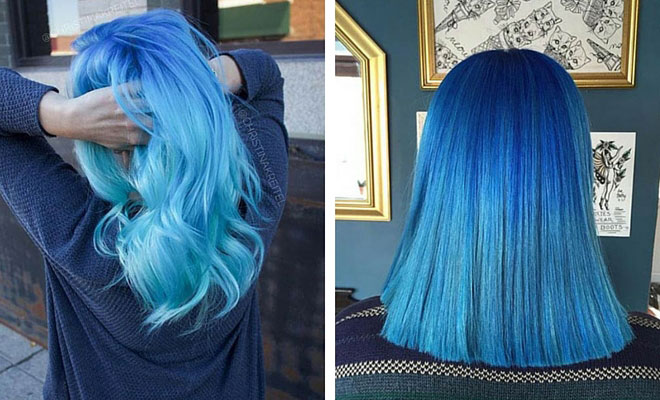 Instagram
Beauty
41 Bold and Beautiful Blue Ombre Hair Color Ideas
By
|
Blue hair – we love it and according to everywhere we look, so do you too! With everyone opting for bright and bold, beautiful hair these days, it makes sense to pay a little bit more attention to detail and just one of the ways you can do that is to take your look just that one step further.
We have sourced and located all the info you need to know – how to do it, how to make it last longer, and how to rock the latest styles. It's all the inspiration you need. So what are you waiting for? Here they are….
1. Purple Roots + Blue Ombre
The word 'ombre' is actually derived from an old French word to mean shading or coloring. When looking at ombre designs on the hair, it usually means a gradual change of color, usually starting darker at the roots and aiming lighter towards the ends. This look works with the darker purples on the top and working down to the lighter blues at the end. When this color range fades, it will simply turn into more pastel versions of itself which can look just as good as the initial finished result.
2. Dark Blue Roots to Sky Blue Hair
Sticking with the trend of dark to light, if you wanted one-shade hair rather than two shades (purple to blue), just use the same blue and dilute it down. A clever trick to get more looks from one color and to help you achieve this ombre look is to add more conditioner to dilute and pastel-down the color as you work from the top to the bottom. Just a little trick we learned along the way… 😉
3. Sleek Blue Ombre Lob
Before you start, make sure you have dirty hair. It sounds bizarre but dying your hair works better when its not freshly washed. For best results, you'll want one-day old hair. When you haven't washed your hair for a day or so, there are natural oils and grease present that can help protect it from the bleaching process coming up. With most color changes, there will be some lightening and bleaching involved and this can seriously mess up your hair. You should make sure your hair is already in good condition before you start the dying process and if it's not, whack on some conditioning and wait another week or so.
4. Dark Blue Ombre
Just because you have blue hair doesn't mean it needs to be the brightest of blues. Dark blue works just as well as can make a real impact if you have naturally light hair anyway. If you have dark hair, you can leave the roots relatively natural and just apply the ombre to the ends. We love the stark contrast between the jet black and the bright blue here and we can't wait to recreate it for ourselves!
5. Grayish Blue Ombre Hair
Blue works really well with silver or grey as you can see from this grayish-blue ombre hair look. Long hair pulls ombre shading off really well so why not make the most of the length and really play around with a good and clever graduation of coloring? You can't see the patches where these colors blend into one another and that's the kind of look you should aim for if you want it to look natural… Well, as natural as blue hair can!
6. Light Top, Dark Bottom
Ombre usually goes dark at the top to light at the bottom but this look throws things totally the other way around giving you another clever and very unique way to wear the look. Using a lighter color on the top and working your way to a darker color at the bottom turns things on its side but will require more maintenance than the other way around. The roots don't look so good when it's dark on light to dark again.
7. Subtle Blue Ombre
Don't want super-bold? Aim for super-subtle instead! This look is cleverly shades tones of blues and greens melted together with a natural brunette shade to create a look that has maximum impact but incorporating subtlety at the same time. Clever right?
8. Dark Blue to Pastel Blue Hair
Another one that follows the dark to light trend, this one really goes through the spectrum of blue to finish with as shimmering silver color right on the ends. We are seriously lusting after this look. Ombre hair hides a multitude of sins for a long time although this one has been so perfectly structured, we think it would be quite a high-maintenance blue ombre hair color idea.
9. Dreamy Ombre Blue Hair
Let your natural curl flow free with this dreamy ombre blue hair look and you'll be glad you did. Ombre + curly hair covers a multitude of sins. The curls help if you've let your roots go a little longer than you should have done. Just add volume at the roots and start the curl closer to the root and the grow-out won't be as noticeable. You'll need great conditioned hair to glossy locks like this. Make sure you're using plenty of conditioner and go with a leave-in one with added proteins for best results.
10. Dusty Denim Hair
We cannot love this look enough times. We can't stop looking at it either. This dusty denim hair is perfect for anyone looking for winter-ready hair but you must be warned – it's hard work getting there. Silver hair has a tendency to go lilac if you're not careful but the blue helps to counteract that, especially if you start with an ashy base. The darker roots really help to add depth to this hair, another classic example of short blue hair done right.
11. Blonde to Blue Hair
Would you like stand-out hair? This is the right way to do it – two bold and bright, contrasting colors! Blue and blonde work so well together and although this look is more of a dip-dye than an ombre, it definitely deserves a place on this list. You can achieve this look yourself relatively easily if you want only the ends to be the bright shade. Braid your hair in two sections, piggy tails if you like. The section that has been left free at the bottom of the pony should be dyed and the rest left blonde. When you wash it out, even things up a little with a quick second helping if you need to (although generally, the scruffy look is in), curl the ends to show things off a little.
12. Perfect Mermaid Hair
Doesn't this make you mad for mermaids? This mermaid-blue hair is perfect. Just perfect. We'll just give you a moment to appreciate it… Multi-toned strands of blue are perfect if you want a three-dimensional look to your hair, and it's a perfect way of making thin hair come across thicker too, especially if you had a few longer layers towards the bottom. The shading of the dark to light also helps to add depth-perception too. It's just perfect mermaid hair. Definitely a photo to take to the stylist.
13. Blue Ombre Tips
If you've got beautiful long locks like this beauty, rock it and make sure you make the most of it with a blue ombre look so beautiful, we can't believe it's real. Of course, if you haven't got beautiful long locks like this beauty, you could always just fake it with cleverly installed hair extensions of varying shades and tones. This is probably a look you'll want to see a stylist for. It'll be hard work to make something this stunning with at-home extensions you bought online.
14. Natural Roots + Dark to Light Blue Ombre
A look this beautifully-blended needs to be done by hand so throw your foils away and prepared to get up close and personal. The simple blending isn't good for foils which can give harsh, straight lines. Hand-work is necessary for this kind of simplicity which allows you the option of more free and easy lines. You can expect to pay a little more for this kind of balayage-ombre style work because it's more time consuming for a stylist but when done properly, is a look you're bound to fall in love with.
15. Blue, Lilac, and Beautiful
Blue and lilac are two shades of hair that go hand in hand together especially if you want to create a frosty or magical look. Think unicorn hair and you have about the right idea. You could even throw pinks and darker purples into the mix for a more enhanced finish. Start with a bottle of blue and a bottle of purple. Use blue on the roots and as you travel down to the ends, mix more and more purple into the mix do that at the very ends of the hair, you're left with the beautiful lilac-silvery finish. If you want more of a pastel shade than a bright and popping shade, mix a bit of conditioner into the mix for at-home color jobs. It helps to add that dusty, pastel finish.
16. Bright Blue Ombre
With a look like this, you're going to need to cut before you color. This is definitely the case if you want that 'un-finished' perfected look you can only achieve with balayage. Once the hair has been cut and then styled into shape, it's time to add the color by hand to perfectly work with the natural curves and lines of your hair. This kind of look is meant to enhance what you already have. It's the most natural way of working with color you'll find which is what makes it perfect for beginners. One little tip I've found particularly useful… When mixing shades, mix a tiny bit together right at the end of your full color-job for at-home dying, and with gloved hands, run your fingers tips through your hair to lightly scatter various shades of color throughout. Be subtle at first and see how you go but you'll be surprised at what beautiful creations you can make when you get a little messy.
17. Blue Pastel Ombre
Bold doesn't need to be bold and brashy, you can opt for more dusty, pastel, baby-blues rather than bright electric shades. There are many shades of many colors in this look, all done in the balayage, free-hand style. You can see silvers and grey, lilac and purples, bright blues and baby blues. When melted together like you can see here, you can cover a lot of spectrums to give a deep look that can look perfectly with long hair.
18. Teal Blue to Dark Blue Hair
You have all the colors of the ocean in this beautiful blue ombre hair style so we think we should rename it 'ocean hair'. What do you think? There are a hundred and one ways you can play around with the differing shades of blue to create so many different looks, and probably even more than that too. This look is more greeny-blue than bright blue but with the odd bright stripe scattered around, gives a brand new look to your hair without adding much more in the form of bright and bolshy colors.
19. Blue Ombre Box Braids
When you have box braids, you can play around a lot more with color than you could with your own natural hair. So what's the point in not making the most of that? These blue ombre box braids are a great example of how you can play around more with your hair, and how easy it could be to completely switch-up your look for the better. Mix it up with different shades or just go for something simple to start with. You can't fall in love with it until you have given it a try… 😉
20. Vibrant Dark Blue to Sky Blue Ombre
The one thing you should remember about at-home hair dyes is that the color on the box will only come out on your hair if it is VIRGIN hair. This means hair that is not damaged, treated or already dyed… Which is like none of us, right?  You will rarely get exactly the same look from a boxed hair dye that's on the box and you should always be prepared for things to go a little wrong. One tip I like to use is to always have two boxes of a darkish brown hair dye to cover up anything that might have gone dramatically wrong. I've used my emergency brown boxes a couple of times when I've not had time to sort my hair boo-boo's before I needed to go to work and couldn't get away with calling in sick! Trust me – you'll thank us for that tip if you start coloring at home and experimenting with bright and playful colors.
21. Teal Blue & Dark Blue Look
To add both consistency and shine, use a glossy shade, one shade lighter than the one you're dying your hair in, to add to odd strands and ends of the hair. This helps to reflect light and can bring a brand new dimension to the hair. You know how matte looks one way and glossy looks another? Well, you can achieve a similar effect with your hair with the right finishing product.
22. Electric Blue Ombre Hair
Make a statement with this electric blue ombre! The hair starts very dark at the top and then changes to a bright and bold blue. This is an amazing hair idea that is perfect for the ladies who want to dramatically change their hair. We love this look!
23. Black to Blue Ombre Bob
Next, we have a trendy hair idea to share with you. For this look, the hair begins black and then blends into a bright blue. Everything about this hairstyle is gorgeous, from the cool blue ombre to the stylish short cut. You can try ombre like this on any hair length if short hair is not for you.
24. Jewel Ombre Hair
Our next idea features a bold jewel ombre. The hair is a teal tone then blends into dark purple. We love this look because it is so stylish, the colors are stunning and it reminds of mermaids. This is must-have ombre style for someone who wants mermazing hair!
25. Black to Navy Ombre Lob
Looking for a subtler ombre idea? Then this next pick is for you. Here we have a toned down ombre hairstyle. The hair is black and then turns into a dark navy shade. Even thought the color change is subtle, and both shades are dark, you can still see the blue. It is a stylish look that would be perfect for someone trying ombre for the first time.
26. Blonde to Blue Ombre Hair
This next idea is one of our favorites! The hair starts off with a vibrant purple root color and then changes to blonde. Then the blue and grey ombre starts on the blonde hair. We just love the color combination. It is a great ombre look for the ladies that want to stand out from the crowd and try a unique ombre style.
27. Purple to Blue to Teal Ombre Hair
Want a hairstyle that will wow? Then check out this next ombre idea. Here we have bold blue hair that changes into a turquoise color. These colors look amazing together and remind us of tropical waters. So, brighten up your look with hair like this. You can check out the colors used on the page below.
28. Blue Lagoon Hair
Our next ombre idea is amazing. The Blue Lagoon ombre is a blend of royal and electric blue. It is a stunning look that will make a bold statement. The two blue tones just compliment each other perfectly. Hair like this will require upkeep and maintenance, but as you can see, it is totally worth it.
29. Black to Navy Blue To Light Blue Hair
Next, we have a beautiful navy look. The hair starts off black then blends to navy blue and then light blue towards the tips. This is a gorgeous blue ombre and it will look amazing on everyone. Ombre like this would be amazing on blonde hair too.
30. Oceanic Ombre Hair
The Oceanic ombre is bold and beautiful! For this look, the hair starts off dark blue and then blends into a gorgeous lighter blue shade. This is another ombre idea that reminds us of mermaids and oceans. The colors are amazing and are perfect for someone who wants their ombre to stand out from all the rest.
31. Platinum Blonde to Blue Ombre
Blonde and blue ombre looks amazing together. Don't just take our word for it, check out this next pick. The hair is platinum blonde with a mix of dark and light blue ombre. This is a bright and stunning look. You can recreate this look or try a warmer blonde instead of the platinum.
32. Black to Dark Blue Ombre Idea
Our next idea is another dark look. The hair starts black and then blends into dark blue tones. This is a stunning hair idea and is a great choice for the ladies who want to try ombre without being too bold. Hair like this will be easier to maintain too, as it will just grow out.
33. Bright Blonde and Vibrant Blue Ombre
Next, we have another blonde ombre idea. For this look, the hair is platinum and then the light blue ombre begins about midway. This is a gorgeous look and it will make a stylish statement. Blonde like this will suit any blue ombre, so you can go for a lighter or darker shade.
34. Bold Blue to Light Blue Ombre
Looking for a blue hairstyle that stands out from the rest? Then this hair idea could be perfect. This ombre starts off with dark blue and the hair just gets lighter in two different blue tones. We love this idea, it is super cool and trendy. Ombre like this is best suited to long hair.
35. Stylish Blue to Purple
Blue and purple is another gorgeous color combination. The hair is blue at the root and about midway the hair turns purple. This is such a stylish and bold ombre idea. You can recreate this look or try and switch them so have blue at the root and purple at the ends.
36. Platinum Blonde and Multi Tone Blues
Next, we have another multi tone look. For this idea, the hair is bright blonde and then midway the hair changes to two different blue shades. We love the multi tone look and it will make your ombre unique. You can recreate similar ombre to this or choose lighter or darker shades.
37. Bold Black to Teal Blue Ombre
Be bold with ombre like this! The hair is very long and is black at the root, then the hair changes into a dark blue shade. This is another color combination that is dark and subtler than some of the others, but it does make an impact. Ombre like this would look trendy on shorter hair too.
38. Vibrant Purple to Light Blue
Our next ombre look is another purple and blue combination. The root color is purple and then the hair blends into a bright blue ombre. We love this idea because it is a fun and unique take on the classic ombre style. Instead of having a natural looking root color, this hairstyle has a bold color. Pink would look amazing too.
39. Mermaid Ombre
This next pick was described as mermaid ombre. The look features a stylish grey tone at the root and then hair blends into a beautiful, vibrant blue. Silvery grey and blue compliment each other amazingly. This is an ombre idea that is perfect for the trendsetting ladies.
40. Blonde to Navy
It is not just bright blues that go with blonde, but darker shades too. Here we have beautiful blonde hair that has dark, navy ombre. As you can see, the navy looks stunning with the blonde hair. You can recreate this look or try a lighter blonde.
41. Black to Teal Ombre
Another amazing ombre color to try is teal. This hairstyle shows how to wear teal in style. The hair is black with a dark teal ombre. This is a subtle but statement making look. Hair like this is another idea for the ladies who want to try ombre without being too over the top. Teal will look amazing with blonde hair too.
***
What do you think? Are you brave enough to give any of these bold and beautiful blue ombre hair color ideas a try? We'd love to see if them if you do, and we'd also love to see you come up with a few newbies of your own!
Remember to tag us in your social media – #StayGlam and remember – Stay Glam ladies! 🙂