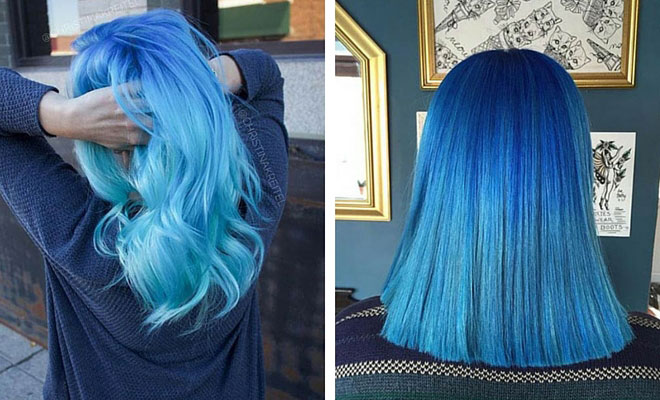 Instagram
Beauty
41 Bold and Beautiful Blue Ombre Hair Color Ideas
By
|
11. Blonde to Blue Hair
Would you like stand-out hair? This is the right way to do it – two bold and bright, contrasting colors! Blue and blonde work so well together and although this look is more of a dip-dye than an ombre, it definitely deserves a place on this list. You can achieve this look yourself relatively easily if you want only the ends to be the bright shade. Braid your hair in two sections, piggy tails if you like. The section that has been left free at the bottom of the pony should be dyed and the rest left blonde. When you wash it out, even things up a little with a quick second helping if you need to (although generally, the scruffy look is in), curl the ends to show things off a little.
12. Perfect Mermaid Hair
Doesn't this make you mad for mermaids? This mermaid-blue hair is perfect. Just perfect. We'll just give you a moment to appreciate it… Multi-toned strands of blue are perfect if you want a three-dimensional look to your hair, and it's a perfect way of making thin hair come across thicker too, especially if you had a few longer layers towards the bottom. The shading of the dark to light also helps to add depth-perception too. It's just perfect mermaid hair. Definitely a photo to take to the stylist.
13. Blue Ombre Tips
If you've got beautiful long locks like this beauty, rock it and make sure you make the most of it with a blue ombre look so beautiful, we can't believe it's real. Of course, if you haven't got beautiful long locks like this beauty, you could always just fake it with cleverly installed hair extensions of varying shades and tones. This is probably a look you'll want to see a stylist for. It'll be hard work to make something this stunning with at-home extensions you bought online.
14. Natural Roots + Dark to Light Blue Ombre
A look this beautifully-blended needs to be done by hand so throw your foils away and prepared to get up close and personal. The simple blending isn't good for foils which can give harsh, straight lines. Hand-work is necessary for this kind of simplicity which allows you the option of more free and easy lines. You can expect to pay a little more for this kind of balayage-ombre style work because it's more time consuming for a stylist but when done properly, is a look you're bound to fall in love with.
15. Blue, Lilac, and Beautiful
Blue and lilac are two shades of hair that go hand in hand together especially if you want to create a frosty or magical look. Think unicorn hair and you have about the right idea. You could even throw pinks and darker purples into the mix for a more enhanced finish. Start with a bottle of blue and a bottle of purple. Use blue on the roots and as you travel down to the ends, mix more and more purple into the mix do that at the very ends of the hair, you're left with the beautiful lilac-silvery finish. If you want more of a pastel shade than a bright and popping shade, mix a bit of conditioner into the mix for at-home color jobs. It helps to add that dusty, pastel finish.
16. Bright Blue Ombre
With a look like this, you're going to need to cut before you color. This is definitely the case if you want that 'un-finished' perfected look you can only achieve with balayage. Once the hair has been cut and then styled into shape, it's time to add the color by hand to perfectly work with the natural curves and lines of your hair. This kind of look is meant to enhance what you already have. It's the most natural way of working with color you'll find which is what makes it perfect for beginners. One little tip I've found particularly useful… When mixing shades, mix a tiny bit together right at the end of your full color-job for at-home dying, and with gloved hands, run your fingers tips through your hair to lightly scatter various shades of color throughout. Be subtle at first and see how you go but you'll be surprised at what beautiful creations you can make when you get a little messy.
17. Blue Pastel Ombre
Bold doesn't need to be bold and brashy, you can opt for more dusty, pastel, baby-blues rather than bright electric shades. There are many shades of many colors in this look, all done in the balayage, free-hand style. You can see silvers and grey, lilac and purples, bright blues and baby blues. When melted together like you can see here, you can cover a lot of spectrums to give a deep look that can look perfectly with long hair.
18. Teal Blue to Dark Blue Hair
You have all the colors of the ocean in this beautiful blue ombre hair style so we think we should rename it 'ocean hair'. What do you think? There are a hundred and one ways you can play around with the differing shades of blue to create so many different looks, and probably even more than that too. This look is more greeny-blue than bright blue but with the odd bright stripe scattered around, gives a brand new look to your hair without adding much more in the form of bright and bolshy colors.
19. Blue Ombre Box Braids
When you have box braids, you can play around a lot more with color than you could with your own natural hair. So what's the point in not making the most of that? These blue ombre box braids are a great example of how you can play around more with your hair, and how easy it could be to completely switch-up your look for the better. Mix it up with different shades or just go for something simple to start with. You can't fall in love with it until you have given it a try… 😉
20. Vibrant Dark Blue to Sky Blue Ombre
The one thing you should remember about at-home hair dyes is that the color on the box will only come out on your hair if it is VIRGIN hair. This means hair that is not damaged, treated or already dyed… Which is like none of us, right?  You will rarely get exactly the same look from a boxed hair dye that's on the box and you should always be prepared for things to go a little wrong. One tip I like to use is to always have two boxes of a darkish brown hair dye to cover up anything that might have gone dramatically wrong. I've used my emergency brown boxes a couple of times when I've not had time to sort my hair boo-boo's before I needed to go to work and couldn't get away with calling in sick! Trust me – you'll thank us for that tip if you start coloring at home and experimenting with bright and playful colors.