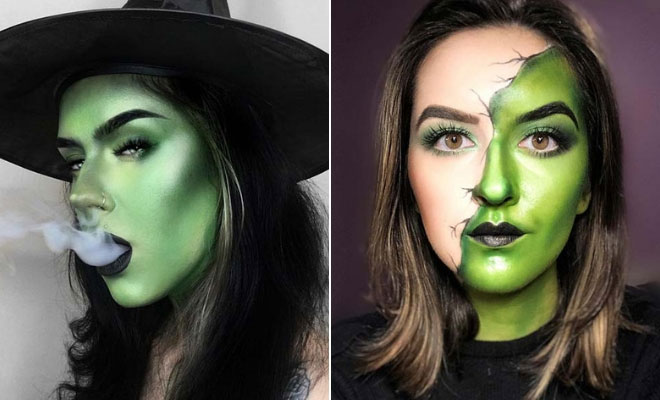 Instagram
Lifestyle
43 Best Witch Makeup Ideas for Halloween
By
|
11. Magical Illusion Makeup
Next, we have another illusion idea that looks like it was created by magic! The makeup artist has created green hag makeup. This design is more complicated than the straight half designs but as you can see, it looks so cool! Makeup like this will take practice and patience but it will look amazing. You can see what products were used to create the witchy makeup on the page below.
12. Magical Queen
Look like a Queen with makeup like this! Here we have a witchy idea that features scary black eye makeup and nude and black lips. The look is complete with a regal black crown. This is a simple and spooky look. You can recreate this or add more detail, creepy contacts would look cool too. You can wear any crown but try to choose something dark and unique like this.
13. Mystical Makeup Idea
Earlier in the post we shared mystical witch makeup that used symbols. If you loved that idea, then you may like this one too. This makeup artist has chosen to create dark and smokey eyes with a blue and white design. The lips are matching with the same look too. She has finished off the makeup with the magical symbols. This is a cool, unique and creative version of the idea and it will make you stand out from the crowd.
14. Green and Elegant Witch Makeup
The next witchy makeup look has an elegant vibe. The artist has used a beautiful green color for her face and the look is complete with glam eyes, dark lips and a moon on her forehead. We love this makeup idea because it looks kind of vintage and so pretty. This will be quite simple to recreate too!
15. Magical Witch Makeup with Stars and the Moon
This next look is so mystical. Here we have another half design. One half of her face features smokey eyes and a moon design while the other half is black with a star design. We love the moon and stars idea because it captures the magic of witches. You can recreate this or make it even scarier by adding other features such as contact lenses. There is a full list of the products used to create this look on the page below.
16. Spooky Witch Makeup
Next, we have a simple and spooky look to show you. The makeup artist has created black and smokey eyes with grey lips. She also has contact lenses and a little blood too. Makeup like this is easy to create and is perfect for a party. You could keep it like this or add a moon to make it look even more witchy. This is another brilliant last minute idea.
17. Simple Wicked Witch Makeup and Costume
Love the green wicked witch makeup ideas? If so, check this out. Here we have simple witch makeup. She has painted her face and body green and she has glam eyes and black lips. The look is finished off with a witch hat and pretty choker. This is perfect for anyone who wants a simple, spooky and cute costume for Halloween.
18. Purple and Orange Witch Makeup Idea
Looking for makeup that is fun, bright and creative? If so, this could be for you. The makeup includes an orange triangle design on one eye with orange makeup and bats on the other. This look is finished off with black lip color and a witches hat. You can recreate this or you can try the same design on both eyes. Either way, it will look spooktacular!
19. Beautiful Green Witch Makeup
Maybe the classic wicked witch with a long and warty nose is not for you? If so, this idea is perfect. Here we have green witch makeup but even though she has the wicked witch vibe, she is also very beautiful too. She has glam eyes and bright red lips. This is another makeup look that gives you the best of both worlds, magical and pretty too.
20. Dark Witch Makeup with Scary Contact Lenses
The next makeup idea is dark and quite scary. Her eyes are black and smokey and she is also wearing contact lenses too. The witchy look is finished off with black lips and a little blood. This is a creepy makeup look and it will be awesome for a party. You will definitely give people a fright in the dark.