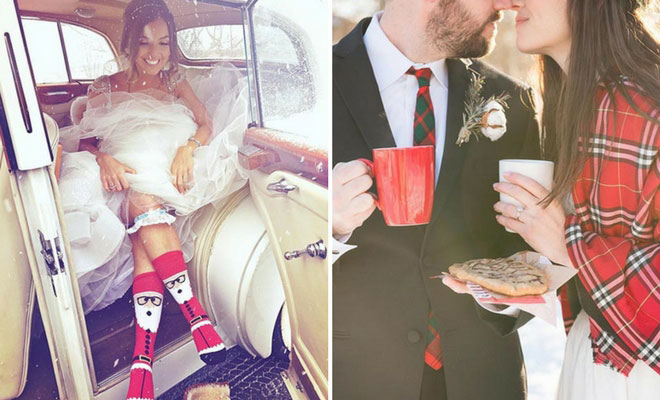 Instagram
Lifestyle
23 Unique Ideas for a Winter Wedding
By
|
Let's face it, when you're getting married you want your wedding to be bigger and better than any wedding that anyone has ever seen before. You want a dress that only you will wear, with shoes that only you will wear, and with unique ideas that really makes your big day stand out. What's the point in being the centre of attention if you're only going to fake into the background?
If you're looking for unique ideas for a winter wedding, you've come to the right place. We've found some absolutely amazing ideas for your big day, and we cannot wait to share them with you.
1. Cozy Couple Photo
Winter weddings just scream that cozy and warm atmosphere, so we feel that the cozy couple photo is a must-have. If your wedding photographer hasn't already bounced this idea your way, it might be wise to bring it to his or her attention.
It doesn't take much – a cozy blanket, a nice cup of tea … everything you'd want for a nice and warm wedding day. We can't think of anything we'd like more after a busy day of celebrating our love than a nice cup of hot, steaming tea!
2. Hot Chocolate Bar
While we're on the subjects of hot drinks, if you're planning a winter wedding you need to come up with a way to keep your guests warm. This is even more so the case when you've opted for a snowy and super-cold backdrop.
A hot chocolate bar is a great idea, not only because your guests can have their drinks exactly the way they want it, but also to keep them warm. Plus, who doesn't really appreciate a wonderful cup of cocoa at the end of a long day? Unique ideas for a winter wedding done the right way, if you ask us.
3. Winter Berries Bouquet
Winter might seem drab and dreary, but sometimes there are some beautiful colours that pop out of nowhere. We love the way that the bright red pop of winter berries has been used in a rustic wedding bouquet. It brings a flash of colour into an otherwise quite subtle backdrop.
There are a few different types of winter berries you could pick for a wedding bouquet like this one. It all depends on the colours you want to go, and the style of wedding you've chosen. Hypericum berries are the most commonly used, and these can be in red, green, and various shades in between.
4. Pinecone Cake Toppers
For when you want a rustic winter wedding, and you're not that bothered about the bride and groom at the top of the cake, how about having pinecones instead? It's a very simple idea, and you could still decorate the pinecones in the bride and groom style, just like you can see here.
It's also a lot cheaper than having bride and groom wedding toppers – no one would ever need to know that you were planning your winter wedding on a budget either! No one else would have done it, and thats what makes it one of the best unique ideas for a winter wedding.
5. Faux Fur Coats
Fur coats just scream luxury, although we're talking about faux-fur, of course. We're not really in the market for a dead animal carcass wrapped around our beautiful dresses for a wedding day.
The faux-fur coat idea is actually a really good one to opt for if you're on the hunt for unique ideas for a winter wedding. Because they're so on-trend for right now, you'll have an easy time finding some that match your dresses perfectly. You'll also be more likely find them in the exact colours and styles to match your wedding theme. Long, short, big and fluffy, or short and sweet – there are plenty of styles and designs to play around with. We bet your wedding guests will love the luxurious blanket you've essentially just told them to wear!
6. Festive Chair Covers
These are easily handmade using old Christmas wreathes. With the help of some ribbon, some silver glitter spray paint, and a 'Mr' and 'Mrs' cut-out sign (or whatever names you want to have on them), you could recreate these in no time at all. The actual names / words themselves aren't all that difficult to make if your other half or dad has the right power tools hanging around in the shed.
These chair covers are such a fabulous idea, and just perfect for a wedding day around Christmas. You could have these on just the bridge and grooms chairs, or on all the chairs at the 'top table'. As well as the Mr. and Mrs. that you can see here, you could have the other titles of the people sat in that chair.
7. Mistletoe Boutonniere
You can't forget about the boutonniere on the big day! What better way to show off your festive side than with these beautiful mistletoe ones?
As far as unique ideas for a winter wedding go, these ones are definitely one of the smallest touches, but also ones that could make the biggest impact too. Imagine all the kisses under the mistletoe that could be happening because of you tonight!
8. Cool & Warm Bride
As much as you want to look beautiful on your big day, you must make sure that you're warm enough. If you don't, all of your wedding photos are going to be of you trying to smile through gritted teeth, and before long your hands, feet, and other limbs will start to go blue. Looking good is important, but so is staying warm! Remember that with your unique ideas for a winter wedding.
If you can get away with having big boots and festive socks under your dress, do it. If you want to have a blanket wrapped around you for when you're not in the pictures of trying to look beautiful in front of guests, do it. It's YOUR big day. You want to look good, but you'll also want to be comfortable. You don't want to be the bride that says to all her friends in ten years time, "Oh yeah, my wedding day was lovely but we didn't really enjoy it because everyone was frozen solid!"
9. Chunky Wool Blanket
While we're on the subject of staying warm, we definitely think these big and chunky woolen blankets are the way forward, and if you know someone who can crochet or knit, or who knows how to make these, you could also save a few bucks too. And get exactly the right shade to match your colour scheme!
It's all adding up, right? We know, these blankets look lovely and warm. Why wouldn't you want to include some in your unique ideas for a winter wedding? We can't think of a single reason.
10. Perfect Bridal Updo for a Winter Wedding
You can't forget about your hair when you're talking about unique ideas for a winter wedding either, and we're a little in love with this perfect bridal updo. Some winter flowers have been added for good measure, and it all together looks so beautiful, simple and elegant.
When you have such impressive detailing happening all around you on your big day, sometimes keeping things simple, just like your hair, is the way forward. Contrasts cane make such a massive impact.