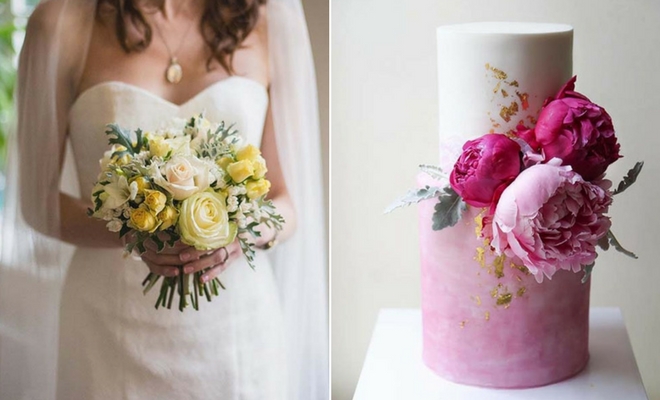 Instagram
Lifestyle
21 Unique Ideas for a Spring Wedding in 2018
By
|
Spring is one of the best times of year to get married. The weather is warmer, the flowers are blooming, and the days are brighter and longer. If you have booked your special day during the spring, you are in the right place. We have put together 21 of the best spring wedding ideas. You will find bridal looks, invitation ideas, table settings and more. There are ideas to suit all weddings so take a look and get inspired.
1. Spring Bride and Bridesmaids
First up we have an idea for the bride and bridesmaids. You can see the bride wearing white in the middle and the bridesmaids all have similar dresses but in a different color. The bride also has a white headband and the other ladies have matching floral crowns. We love how the brides and bridesmaids match. A look like this is perfect for spring.
2. Bright Wedding Cake Idea
An important decision you will have to make is what wedding cake to have. Our next idea features a two tier cake. One layer is pink and the top one is white. The cake also has flecks of gold and bright blooms. A cake like this would be a beautiful choice for a spring wedding.
3. Spring Groom Outfit Idea
It isn't just the brides and bridesmaid outfits that need to be chosen but also the groom and groomsmen. Here we have a stylish spring outfit idea for the men. He is wearing a grey suit with a floral tie and a natural button hole corsage. A floral tie is an easy way to add a spring look to the men's outfits.
4. Creative Welcome Mirror Sign
Show people where the most epic wedding of the year is taking place with a sign like this one. The sign has been created with a mirror and features the couple's names as well as a welcome message. A mirror sign like this would look beautiful at any wedding.
5. Spring Wedding Reception Idea
The wedding reception is very important. It is where you cut the cake and celebrate your marriage with family and friends. Our next idea features a reception idea where the decoration is simple, and all the tables and chairs are wooden. This would be perfect for a rustic spring wedding.
6. Elegant Bridal Bouquet
Choosing the bridal bouquet is an important task. The bouquet has to compliment the dress and should suit the season and wedding theme. This bouquet would be a great choice for a spring bride. The large flowers are soft in color and pretty and there are plenty of green plants. Flowers like these would suit any bride.
7. Chic Table Setting Idea
When your family and friends sit down to the wedding dinner you want them to feel impressed. This table setting will do just that. The decor is simple but chic. It has a very rustic look which would be great for a spring wedding. A table like this could be recreated for any wedding.
8. Spring Invites
Invitations are an essential part of wedding planning. Your guests need to know when the wedding is and where it is taking place. You can create invitations that suit your wedding theme. These next invitations are perfect for a spring wedding. You could recreate invites like these in any color scheme.
9. Cute Plant Place Cards
It is a good idea to have place cards on tables, this way your guests will know where to sit. Our next idea features creative place cards. Each card is sitting in a cute plant pot. You could recreate this with any fonts, plants and more. If you want a wedding craft project you could even make them yourself.
10. Floral Lantern Table Centerpiece
Bring some springtime glamour to your wedding with table centrepieces like this. The table has a crisp white tablecloth with rustic lamp and beautiful flowers. A centrepiece like this one would look stunning at any wedding. You could use any lantern and flowers to recreate the look.