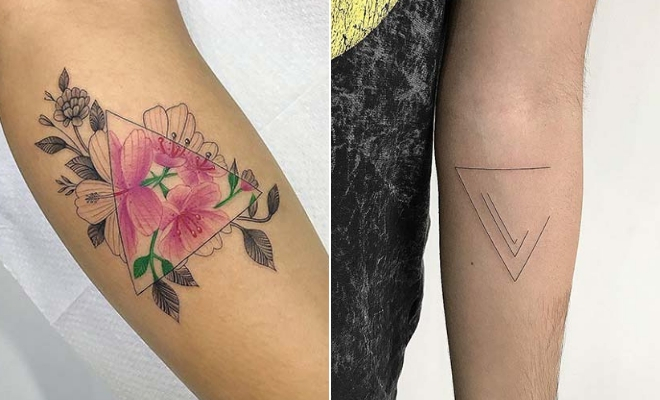 Instagram
Lifestyle
23 Triangle Tattoo Ideas You're Going to Be Obsessed With
By
|
Triangle tattoo designs have become very popular and have been seen on celebrities like Rita Ora, Ellie Goulding and more. A triangle design can symbolize many different things so a tattoo like this can have a unique meaning to you. We love triangle tattoos and wanted to share some of our favorites. So, we have found 23 of the best triangle tattoo ideas, you will find floral designs, unique patterns and more.
1. Floral Triangle Tattoo
Our first triangle tattoo idea is this unique color design. The tattoo as a whole is a pretty floral piece with a triangle outline in the middle. Inside the triangle the flowers are vibrant and colorful, outside the flowers are just black ink. This is a beautiful idea that can be recreated with any flower or any other design.
2. Watercolor Elephant Tattoo
Next, we have a black triangle outline with a beautiful elephant design in the center. There is also a blue watercolor effect in the background too. This is an unusual tattoo but that makes it all the more stylish. Recreate a tattoo like this with any elephant design with any background color.
3. Simple Triangle Tattoo
There are so many different patterns that can be created with triangles. Here we have a tattoo that uses thin lines and triangle edges. As the triangles are not whole, it creates a unique patterned look. You can take inspiration from this and create something similar or add your own style to it and have a slightly different pattern, maybe with a different color too.
4. Geometric Beach Tattoo
Geometric and beach tattoos are very popular and this next tattoo combines the two. The design features a wave, palm tree and a small surfer inside a geometric pattern. There are triangles, circles and diamonds making up the pattern. You can have something trendy like this or create your own beachy design.
5. Triangle Tattoo with Peonies
Peonies are beautiful flowers that look amazing as tattoos. This tattoo features peonies with a triangle design. The triangle design looks stylish because there is a mixture of lines and dots. We love this idea because it gives the pretty peonies a trendy and edgy vibe. A tattoo like this will suit anyone.
6. Galaxy Triangle Tattoo
Our next tattoo idea features a thick triangular design that looks like a ribbon. The corners are not sharp like a triangle, but have a straight edge. By using different corners and thick lines, the overall effect is unusual and stylish. The lines have been filled in a galaxy style design but you can fill yours in with any pattern or color.
7. Geometric Rose Tattoo
Flowers and triangles look awesome when put together in a tattoo. Here we have a great example. This tattoo features a rose with a black triangle outline. Some parts of the rose are inside the triangle and some of it are on the outside. A tattoo like this will look amazing on anyone. You can even jazz it up and add some color like the first tattoo we featured.
8. Triangle and Diamond Botanical Tattoo
You can add other shapes to your triangle design too. This tattoo features a triangle and a dotted diamond shape with a botanical design inside. Recreate the whole thing or maybe just the triangle and diamond. You can use any colors and line patterns to create your shapes.
9. Floral Triangle Tattoo
To get the triangular shape you do not have to have an outline. You can create the shape with a pattern like our next tattoo. This design has beautiful tropical looking flowers with fruit in the background. The flowers and fruit have been designed to look like a triangle shape. This is a beautiful idea and any flowers can be used.
10. Watercolor Geometric Tattoo
Next, we have a double triangle design. This one features two triangles in different sizes. Each triangle has a colorful pattern inside. One is the ocean and the other a purple galaxy inspired sky. If you are surfer, this tattoo is perfect for you, but you can always change the two triangles to a design that suits you. Maybe choose your favorite colors or a different pattern, maybe flowers.