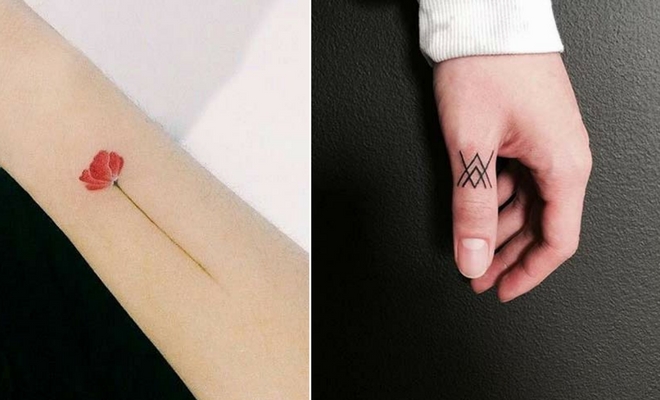 Instagram
Lifestyle
21 Awesome Small Tattoo Ideas for Women
By
|
11. Floral Anklet
A floral anklet is a beautiful tattoo idea. Something like this is great for summer as you can show if off with your pretty shoes. The flowers on this design are so delicate and feminine. This is a subtle take on the bolder anklet styles and will not go out of style.
12. Pretty Heart Tattoo
Hearts are a cute symbol. A heart tattoo like this is a great choice if you're looking for a small ink idea. You could even go a bit smaller or bigger to. With such a minimal design there is room to be creative. It is a pretty piece that will look beautiful on any girl.
13. Small Neck Tattoo
Back of the neck tattoos are very trendy. We love how it can be covered with your hair or top and then can be shown off when you choose. This stag tattoo is beautiful. It can represent strength and being leader of the pack. One thing is for sure you'll be leading the fashion pack with a design like this.
14. Star Constellation
Star constellations in the night sky are just stunning. So, it is no surprise that artists have been inspired by these to create stunning tattoos. A tattoo like this cool and stylish. You could make it unique to you by choosing your favourite constellation.
15. Hand Tattoo
Hand tattoos can be big and bold. Here is a way to have a hand tattoo with a small and subtle design. A quote in a beautiful font on the side the hand is super stylish and will look great any girl. You could have any quote that has meaning to you.
16. Beautiful Butterfly
Butterflies are beautiful creatures making these popular design ideas. We love this next pick because it shows you can have a small tattoo but don't have to compromise on detail. You can still have the stunning and intricate patterns on a smaller piece. This one is giving us serious tattoo envy!
17. Movie Quote
Movie quotes and symbols are awesome tattoo ideas. It is a way to honor your favourite film and also shows it off to other people. Something like this is a great talking point. It doesn't have to be super obvious, you could have a simple quote like this Harry Potter tattoo.
18. Dainty Rose
Roses are very delicate and beautiful. This small tattoo design captures those elements perfectly. The dainty design looks stunning. Something like this is great if you don't want to show off your ink all the time. It is a pretty and timeless design.
19. Karma Tattoo
Believe in karma? Then our next pick is for you. This tattoo features the famous saying in an awesome infinity design. The infinity style idea is a great choice and makes the quote unique. It looks trendy placed on the wrist. You could have something like this tattooed on a different part of the body to.
20. Small Thigh Tattoo
Thigh tattoos are often very big pieces that cover the thigh. If you like the thigh tattoo style but don't want a design so big then check this out. This gorgeous little seahorse looks great on the thigh and can be shown off when wearing shorts. It is a small tattoo that is a great starting point. It could even be added to in the future.
21. Best Friends Ink
Best friend ink has become very popular. It is fun way for you and your bestie to match. We love this pinky promise design. It is a symbol of promising to remain friends. You could have this placed anywhere on the body. There are many best friend tattoos but this one is cool and unique.
We hope you found some inspiration for you next ink!