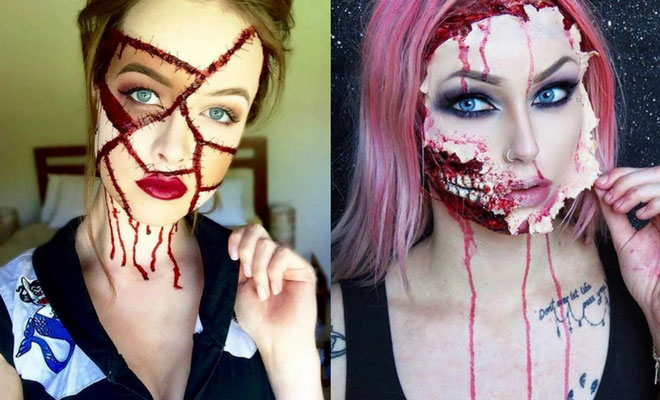 Instagram
Lifestyle
21 Scary Halloween Makeup Ideas
By
|
11. Half Burned Face
We think the eye makes this makeup look. Of course, the half burnt face looks great for Halloween but with the light coloured contact lens, it looks quite freaky!
12. Vampire Makeup
Are you a Twilight fan? If you like vampires, go as one.  This is so easy to do and you can use your daily makeup.
Here is how you can achieve this vampire Halloween look:
13. Masquerade Flesh Mask
Wearing a mask is great, but even better when it's a flesh face! This can be achieved but it will take a few hours.  Warning, this will be messy when you're applying but the outcome looks fantastic.
14. Scary and Gore
Halloween is all about the gore. More gore, the better.  This is a gruesome Halloween makeup idea which you can see looks amazing.
15. Ripped Out Throat
Keep it simple. How about keeping your face Halloween free and having a ripped out throat… this sounds good to us!
16. Zombie Teacher
The pencils make this look. Be prepared, you will need pencils for this!  You have to admit, this look is great.  The makeup is quite simple but the pencil adds the Halloween touch.
17. Sew In Face
Are you a good sewer? Doesn't matter if you aren't because you don't need to be with this Halloween face. Having a sew in face looks creepy and scary.  As you can see, wearing eye contacts will add to the effect and makes it look more realistic. Go for a light coloured colour to make it stand out. Remember to continue with the makeup on your neck and around your chin.
18. Bloody & Gore.
Blood and gore is what we are calling this idea. This is a great simple, yet effective Halloween face for you to think about.
19. Claw Marks
Claw marks really stand out. This looks so realistic and fresh.  You might need a little practice with the actual claw marks but it's quite easy when you've done it before.
20. Patchwork
Bloody patchwork is a great look for Halloween. Having a bloody face with a few patchworks looks freaky, scary and you can't go wrong when applying your makeup.  You can have any colour lipstick with gorgeous eye makeup.  Red makeup or face paint that is shiny is a must have for this look.  We suggest to add your red makeup to your whole face then dab slightly darker red makeup to your face to add to the effect.
21. Burned Face
Go for the ultimate burnt face look with this half-face makeup idea. It's scary and will shock everyone you'll see.