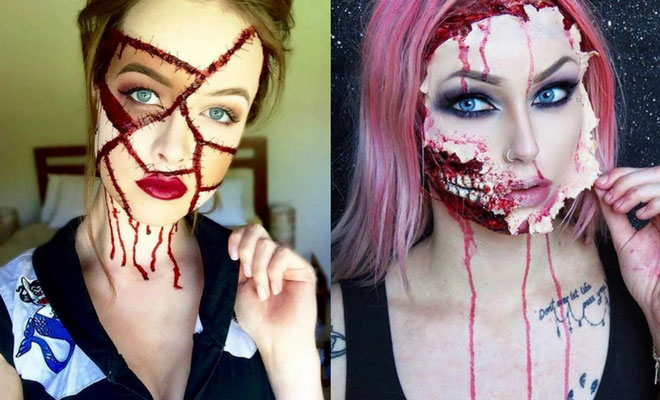 Instagram
Lifestyle
21 Scary Halloween Makeup Ideas
By
|
That scary time of year when you love to experiment with your makeup, we are talking about Halloween.  When thinking about Halloween, we tend to think about costumes rather than our faces.  If you want to be original and show off your makeup skills, then think about doing your own makeup for Halloween.  This way, nobody will look like you and it will save you money.  If you have an amazing scary face, then you can dress in whatever you fancy.  It's all about having the Halloween face, your outfit you can think of later.
We have come up with 21 scary Halloween makeup ideas for you to try before the scary night in October.
1. Frankenstein's Mistress
This is simple and effective. Be Frankenstein's mistress by using your makeup to create a scary face.  You will need to use a little shading for a few sections but majority will be red makeup.  Go for sexy red lips too to finish the look.
2. Burned Face
This is scary and frightening. OK, so you may need a few hours to apply this but it will be worth it.  The more makeup or face paint you use, the better.
3. Scary Pumpkin
Don't just buy and carve a pumpkin, be one! There is nothing more that screams Halloween than a scary pumpkin face.
4. Skeleton
If you are planning on wearing a low top or a dress, why not decorate your neck, shoulders and arms? Now we know that this looks amazing but it will take a few practice runs to perfect. Don't worry if you don't get it right the first time, keep going.  You might need a friend to help with the back.  You could always wear colour eye contacts like the photo above.  It adds to the look.
5. Horrifying Face Off Makeup
Just looking at this, scares me. It's Halloween and imagine you opened the door to this?  How creepy would this be!  One thing we would suggest, you need to practice applying teeth!  Good luck!
6. Zombie Nurse
A zombie nurse is always a good choice. You can have the scary face with a sexy costume.  Lots of shading is key as well as a zombie attitude!  Remember to do the zombie walk.  If you don't know what the zombie walk is, you should watch The Walking Dead.
7. Disney Villain
When in doubt, go for Disney. A Disney villain looks scary but fun at the same time.
In case you need a tutorial for this freaky Halloween makeup look, here it is:
8. Bloody SFX Makeup
A bloody red face looks scary. This is a slightly more detailed makeup look with an eye patch.  You can be as messy and creative with the bloody SFX makeup but leave a patch over one eye to create the look.
9. Zombie Red Riding Hood
Zombie and Red Riding Hood is a great combo! Make your Red Riding Hood look scary by adding a few makeup effects to your face.  Have a bloody chin and light coloured eye contact lenses to add to the zombie style.  Don't forget to wear the red cape!
Check out the tutorial by Nicole Guerriero on YouTube:
10. Ripped Face
If you are looking for a sexy look, but with a Halloween twist, then check this out. You will still be able to have your daily makeup on your eyes but with a slightly ripped face.  How does that sound?
Need to know how you can achieve this look? Below is the tutorial for the ripped face look by Aya Jade.