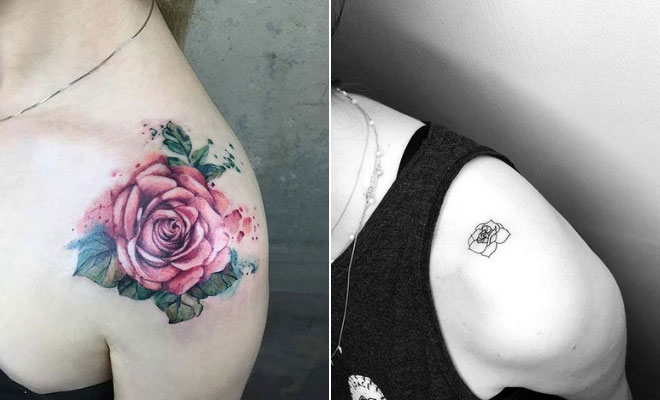 Instagram
Lifestyle
21 Rose Shoulder Tattoo Ideas for Women
By
|
11. Single Rose Tattoo
Many tattoos just feature the head of the rose but you can have a design with the stem as well. Here is a pretty example. One rose is tattooed on the shoulder. It is a unique design because it does have dotted circle in the background which gives it a trendy geometric look. This is a stunning tattoo that will suit everyone. Recreate this or try a different shape in the background. You could also have no shape too.
12. Creative and Artistic Rose
Looking for a more unique tattoo? Then this could be perfect for you. Here we have a black ink rose with a watercolor galaxy design. The rose itself is quite artistic and the galaxy design is so creative and unusual. This is perfect those who like to be different and who like to stand out from the crowd.
13. Stunning Rose Shoulder and Arm Tattoo
Next, we have an amazing rose tattoo to show you. The roses start on the shoulder and cover the upper part of the arm which creates a half sleeve look. It is an edgy and trendy tattoo and is perfect for those who want a bold piece of body art. Recreate this or you could carry the tattoo on all the way down the arm.
14. Pretty Rose with Shaded Leaves
The next tattoo we have to show you is pretty and stylish. Here we have a simple black ink rose. The rose has beautiful shading and the leaves do too. It is an easy to wear tattoo that will suit everyone. For more of a statement tattoo, you could add some color. Classic red will look amazing.
15. Vibrant Red Rose Tattoo
Red roses are one of the most popular flowers. These are not only beautiful to look at, but a red rose can be a symbol of love and more. If red roses are your favorite flower, then consider a tattoo like this. The rose is tattooed on the shoulder and it is colored with dark green and a rich red shade. It a vibrant tattoo and we love it.
16. Rose Tattoo with a Botanical Design
This next rose design is one of our favorites. The tattoo features a rose with another flower underneath it and there is a leafy design on the shoulder. It is a beautiful, botanical tattoo and we love the different patterns used on the leaves. This is an unusual and bold piece of body art. Recreate this tattoo or try adding color to make it even more unique.
17. Stylish Rose Tattoo Idea
Love the bright rose tattoos? Then check out this next idea. Here we have a vibrant pink rose with green leaves. The detail on the tattoo is amazing and it really captures the delicateness of real rose petals. You can recreate it with or without the green leaves, and you could try the rose in a different color too. Either way, it is a pretty tattoo that will look amazing on anyone.
18. Elegant Rose Shoulder Tattoo
Next, we have a gorgeous rose shoulder tattoo. The rose is placed on the shoulder cap and it has a delicate and beautiful design. We love the shading on this because it makes the rose look so elegant. A tattoo like this is timeless and it will suit everyone. You can recreate this or add some color. Soft watercolor pink would look stunning.
19. Roses with Geometric Design
Earlier in the post we featured a rose tattoo with a trendy triangle design. If you loved that idea, then you may like this one too. Here we have three roses with a triangle design in the center. Now this one is all black ink unlike the other one, but as you can see, the shape still makes a statement. There is also a beautiful dangling design too. This stylish tattoo is one of our favorites.
20. Beautiful Roses
The next tattoo is just beautiful. Here we have a black ink rose design that covers the front and cap of the shoulder, it also looks like it is on the back too. As you can see, the roses make a stunning statement. Keep it simple and stylish like this or you could add some color. There is a quote underneath that looks older but you could have a quote under the roses as part of the same tattoo.
21. Unique Blue Rose
Last on our list of rose shoulder tattoos is this bold and unique design. Here we have a vibrant blue rose with splashes of pink. The colors are stunning and we love the blue because it is unusual and so different to the red and pink roses that we usually see. It is a gorgeous tattoo and it will make you stand out from the crowd.
We hope you have been inspired by these rose tattoos!