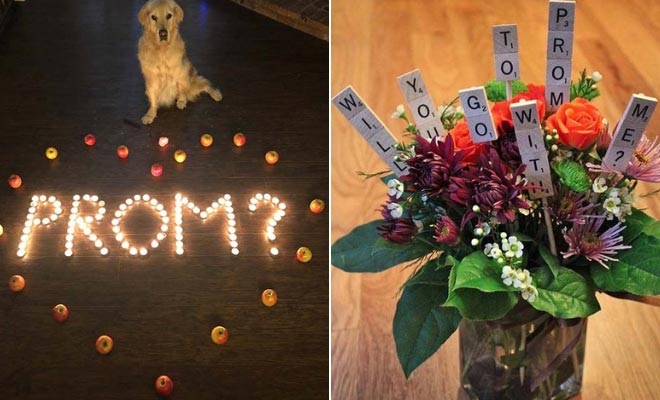 Instagram
Lifestyle
43 Cute Prom Proposals That Will Impress Everyone
By
|
21. Outdoor Prom Proposal
Next, we have another outdoor promposal idea. The word prom has been created out of natural things and has been placed on the floor. This would be perfect if you are walking with your special someone as they can be surprised by the sign. If you have an adorable dog then bring it along too, as you can see the dog makes the proposal super cute.
22. Creative Up Proposal Theme
Our next idea is another themed proposal. This one was inspired by the movie Up. It features balloons with banner that reads "Are you up for prom?". It is such a cute idea and it is perfect for a fan of the movie. You can create a similar proposal with any movie theme.
23. Cute Prom Proposal Idea
The next idea on our list is this cute proposal. For this proposal, a T-shirt and sign has been created. We love this idea because it is perfect for two people who have already been to one prom together. It is a nice way to look back on previous proms and look forward to future ones.
24. Out Of This World Cookies
Next, we have out of this world cookies. There are a selection of cookies in different shapes and sizes. All are decorated with a space theme and some even look like planets. The main cookie has a message that reads "Be My Date To Prom?" and there is a hole underneath so the person being asked can either say yes or no with a cookie. It is a fun, unique and delicious prom proposal. Recreate the space theme or try a similar idea with a different design.
25. Amazing Dog Proposal
If you and the person you want to ask love dogs, then this is for you. The sign has a message about how Hoco will be "ruff" if the they say no and each adorable dog is wearing a red sign with letters that spell out "HOCO?". It is a super cute idea. Not only will it be impressive, but how could someone say no to all those dogs!
26. Cute Birthday Idea
The next idea is great for creating a double celebration. This prom proposal features a sign that reads "I know it's your birthday but will you be my present to the prom?". So, not only is the person getting a surprise on their birthday, but you will also get a date to the prom. The flowers and balloons are perfect for this type of proposal.
27. Friends Cookies
Do you and the person you want to ask to the prom love friends? If so, this is perfect! Here we have Friends theme cookies! The main cookie has an episode like line that reads "the one where they go to the prom". There is even the lobster, so you can be like Ross and Rachel. This is a fun and unique idea that anyone who is a fan of the show will love.
28. Funny Shoe Proposal
This next prom proposal is funny and very cute. So, this one has a shoe theme with a Cinderella vibe. The sign reads "If the shoes fits will you croc my world at Hoco?". We have the fairy-tale element with the shoe fitting and the hilarious pun of the Crocs. The Crocs even say Hoco on them which is amazing. This is a very fun and unusual way to ask someone to the prom.
29. Simple Coffee Prom Proposal
Sometimes less is more and you don't need a fancy sign or cookies. If simplicity is more your thing, then this is perfect. Here we have someone on one knee like a proposal holding a coffee cup with prom? wrote on it. It is cute and great for those who love coffee. If they don't, you could ask the question with any other drink.
30. Unique Bucket List Idea
Next, we have another cute and unique idea. The sign has a personalized message about how it is on the persons bucket list to take the other to the prom. We love the word prom on this sign because it is made up with all small photos of the pair. This is a fun idea and we think it is likely someone will say yes with an quirky sign like this one.