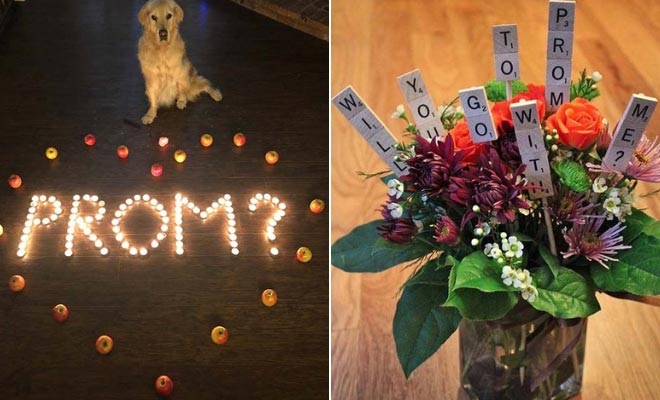 Instagram
Lifestyle
43 Cute Prom Proposals That Will Impress Everyone
By
|
11. Cute and Easy Proposal
If you have known the person that you want to ask for a long time, then try a proposal like this one. Here we have a sign that reads "I've waited 4 years to ask you this.. prom?". This is such a special idea because the number 4 is made up of pictures of them both together. You can recreate this with your own photos or no photos at all as the sign would be nice without them too.
12. Superhero Prom Proposal Idea
Are you or the special person you want to ask fans of superheroes? If so, this idea is for you. Here we have a superhero themed proposal. It is a simple idea but the other person will love it! You can customize it with your favorite superheroes too.
13. Harry Potter Themed Proposal
Our next prom proposal idea has a Harry Potter theme! The proposal took place at what looks like The Wizarding World of Harry Potter with a sign that reads "Will you take this muggle to the prom?". This is such an amazing idea for a Harry Potter fan. You can recreate the whole proposal or just make the muggle sign, it will be just as special wherever you ask the person.
14. Cute Sticky Note Idea
Next, we have another cute and unique idea. For this promposal a car was covered in sticky notes with 'prom?' wrote on them. A poster was also made that reads "Will you stick by my side at prom". It is such a cool idea and it shows you made a lot of effort to.
15. Prom Balloons
An easy but cute way to ask someone to the prom is with balloons. You could create something like this with giant balloons. For this idea, a room has got large balloon letters that spell out prom. This is a simple idea that anyone being asked will love. You can buy balloons in all colors too.
16. Disney Prom Cookies
Earlier we featured a cookie proposal idea and here we have another sweet treat for you to see. These are Disney themed cookies! Mickey and Minne Mouse cookies have been created and each one has a letter on it that spells out prom. There is also a question mark cookie and a heart cookie too. This is the perfect idea for anyone who likes cookies and Disney!
17. Makeup Promposal Idea
Does the person you want to ask love makeup and beauty? If so, check out this proposal idea. For this one, a sign has been made to look like a highlighter palette. The top of the sign reads "I want you to be my highlight at prom". This is such a cute and unique idea. We love this one!
18. Will You Be My Sunshine at Prom?
The next idea we have to show you is so cute! This proposal features a sign that reads "Will you be my sunshine at prom?" with a bouquet of roses and sunflowers. Anyone would love a proposal like this because it is so sweet. It is quite easy to recreate to and you can add other flowers to the bouquet.
19. Funny Prom Proposal Idea
Our next idea is funny and perfect for anyone who likes having a joke. Here we have a sign that reads "Prom? You must be at least this tall to say no!". The sign has been made to make sure that person is below the height line so they are not tall enough to say no. It is a clever idea that will be remembered.
20. Vibrant Prom Flowers
Looking for a simple but sweet idea? Then this is for you. Here we have a beautiful flower arrangement with the word prom added to it. It is a stunning idea and can be made with any flowers. You can choose the person's favorite flowers or use the language of flowers to send a special message to the recipient.