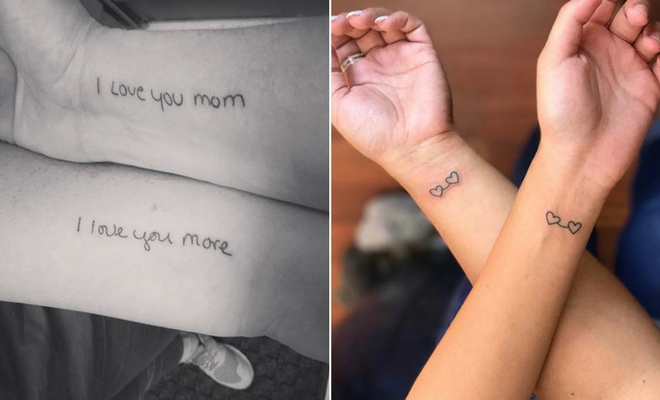 Instagram
Lifestyle
23 Popular Mother Daughter Tattoos
By
|
11. Matching Moon Tattoos
Moon tattoos like the ones featured in the image have become very popular. Tattoos like these are perfect for the mothers and daughters who want a stylish design that connects them both together. There is nothing obvious that these are mom and daughter tattoos, it is just that they match. When you are together or apart these tattoos like will look awesome.
12. Mother Daughter Tattoos
Our next idea features two tattoos. One that reads mother and the other reads daughter. Both are finished off with a dandelion design. As the font used is delicate it makes the whole tattoo look pretty and feminine. A design like this would suit anyone, you could also personalize it by choosing your favourite flower.
13. Mother and Child Tattoo Design
If you are looking for something cute and creative this next tattoo could be for you. The little tattoo features an artistic design of a mother and child. It is a unique tattoo that shows the love between a mom and daughter. You could recreate this any color scheme.
14. Matching Quote Tattoos
Sometimes life can give us some difficult times. Through these testing times you can rely on your family. This mom and daughter have got matching tattoos with the words "you make me brave". A quote like this can symbolize how you will always support each other no matter what happens. We love this beautiful tattoo idea.
15. Creative Matching Tattoo Designs
Our next picks feminine and creative. The tattoos are matching and have a swirly pattern that looks like a flower. It is a unique floral design that will suit everyone. The unique pattern creates a chic and timeless tattoo. You could have something like this tattooed almost anywhere on the body.
16. Cute and Subtle Heart Tattoos
If you liked the heart design from earlier in the post then you might like this one to. These two have similar black line heart outlines but these have been tattooed in a different place. The tattoos have been placed on the ankle. It is a cute and subtle tattoo that shows the love between a mom and daughter.
17. Lock and Key Tattoos
Next, we have these stylish lock and key tattoos. We have seen this type of tattoo for many different relationships. This tattoo is a cute way to show the bond and love between you and your mom. There are many different lock and key designs available so you can make your tattoos unique.
18. Mother of Mine, Daughter of Mine Tattoos
These next tattoos are beautiful examples of mother daughter tattoos. One tattoo says mother of mine and other says daughter of mine. Both tattoos have a cute flower to. It is a simple tattoo but it shows the love between the both of them. You could have this design created with any flower.
19. Moon and Star Tattoos
We love this next tattoo idea! One has the moon and the other has a star. This is such a cute idea as it is symbol of how you can't have one without the other and how the moon and the stars work together. We just think it is a beautiful symbol of the connection between a mother and daughter.
20. Flower and Heart Tattoo Design
Our next mother daughter tattoos idea is simple and cute. Both of them have had the same design inked of a black heart and a flower. A tattoo like this will suit any age. You could personalize it by having your own flower design and you could even change the way the heart looks.
21. Matching Natural Botanical Tattoos
If you both like nature and plants then this next tattoo idea could be for you. They both have matching tattoos of a leafy plant. This is a cute matching tattoo that could symbolize your love of gardening and more. You could have any botanical design created.
22. Moon and Sun Matching Tattoos
If you liked the moon idea and the moon and stars ideas from earlier in the post then you may like this one to. This design features a sun and moon. This is another design that could symbolize how one needs the other. It is a stylish way to symbolize the special bond.
23. Mother Daughter Tattoos
Last on our list is this mom and daughter heart tattoo. It features the words mom on one and daughter on the other then it turns into an infinity design with a heart. It is a beautiful symbol of how a mother and daughters love and bond lasts forever.
We hope you and your mom have found inspiration from our mother daughter tattoos.