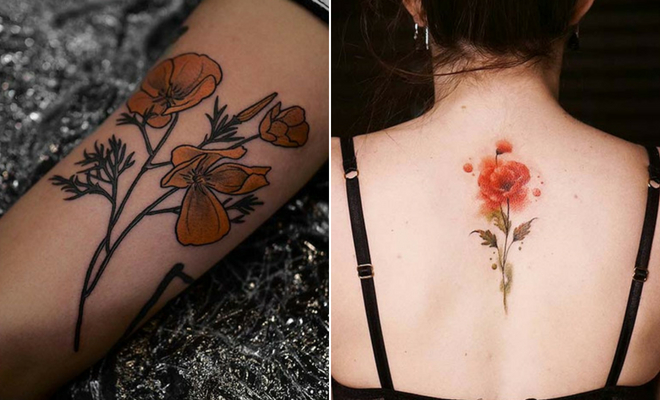 Instagram
Lifestyle
21 Trendy Poppy Tattoo Ideas for Women
By
|
Looking for a floral tattoo design? Then you are in the right place! We have found 21 poppy tattoo ideas. Poppies are are bold and beautiful flowers that come in a variety of colors, most commonly red. These can be symbols of peace, sleep and are also used to remember those who have been lost in war. Whether the poppy has deep meaning to you or you just love the flower, we have a design for you.
1. California Poppy Tattoo
The first tattoo idea we would like to show you is this California poppy design. California poppies flower in the summer and have vibrant orange petals. We love this artistic version of the poppies and a tattoo like this will suit anyone. You can have one poppy tattooed or a few like the image featured.
2. Poppy Shoulder Tattoo
Shoulder tattoos have become very popular. These designs look stylish when shown off but can be covered up too. Here we have an awesome shoulder tattoo with a poppy design. You can have a similar tattoo created or choose a smaller poppy or even add some color. Either way, you will have a bold tattoo.
3. Delicate Poppy Tattoo
Floral tattoos can be very delicate and pretty and this next poppy design is just that. The lines used to create the poppy are dainty and the colors used are very soft. A tattoo like this is perfect for the women who want a feminine and beautiful design. You can have a tattoo like this placed anywhere.
4. Poppy and Peony Flower Tattoo
You don't just have to choose one type of flower for your tattoo. Here we have a poppy that has been tattooed with a peony. Both these flowers are different but compliment each other perfectly. You can choose any flowers of your choice but these two are a beautiful combination.
5. Unique Blue Poppy Flower Tattoo
When most of us think about poppies we may think about the flowers with red petals but there are poppies in other colors too. Here we have a tattoo of a blue poppy. This design was inspired by the Himalayan blue poppy. It is a stunning and unique design that would suit anyone.
6. Floral Rib Tattoo Idea
Next, we have tattoo idea that features a pink tropical flower with two poppies and diamond patterns. We love this idea because it is creative. It shows that poppies look stylish with other flowers and patterns. You can recreate something similar or choose your own flowers and shapes.
7. Clean & Simple Poppy Tattoo
Arm tattoos look super stylish. Here we have a great example of an arm tattoo with a poppy design. The black ink poppies are simple but look trendy. A tattoo like this will suit everyone, but if you wanted more of a statement piece, you can add some color.
8. Creative Stripe Pattern Poppy
Looking for a unique poppy design idea? Then this next tattoo is perfect for you. This poppy has a striped pattern on the petals in different shades. The use of stripes gives the tattoo an artistic look. You can recreate a stripe poppy or have another pattern. Maybe something quirky like polka dots.
9. Bold Poppy Back Tattoo Idea
If you want the classic vibrant red poppy look, then you need to check out our next pick. This tattoo has bold red petals that are shaded beautifully with a black center. You can have a design like this placed on your back like the image featured or have a smaller poppy tattooed elsewhere.
10. Artistic Black Ink Poppy
Next, we have an artistic black ink poppy tattoo idea. The shading and detail on this poppy is amazing. We love this design and it would suit anyone. You can have a poppy like this tattooed anywhere. You could even add another black ink flower to create a statement piece.