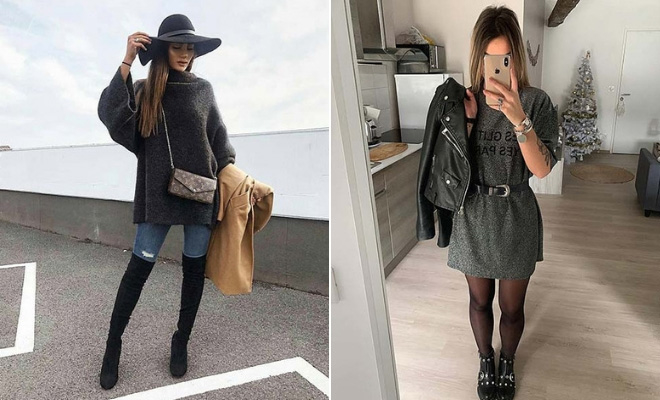 Instagram
Lifestyle
23 Chic Outfit Ideas for Women in Their 30's
By
|
11. Trendy Tartan Trousers
Tartan is still a must-have print and it can look trendy on women of all ages. Here is a fun and chic way to wear tartan. This stylish lady is wearing red tartan trousers with a grey sweater, long coat and black shoes. She is also wearing cute accessories like a beret. It is a statement outfit that allows you wear to wear a bold print in a classy way. There are so many different colors and styles of tartan trousers available online too.
12. Bright and Edgy Jacket with Jeans
Brighten up your look with an outfit like this one! This outfit features a yellow biker jacket that is worn with jeans, white top and yellow heels. We love this because it is fun and summery. So, it is perfect for the spring and summer seasons. Not only that, but it shows a different way to wear the must-have biker jacket. Recreate this or you can wear a similar outfit with white sneakers or some cute flat sandals.
13. Tweed Two Piece
Give your wardrobe a chic Chanel look with a tweed two piece like this one. The tweed skirt and blazer have been worn with a white sweater. It is a fun, fashionable and stylish look that you can wear to work or when out with friends. You can find tweed two pieces in any color online. Wear with tights and boots for a trendy fall and winter outfit.
14. Cute Skirt and Sweater
Like to wear skirts? If so, this outfit is for you. Here we have a cute black skirt with a floral print. The skirt has been worn with a neutral sweater and hat. An outfit like this is easy to wear and it will look quite edgy with a chunky boot and biker jacket. You can find similar pieces to these online.
15. Long Coat with Jeans
A long coat will transform your every day outfits. Don't just take our word for it, take a look at this! This stylish lady is wearing a simple top and jeans with nude heels. The outfit is finished off with a statement long coat. As you can see, the coat really makes the outfit look amazing! You can dress up a coat like this to suit any occasion, it is an investment that you will wear again and again. This coat is the Cayson Coat and is available at Revolve.
16. Bold Tailored Dress
This next outfit is another one of our favorites. If you like tailoring, you will love it too! Here we have a chic blazer dress in a bold blue color. This will look amazing paired with heels like the image below or with boots. It is a stylish and statement making outfit that keeps you looking classy. You can buy the blue version from Kimya Dress or you can shop around for blazer dresses online to find a color that you prefer.
17. All Black Outfit with Subtle Sparkle
If you like to wear all black outfits, then this next idea is perfect for you. Here we have tailored trousers with a blouse and belt. We love the black blouse because it subtly sparkles. This is a chic and sophisticated outfit with a little sparkly fun. It is another outfit that can be dressed up or down to suit any occasion and each piece can be worn separately with other things too.
18. Stylish Midi Skirt Outfit
Love the animal print looks? If so, you need to check out this next idea. Here we have a leopard print skirt that is worn with chunky boots, a biker jacket and cute hat. It is an edgy, bold and trendy fall and winter look. You can also create a summer outfit with the same skirt. Swap the boots for flip flops and the top and jacket for a black cami and you're good to go. The skirt is available from Sweeties by Aude D but you can find leopard skirts online as well.
19. Chic Coat, Dress and Boots
Next, we have a chic and easy to wear look. This outfit features a black dress, neutral long coat and boots. It is an elegant and stylish outfit and it can be dressed up or down to suit any occasion. This outfit is perfect for the ladies who like neutral colors. A coat like this will look great with jeans and sneakers too.
20. Casual All White Outfit
The next idea features another casual outfit. This time we have an all white outfit complete with loose pants, a sweater, cozy coat and sneakers. It is a relaxed and trendy outfit that will suit any season. You can find similar pieces online and each one can be worn separately. This outfit would look great in nude too.
21. Patterned Trousers with a Blouse
Like to wear bold patterns? If so, this outfit could be perfect for you. Here we have patterned trousers that are worn with a blouse and cute black shoes. With an outfit like this, you can show off your unique sense of style but keep your look chic and classy. Trousers like these can be bought online with any print and in any color.
22. Edgy Party Outfit
Next, we have another party outfit. This time we have a short sequin skirt with a t-shirt and blazer. An outfit like this would be great for parties and nights out. You can recreate this look with sequin trousers and a t-shirt too. It is a fun and unique outfit that will make you stand out from the crowd.
23. Trendy Fall Outfit with a Hat
The last outfit idea is trendy and easy to wear. Here we have jeans and long boots that are worn with a sweater and bold hat. It is quite casual and relaxed but also super stylish. So, you get the best of both worlds. Recreate this or you can wear shorter boots. Ankle boots would look cute.
We hope you have been inspired by the outfit ideas for women in their 30's.