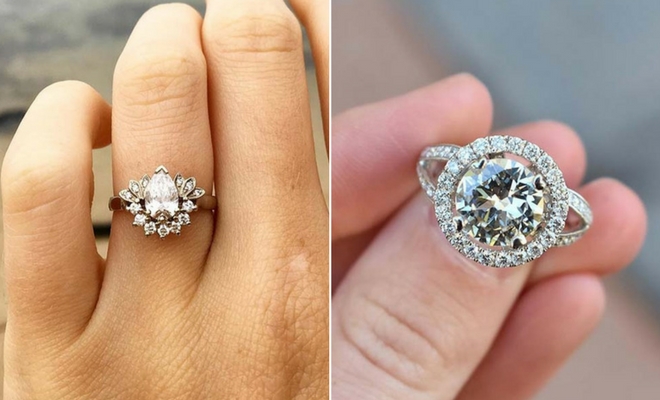 21 Most Beautiful Engagement Rings
Choosing an engagement ring is no easy task! There are so many styles, cuts and more to choose from. Not only that but as the ring will be worn all the time it is super important that the bride to be loves it. Today we have put together 21 of the most beautiful engagement rings. There is a ring here for everyone from simple to elegant to sparkling bling. So, whether your going to ask someone, are just browsing or want to give your partner a hint take a look at these stunning rings.
1. Pear Shaped Diamond Ring
First up we have this pear shaped diamond engagement ring. The ring is simple in design but looks stunning. The large diamond is beautiful and will sparkle and shimmer. It would be the perfect choice for the ladies who want a ring that will wow.
2. Sparkling Oval Diamond Ring
Next, we have a large oval diamond engagement ring. Oval diamonds are quite a traditional cut and will suit everyone. As the ring is large it would be a great choice for the ladies who love jewelry and diamonds. This is a ring that will make a statement.
3. Antique Inspired Ruby and Diamond Ring
Our next engagement ring idea is perfect for someone who loves vintage fashion and jewelry. The gold ring features diamonds with a ruby halo. It has an antique look to it and the design is stunning. This ring is perfect for the ladies who prefer unique jewelry.
4. Pretty Cushion Cut Diamond Ring
There are jewelry shops out there that will custom make a ring. You could create a stunning ring like this one. This ring is white gold and has a diamond band. There is also a diamond halo and a cushion cut diamond in the center. It is a beautiful and elegant design that any woman would love to wear.
5. Beautiful Floral Diamond Ring
Looking for a unique ring that isn't a classic and traditional diamond? Then this ring could be for you. The ring is handmade and has a diamond band with a silver and diamond floral design. We love the floral design as it is elegant and feminine. This would look beautiful on any lady.
6. Morganite Ring
Engagement rings do not need to be just diamonds. You can choose other stones to. This next ring features a morganite stone that is surrounded with diamonds and a diamond halo. The combination of colors in this ring is just stunning. A design like this would look stunning with other gemstones to like rubies.
7. Princess Engagement Ring
Every woman wants to be a princess on her big day. Our next ring idea will make here feel like a princess every day. This gold ring has a floral design with a beautiful pink gem in the center. It looks like something from a fairy tale. A ring like this would suit any lady.
8. Twist Engagement Ring
Our next ring has a unique twist design. The ring is silver and the silver band twists with a diamond band. There is a stunning diamond to. We love this design because it is one of a kind, has some sparkle and still has a traditional vibe. You could have a ring like this in gold or with a different diamond cut to.
9. Stunning Round Diamond Ring
If you want a ring that will get noticed and will wow, then this style of ring could be for you. The ring is simple and traditional but has a very large round diamond. This is perfect for the ladies who like their bling. So, show it to your partners to give them a hint.
10. Beautiful Blue Diamond Ring
Next, we have a dainty and elegant ring idea. The ring has a thin silver and diamond band with a beautiful blue diamond sitting on the top. The subtle blue color suits the white diamonds so well. This is sparkly and beautiful ring. You could have a ring like this with any blue diamond shape.