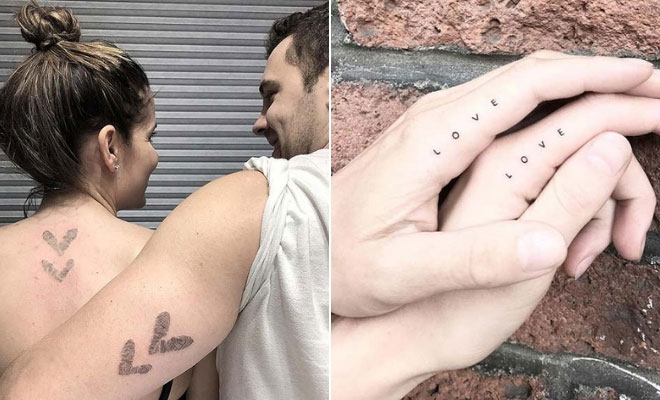 Instagram
Lifestyle
23 Best Matching Couple Tattoos To Show Your Love
By
|
11. Cute Paw Print Tattoos
Do you both love animals? Then consider a tattoo like this. Here we have paw prints that are tattooed on the ring finger. This is a quirky idea that is perfect for the couple who have pets. Recreate this design or you can have paw prints tattooed elsewhere on the body.
12. Cute Matching Penguins
Next, we have another animal inspired idea. This couple have matching penguin tattoos. Penguins are adorable and a tattoo like this is perfect for the couple who love penguins. Not only are they cute, but penguins also stay together for life, so they are a symbol of a long lasting relationship. Recreate this design or opt for your favorite animal.
13. Quirky Heart Tattoos
We have featured love hearts but next we have a quirky heart tattoo idea. Here we have a couple who have chosen a more realistic heart design. This is a cool tattoo and is perfect for the unique couple that wants something a little different. Recreate this or add a little red color. Either way, it will look awesome.
14. Holding Hands
If you are looking for something romantic then this is for you. These two tattoos feature a diamond outline with a floral pattern inside. There is also a hand holding design too. This is a stylish and beautiful tattoo idea that shows the bond between the two of you. You can recreate this tattoo or choose your own background.
15. Heart and Plane Tattoo Design
Earlier in the post we featured a travel inspired tattoo, here is another one for the globetrotting couples. This one features a black heart outline with a small plane. It is a pretty tattoo that shows you both love traveling. You can try the heart tattoo or you can choose a different shape like a circle with a plane.
16. Matching Compass Tattoos
Compass designs are also popular for travelers but they can have other meanings too. We have found that compasses can be a guide to finding your way and can be a symbol of adventure. So, these tattoos are perfect for couples. A couple with a compass tattoo will show that they will always find their way back to each other or that they are on an adventure together. We love this idea!
17. Matching Dot Tattoos
Next, we have a cute and unique idea. This couple have chosen matching dot tattoos. You could maybe have two dots to represent you and your other half, and add more dots for your family. It is just a simple and stylish design that has a lot of meaning. This would be a great choice for someone who wants a subtle tattoo.
18. Cute Sunshine Designs
Does your other half brighten your day? Then consider choosing a sunshine tattoo like this! This couple each have a sun tattooed on their wrist. It is such a quirky idea. You can recreate something simple and minimal like this or go for a vibrant yellow sun. Either way, your tattoos will look awesome!
19. Simple and Trendy Love Tattoos
Nothing will show the world that you are in love more than a love tattoo. These two have the word 'love' tattooed on their fingers. It is a simple tattoo but it really makes a statement. You can have the word tattooed anywhere if this is too bold for you. The wrist would be a cool place for a tattoo like this.
20. King and Queen Idea
The next tattoo idea is not matching with an identical design but it matches with the theme. This couple have a king and queen tattoo. One has a K with a crown and the other has a Q with a crown. This is the perfect tattoo for the glam couple. You can try a similar tattoo to this or create your own regal crowns.
21. Anniversary Date Tattoos
Want to remember a special date? It could be the day you met, got engaged or got married? Then this is the tattoo for you. Here we have a couple that have had the same date tattooed on their finger. As it is on the ring finger, it is probably the day they got married. A tattoo like this is such a beautiful way to remember an important time that you shared together.
22. Matching Hearts
Next, we have a beautiful heart idea. This tattoo was not originally created for a couple but when we saw it, we thought it would be perfect. It is stylish design with the two heart outlines and it will show everyone that you are in love. You can have a tattoo like this placed anywhere and choose any size. Have a small heart for a subtle tattoo and larger heart for a bolder piece of body art.
23. Matching Infinity Tattoos
The last matching couple tattoo we have to share with you is an infinity design. An infinity symbol is perfect for couples as it can represent endless love. You can choose a stylish tattoo like this or have a simpler infinity symbol. Recreate this or have the symbol tattooed elsewhere – the wrist or the ankle would be cool choices.
We hope you have found the perfect matching couple tattoo for you and your other half!