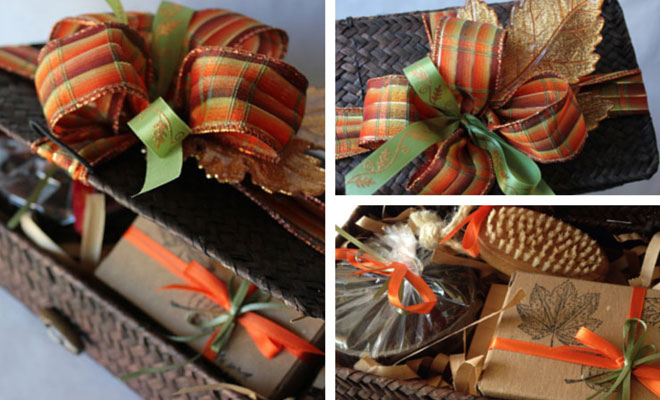 How to: Thanksgiving Gift Baskets
If you've been invited to Thanksgiving dinner, gift basket is a great, unique gift to say someone thank you this holiday. Thanksgiving gift basket is a big hit – it conveys your appreciation in grand style.
Thanksgiving is a special holiday that brings family and friends together. We all know that cooking Thanksgiving dinner for a large number of guests is hard work. To thank your hostess for Thanksgiving dinner invitation, we recommend Thanksgiving gift basket.
You don't have to buy a gift basket, if you have time and will, you can make your own and make it even more special. The best part in making your own gift basket is ability to personalize it specifically for your hostess. Pamper her with amazing gift basket filled with baking goods, seasonal decor, candles, bath items and more.
Step 1: Personalize it.
A personalized gift basket is a guarantee your hostess will love it. Once you've chosen your theme, Thanksgiving basket is reasonably easy and fast to put together.
Some ideas to fill the basket include:
Drinks: seasonal beer, wine, apple cider, champagne, coffee, tea.
Candies: chocolates, caramels, apple candies, candy corn.
Decorations: fall inspired decorations for dinner table or home.
Food: cheese, fruits, crackers, nuts, homemade cranberry jelly, fresh cookies, cake.
Natural beauty products:  bath salt, face masks, soaps.
Candles – they are necessities for Thanksgiving and other upcoming holidays.
Gift cards – gift cards are always appreciated.
Step 2: Purchase the supplies.
Set the buying budget and take few days to purchase all the required supplies and decorations.
Step 3: Choose the right container.
Look out for interesting container that will suit your gifts. Check out discount shops and thrift stores.
Step 4: Place your gifts in the basket.
Fill the basket with your gifts. Make sure to balance the weight as you fill it.
Step 5: Decoration
Give your basket in style! Fill the holes in the basket with sunflowers (or any other flowers), leafs, pumpkins, acorns and other fall-themed artificial plants.
Step 6: Wrap it!
Wrap the whole basket in a cello bag.
Step 7: Tie the bow.
Tie it closed with a big, thick bow. Add a tag with a heartwarming message.
10 Examples of Amazing Thanksgiving Gift Baskets
Get your gift-giving creativity going by checking these amazing Thanksgiving gift baskets.
1.
2.
3.
4.
5.
6.
7.
8.
9.
10.