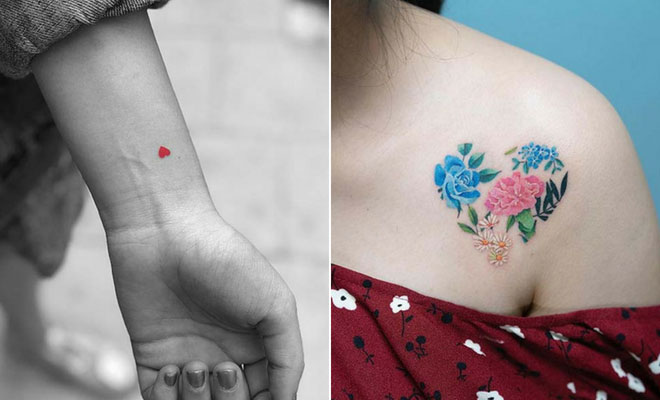 Instagram
Lifestyle
23 Super Cute Heart Tattoos for Girls
By
|
Hearts can be a symbol of love, friendship and more. So, it is no surprise that hearts have become a popular tattoo choice. We think that heart tattoos look awesome, so we have found 23 of the cutest designs. There is something for everyone including floral hearts, realistic hearts, classic outlines and more. Whether you want a statement making piece or a cute heart tattoo, you will find what you are looking for.
1. Tiny Red Heart Tattoo
The first tattoo we have to show you is this tiny red heart. This is such a simple and cute design idea. As it is small and subtle, it would be great as a first tattoo. Small and tiny tattoos make the perfect accessory. You can have a red heart like featured or choose a different color.
2. Artistic, Watercolor Heart Tattoo
Next, we have a watercolor heart idea. This design features a heart outline with beautiful watercolors on the inside. We love the watercolor technique because it is artistic and delicate. You can have any of your favorite colors tattooed on a heart like this.
3. Botanical Heart
Our next idea is a botanical heart tattoo. An outline of a heart has been created with a leafy design and has been placed on the ribs. You can recreate a similar tattoo to this one or use different plants. Flowers would look nice, too. We love this beautiful tattoo idea.
4. Realistic Heart Tattoo Design
We have featured a few tattoos with the classic love heart shape, however this next tattoo features a more realistic heart design. The tattoo features a heart shape that has been inspired by real hearts and has an artistic floral pattern on the inside. A tattoo like this is perfect for someone who wants a unique piece of body art. You can have any pattern designed, too.
5. Dreamcatcher Tattoo Idea
Dreamcatcher tattoos are very popular. This next tattoo uses the classic design but has given it a heart shaped twist. The dreamcatcher is a heart shape with a heart in the center. It also has the traditional feathers and beads. We love this idea it would look cute and stylish on anyone.
6. Simple Red Heart Tattoo Design
Next, we have a pretty outline tattoo idea. The tattoo features a red heart outline with a dot design at the bottom. You can recreate the tattoo or you can just have one solid line. Also, consider different colors – choose red for a stylish look or choose black for a more classic piece of body art.
7. Heart Tattoo Idea for Travelers
Love traveling? Then this next tattoo is for you. Here we have a black heart outline with an airplane. This is such a cute idea if you love flying and traveling the world. You can have a tattoo like this one or change the color for a unique look.
8. Big Garter Tattoo Idea
A popular tattoo choice for women is a garter tattoo. Garter tattoos are stylish and sexy. This tattoo idea features a garter with a heart and jewelry design. A tattoo like this would look amazing on anyone. You can recreate this look or choose a different design, maybe even add some color.
9. Small, Black Heart Tattoo
Looking for a trendy heart design? Then this next tattoo is for you. Here we have a heart that has been colored in black ink. It is a simple but super stylish idea. You can have the heart tattooed on the sternum like featured, or elsewhere on the body.
10. Adorable Pet Heart Tattoo
Love your pets? Then this design idea is for you. Here we have a black heart outline that ends with two dogs. This is such a unique and cute idea. You can have a heart like this created with your own pets shapes. It would work with other animals like cats, too.