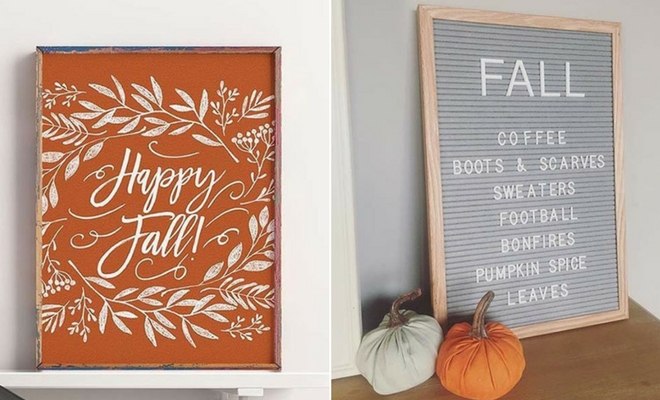 Instagram
Lifestyle
21 Creative Fall Home Decor Ideas
By
|
11. Fall Color Flowers
Flowers are not just for summer! Even though the bright blooms have gone away you can still add some cute flowers to your home. In this season, the flowers are darker and warmer in color and you can create stunning floral designs. Try creating arrangements like this one.  The tall orange flowers look beautiful in the vases. A vase like this could be put anywhere.
12. Fall Inspired Dream Catcher
Dream catchers are very popular decor items. You can buy these or try and make them yourself. This dream catcher has had a fall makeover. It features leaves, berries and earthy tones. A dream catcher like this is unique and would look awesome in any house.
13. Fall Pumpkin Outdoor Decor
We couldn't mention the fall without talking about Halloween! Halloween is one of the best parts about the new season. Our next pick shows you how you can decorate the outdoors for the fall and for Halloween. The pumpkins and all the orange leaves will look great all season. You could recreate something like this with any pumpkin design and leaves.
14. Decorative Fall Sign
If you liked the all things fall picture from earlier in the post, then you might like this pick to. This cute sign features some of the best things about the autumn as well as some extras. It is a piece of decor that sums up the season and its occasions. A sign like this would look cute in any house.
15. White Pumpkin Display
Looking for chic fall home décor ideas? Then this next pick is for you. It features a small display of white pumpkins. When pumpkins are colored white it just gives them a glam and classy look rather than cozy and classic. You can stack as many as you like. Something like this is perfect for a trendy home.
16. DIY Fall Leaf Paintings
Give your home decor that is creative and unique with DIY leaf paintings. Leaf paintings like the ones featured will give any home a fall vibe. The best thing about these is that you can choose any colors and any leaf shape so you can create a look that you love. These four featured a great source of inspiration to get you started.
17. Floral Fall Wreath
Liked the fall wreath idea? Then you need to check out this next pick. The design of this one is different it does not feature all over leaves like the other one. It is a natural wreath with autumnal flowers, berries and plants. The wreath also has a cute orange bow. A wreath like this would look great on any door. You could also make one of these yourself.
18. Fall Leaf Sign
Next, we have a fall sign that features the words "be grateful". This is a beautiful sign that is a reminder of all the good things about life. Not only will something like this look great in your home but it is also an uplifting piece. If you are creative you could create a sign like this yourself.
19. Cozy Fall Home Decor
Our next pick shows how you can decorate a whole room for the fall. It features many autumnal pieces such as pumpkins, acorns, leaves, fall cushions and more. All these little items create a cozy room. You could go all out on your decorations like this or just pick certain elements of it to create a subtle look.
20. Recycled Jar Decor
If you liked the jar vases from earlier in the post, then this next pick is for you. These jars have been painted a variety of colors and feature vibrant flowers. Jar vases are a great way to use and recycle jars that are around the house. You could paint these any color and add any flowers of your choice.
21. Warm Autumnal Decor
Last on our list is this subtler fall home decor idea. It shows you how to decorate a whole area in an understated way. You can just see the earthy elements and the small pumpkins. Colors like the orange and the brown just give the area a cozy, stylish and autumnal look.
We hope you have found some inspiration for your fall home decor.