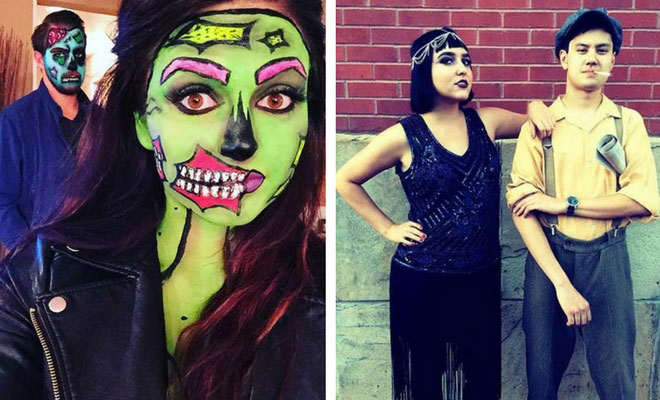 23 Easy Halloween Costumes for Couples
11. Pop Art Couple
Pop art makeup has become very popular of late, and there's a reason for that – it looks super awesome. Duh.
The idea behind the makeup is very simple – it's bold and bright, usually primary colours, applied to a base that is much paler than regular skin, and often with special effects – white liner used to create a glossy / shiny look, for example, and if you really wanted to go all-out, you could even consider making your face of makeup out of those little dots hat you often see with pop art makeup. Yes, it'll be hard work recreating it, but don't you think it would be worth it in the end?
12. Deer + Hunter
Hunting is a topic that's bound to get everyone talking, although this costume may be a little too 'touchy' for some. We love this clever and super cute costume idea personally, and you could definitely go nuts with the customisation of this one, taking it as far (or not that far at all) as you wanted to go.
Whatever your stance on hunting, we reckon you'd win best-dressed with clever and easy Halloween costumes for couples like this one. What do you think?
13. Black and White Couple
For some people, the idea of watching TV in back and white is pretty scary. We love how creative this couple have gotten with their easy Halloween costumes for couples, and when you think about it, it is quite an easy one to recreate.
The right clothing and accessories will obviously make this look a lot easier, but I'm sure you could pull something together from your fancy dress box and your closet. The trick is to use plenty of white makeup. It might be time to go hunting for the wrong shade for your face for once!
14. Jon Snow + Melisandre
Here's more Halloween trivia for you – back in the 'Samhaim' days, food and delicious treats would be left out for the fairies and spirits that the people believed could come to earth. If they were fed with delicious treats, they wouldn't come after the people … A bit like trick-or-treating! Except with kids instead of ghosts and ghouls.
The act of trick-or-treating actually goes back further than that though, to as far back as Medieval times. Halloween was the night that the poor people came together, dressing up as weird and wonderful things, and begging for food and money. Back then it was called a couple of other things though – 'souling', for example, and 'guising'. We like to think this Game of Thrones themed costume pays homage to that quite nicely.
15. Ash + Pikachu
Believe it or not, not every country in the world shares the big American enthusiasm for all things spooky and Halloween-related. Australia and France, for example, don't really like the celebration much, and thing it's all a bit too commercial and 'Americanized'.
We can't think what they're talking about, but we do love dressing up so … doesn't that makes us commercial and Americanized too? With costumes this great, why would we even care? And what better couple's costume than Ash and Pikachu from Pokemon?
16. Hugh Hefner + Playboy Bunny
There are some countries around the world that really get into the Halloweeny theme of things, and just one of those countries is Hong Kong. Over there, the celebrations are called 'Yue Lan', and that translates to 'Festival of the Hungry Ghosts', which we think is pretty much self-explanatory.
The idea is to bribe the ghosts and ghouls to leave them along essentially, and for the most part, it seems to do the trick. At the very least, everyone has a jolly good time so all round, everyone's a winner … right?
17. Top Gun Couple
How do you feel about a Top Gun themed Halloween costume for couples? You must admit, it's pretty simple. All you need are two green boiler suits, and patches which you can buy online and then iron on yourself. Picking up the khaki boiler suits won't be too much of a problem, but you could always cheat and just buy a Top Gun themed all-in-one suit instead.
Complete the look with aviator-style sunglasses and what do you have? Something that everyone will instantly 'get' at the party!
18. Forest King and Queen
It's Halloween which means it's October, and that means the weather is on the turn so … Do you see where we're going with this? A wintery Forest Kind and Queen, of course – a wonderful look that's definitely one to try if you're on the hunt for easy Halloween costumes for couples.
The makeup and accessories really help to bring this look all together, although you may find this is a little intricate to think about doing last minute. Although it does encourage you to be on top of things and organised, right? It's never too soon to start planning your Halloween look.
19. Wolverine + Black Widow
The X-Men movies were a hit among men and women alike, especially with hotties and hunks like Wolverine, played by Hugh Jackman, and Black Widow, played by Scarlett Johansson. Play homage to the films if they're on your favourite list, and play your best characters. If you don't like Wolverine and Black Widow, there are plenty more to pick from. All we're saying is that tis one might just be easier than you'd thought.
He needs jeans, a white vest, and a customised belt, and those claws are easily made from cardboard and a bit of paint – you could even employ the kids to do that for some extra pocket money. Her costume is slightly tricker – a black, leather-style catsuit, complete with long red wig. Probably not one you'll want to leave 'til the last minute.
20. Koala Bear + Eucalyptus Tree
Not scary in the slightest, we come to the cute koala bear and the eucalyptus tree, actually a totally genius Halloween costume, and one of the simplest when you think about it too. It wouldn't be too difficult to find a koala-themed oneise, and even a grey one with some homemade pom-pom ears could do the trick.
His costume is simply brown – a brown tee or sweater, with some brown chino's or jeans. Add a few leaves which you can easily pick up in the pound / dollar store, and what do you have? Easy halloween costumes for couples, that's what. Although … have you ever seen a koala bear wet? It's not so cute then. When they're wet, they're frightening. You should Google it!
21. Bugs Bunny + Lola (Space Jam)
How much did you love Space Jam as a kid? We certainly did, and when we saw this Halloween costume, we couldn't help but smile. It certainly brings back some pretty happy memories from our childhood. What about you?
White shorts, grey vests, and a little bit of hand-painted magic is all you need to get this look together, and if you don't have time to buy those bunny ears (or you just knew you shouldn't have relied on him to pick them up), you could always recreate them at home with the help of an old wire hanger, some white socks, and an old headband. If he forgets, not all is lost, that's all we're saying.
22. Shark + Victim
Sharks are pretty scary. We definitely wouldn't want to come face to face with one in the open water, that's for sure. In fact, we'd rather not come anywhere close to the swimming beasts full stop, we've seen way too many scary movies where they end up killing a whole bunch of people. Haven't you ever seen Jaws? What about Deep Blue Sea? Scary stuff.
The fear of sharks is actually a proper phobia, by the way, and it goes by two names – Galeophobia and Selachophobia. Even the words are scary words … Seriously, sharks are scary, we don't care how friendly they tried to portray them in Finding Nemo!
23. Lightning Strike
Isn't this super clever? Also, one of the easy Halloween costumes for couples too – a lightning strike, easily achieved with some home-craft-magic.
Break the costume down into smaller components and what do you have? One pair of jeans, one pair of black trousers, one black long-sleeved shirt, one white long-sleeved shirt, preferably one you don't mind ripping. Add a big yellow lightning symbol, and throw a broken and torn umbrella into the mix, and you actually have a genius costume idea. We think so anyway.
And there you have them – 23 totally genius and easy Halloween costumes for couples. Well, we think so. We hope you've managed to find a little inspiration to come up with a costume that's totally brilliant this year, but remember to keep peeking around at StayGlam – there's plenty more inspiration already, and so much more to come!
Happy Halloween!