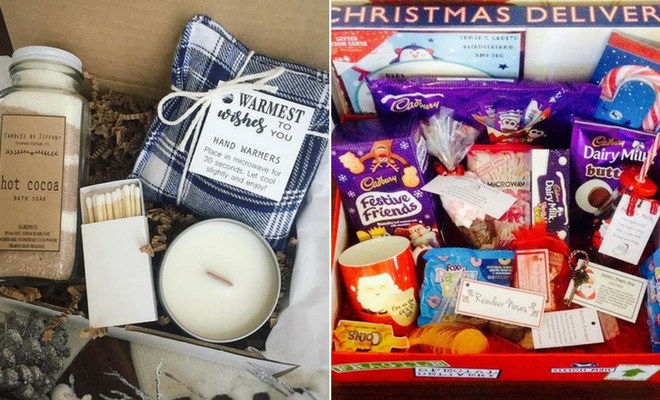 Instagram
Lifestyle
21 DIY Gift Basket Ideas for Christmas
By
|
Christmas is just around the corner. We know that it can be stressful at this time of year especially when choosing the perfect present. A great idea you could try are gift baskets. You can create gift baskets with any budget and to suit any recipient. To give you some inspiration we put together 21 DIY gift basket ideas for Christmas. Take a look there is a basket for everyone!
1. Honey Gift Basket
If you know someone who loves honey, then consider a putting together a bee-utiful gift basket like this one. It is full of products including different honey flavors and soaps. Honey is a wonderful natural product. It can be used in drinks, in food and even on skin and hair. So, your gift basket can have many uses!
2. Festive Treats
Next, we have a gift idea that is a treat for all ages. The box is full of all delicious food from chocolates to biscuits and a Christmassy candy cane. You could recreate something like this with a specific person's favourite treats. Anyone would love to receive one of these!
3. Game of Thrones Gift Basket
Know a Game of Thrones fan? Then this could be the perfect gift basket for them. The basket includes a photo, mug, box of chocolates and collectible sword. You could recreate one like this with other Game of Thrones merchandise. If you know someone who is a big fan of another TV show of film, you could create a similar basket to!
4. Christmas Candle Gift Basket
Candles are very popular gifts for Christmas. Our next basket idea features a selection of candles, wax melts and a melt warmer. You could create a basket full of festive smells, the recipient's favourite smells or even a mixture of the two.
5. Cute The Snowman Gift Basket
The Snowman is a classic Christmas movie. This next gift idea is perfect for all ages who are a fan of the film. The basket features two Snowman DVDs, a bauble and a Snowman toy. We love this idea because it has a bit of everything. Something to decorate with, something to watch on the special day and a toy to keep. You could recreate a gift like this with other movies to.
6. Glamorous Gift Idea
Need a gift for someone who is glamorous? Then this gift basket idea could be for you. The gift features a cute bag, earrings, a candle and sparkling wine. You could recreate this with the person's favourite drink and with items in their style. We love this idea because the items can be use long after Christmas is over.
7. Christmas Treat Basket
Next, we have a basket idea that is full of festive treats. Some of the items include biscuits, chocolates and more. A basket like this would be great for a family or for a couple of people to share. If it was for multiple people you could add in their individual favourite treat.
8. Pamper Set with Chocolates
Know someone who needs pampering this Christmas? Then this basket idea could be for them. This gift features chocolates and all different beauty items including a nail file and hand cream. You could recreate this with any chocolates and any beauty items. Maybe nail polishes and pieces like that.
9. Christmas Wine Gift Idea
Our next gift idea is fun and festive. It is a box that features wine, a Santa and other Christmassy treats. You could recreate this and put it into an actual basket. You could put in the recipient's favourite wine and chocolates. We love this idea because there are many different gift combinations you could make.
10. Mince Pies and Christmas Cake Basket
It wouldn't be Christmas without mince pies and Christmas cake! This basket features both the festive must-haves and a cute merry Christmas sign. Anyone who loves food will enjoy a basket like this. If you like to bake you could even have a go at making mince pies and a cake and including those. That way the gift is handmade and unique.