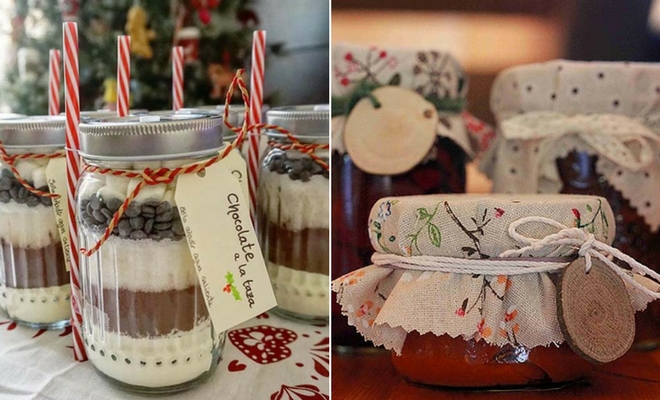 23 Easy DIY Christmas Gift Ideas
11. Christmas Chocolates
You can jazz up the simplest of sweets or chocolates with beautiful presentation. This next idea shows a selection of treats that have been put into a pretty box with a bell, ribbon and label. You could personalize each box for each recipient. If you wanted to take the DIY a step further you could also bake and make the treats yourself.
12. DIY Candle Holder
Next, we have another cute candle idea. This one used a star paper punch on some paper which has then been placed inside a candle holder. When the candle is lit the stars will look pretty. You could recreate this with any shape. Just make sure you use flameless LED tealights so the candle is safe.
13. Lavender Body Scrub
If you liked the salt body scrub from earlier in the post, then you might like this one to. This body scrub is lavender. A DIY gift like this is perfect for anyone who needs to relax and be pampered. There are a variety of recipes for this but for a basic scrub you will need: granulated sugar, coconut oil and lavender essential oil.
14. Homemade Jam
Like to bake, cook and be in the kitchen? Then try giving your friends and family homemade jam this Christmas. It is a cute gift that anyone will love to eat. There are lots of jam recipes available online to help you. Try and include pretty fabric lids like these. It gives the jam an extra special finishing touch.
15. DIY Christmas Mugs
Mugs are popular Christmas gifts. Instead of giving them one you can buy in shops why not design one yourself? This creative gift giver created awesome personalized mugs. You could create something like this or add in the recipients favourite colors or things. Mugs like these can even be created with Sharpie pens.
16. Reindeer Nose Chocolates
Here is another way to jazz up your chocolates and treats. These DIY gifts were created with brown and red chocolates. The brown ones were added to a small bag with one red chocolate and were finished off with a label that says, "Reindeer Noses". This is a cute and creative way to give your treats a Christmas theme.
17. DIY Pasta Wreath
You can get the whole family involved in DIY Christmas projects. You could create pasta wreaths like this one. All you will need is some card, pasta, paint, glue and ribbon. The kids can make these and give them out to family and friends.
18. Cute Bracelets
Give the gift of style this Christmas with DIY bracelets like these. There are so many tutorials online to help you create pretty bracelets like these. You could make these in any color and in any style to suit the recipient. Maybe add in a charm to make the bracelet personalized.
19. DIY Wine Gift
Next, we have the perfect gift idea for anyone who loves wine. This gift is a blackboard with a Christmas song that has been changed to be about wine. Something like this is fun and the recipient will love it. You could recreate the chalkboard style or even make it into a card or computer printed image.
20. Kitchen Gift Hamper
If you liked the hamper idea from earlier in the post, then you may like this next idea to. It is another creative way to make a hamper. Instead of the favourite things it could be a hamper about their hobbies or things they need. This kitchen one would be great for anyone who loves being in the kitchen or if someone has moved into a new home. You could fill it like this or add your own bits and pieces.
21. DIY String Art Initial
String art is very popular. Many crafters have created beautiful string art decorations for the home. This next DIY idea is of a string art initial. You could create something like this for any loved one this Christmas. There are many tutorials online to help you with this project.
22. DIY Christmas Tea Tree
Know someone who loves tea? Then this next gift idea is for them! This DIY gift was created with teabags that are put into the shape of a Christmas tree. You could recreate this with the recipient's favourite tea bags. We love this unique idea!
23. Candle Gift
Last on our list is this candle DIY Christmas gift idea. Each candle features a different decoration with a different label on the front. You could create a personalized candle for each person on your gift list. Maybe even get the whole family involved so everyone can make one.
We hope you have found inspiration from our DIY Christmas gift ideas.