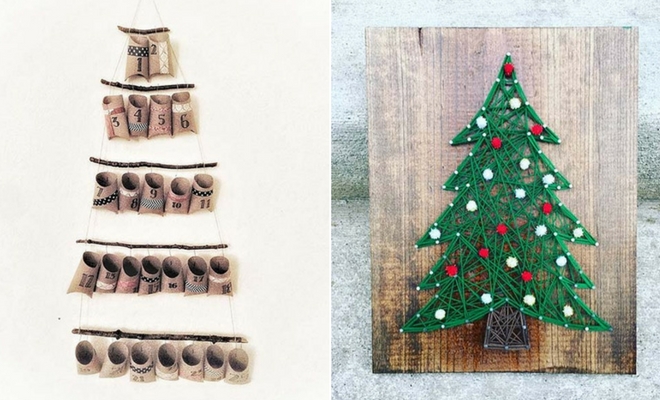 Instagram
Lifestyle
21 Fun and Easy DIY Christmas Crafts
By
|
11. DIY Christmas Card
Every year most of us give out Christmas cards to friends and family. This year make it extra special and make your own cards! This card features a super cute penguin. You could draw or paint your design or print a picture to use. Make a penguin card like this or create your own.
12. Christmas Photo Booth Prop
When the big day arrives, you may have family and friends over for dinner. Make it a fun day to remember with a festive photo booth. For a photo booth you need props. These props would be perfect for Christmassy pictures and you can make them at home. Print off some images like these, laminate them and glue on some sticks.
13. DIY Gift Tags
Personalize your gifts this year with DIY gift tags. You can create super cute tags easily at home. These were made with a variety of pieces including buttons and colored card. Anyone would love a present that has tags like these. You could make a variety of designs or just choose one.
14. Ice Skate Decoration
Ice skate decorations are very popular this year. All you need is an ice skate and then fill it with all Christmassy items. There are tutorials online to help you with filling them, how to hang your decoration and even how to turn them into wreaths.
15. Cute DIY Penguins
Our next pick is super cute! We have a pair of festive penguins that would look adorable as a tree decoration or placed around your home. All you will need to make these penguins are two corks. You can buy the corks or recycle wine bottle ones. Then paint your penguin design.
16. Beaded Candy Canes
Candy canes are traditional Christmas decorations. The downside to having candy canes in the tree and around your house is that people may eat them before Christmas comes. Our next craft idea solves that problem! These candy canes have been made from beads and pipe cleaners. This decoration is super easy to make and will last year after year.
17. Festive Candle
Give your candles a festive look by adding some Christmassy decorations. This candle features a variety of things including pine cones and berries. You could add anything to these such as ribbons or tinsel. Make sure your candle is safe, you could even decorate a flameless candle.
18. Gingerbread Puppets
Our next Christmas crafts idea is perfect for families with younger children. You can make gingerbread puppets! Not only will your kids enjoy making them with you, but these will also bring the family together for puppet shows and more. You could also give these out as gifts. There are many tutorials available online to help you make puppets similar to these.
19. DIY Christmas Flower
Christmas flowers are very popular decorations. Next, we have a craft idea that will make your Christmas flowers last for years and years. You can make flowers with felt and pom-poms. You could make a few of these and decorate the tree or even turn them into a garland.
20. DIY Paper Baubles
Make your Christmas tree unique by decorating it with paper baubles. These can made from any paper. Plain, festive, sparkly the possibilities are endless. You can also make these in different shapes. There are tutorials online to help you create the baubles. We love these Christmas crafts!
21. DIY Painted Wooden Decor
Wooden decorations are very trendy this Christmas. This small piece of wood has been painted with baubles and snowflakes. This would look super cute hung up in your home. You could recreate your decoration like these or create your own design.
We hope you have found some festive Christmas crafts.