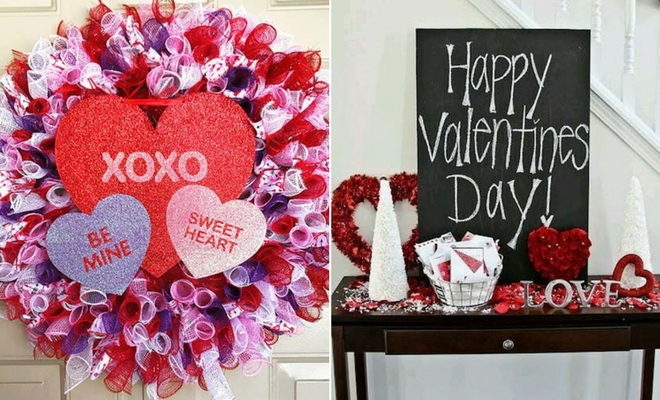 21 Cute Valentine's Day Decor Ideas
Valentine's day is a fun holiday full of love and romance. This special occasion deserves some special decorations. You can decorate rooms for your other half or just to celebrate the day. To give you some Valentine's inspiration we have found 21 cute Valentine's day decor ideas. There is something for everyone and you can even make some of these yourself!
1. Valentine's Wreath
First up we have this super cute Valentine's wreath. The wreath is full of romantic colors and features a love heart and candy inspired hearts. Something like this would suit any door. You could buy a wreath or if you like crafts try and make one yourself.
2. Love Garland and Heart Decor Idea
Bring some romance into any room with decor like this. This idea features heart and pom-pom garlands with a love banner and a red love heart. You could take inspiration from the look and create something similar or just use one of the ideas.
3. Candy Heart Inspired Jars
Candy sweethearts are cute little sweets that are popular on Valentine's day. This next decor idea was inspired these sweets and features jar vases. The jars have been painted in the vibrant pastel colors of the candy. You could paint jars like these or even add some of the classic messages like be mine. We love this idea and think it would make an awesome DIY project.
4. Cute Valentine's Cushions
You don't have to decorate with bright pink hearts, you could go for a stylish look like this. The sofa has been decorated with a heart print blanket, red cushion and a love cushion. This is a cute idea that will also look great after the holiday is over.
5. Love Bottle Decor
Next, we have simple but gorgeous decor idea. This next pick features four bottles that have been painted red with white letters that spell out love. You could place these anywhere in your home. If you like crafts you could paint bottles yourself, it is also a great way to recycle to!
6. Cute Heart Decor Idea
If you want to go all out and transform your rooms for Valentine's day, then this next idea is for you. This bedroom has been decorated with red and pink hearts and has soft pink accessories like cushions. A room like this is cute and is perfect for the occasion. You could add the heart theme in other rooms to.
7. Unique Valentine's Day Decor
Celebrating Valentine's day solo? Then you need to check out this next pick. Here we have a unique banner that reads "Galentine's Day". Galentine's is an alternative way to celebrate with your friends instead of a boyfriend or girlfriend. Something like this would be great for a party.
8. Song Board
Letter boards have become very popular pieces of decor for your home. Give yours a Valentine's day makeover by using a quote or song. This board features a song about love from a band the couple like. You could recreate something like this with any song.
9. Heart Mantle Decor
Decorating the mantel piece is very popular at Christmas. Why not decorate it for Valentine's day to? This idea features a cute red glitter heart sign with a heart garland. This would look cute in any home. You could use any garland or heart sign.
10. Love Garland
You don't have to go all out to celebrate the occasion. Maybe just have one banner like this. It simply says love and has two red hearts. This is a cute decor idea. You could buy one or if you like crafts, try and make one yourself. By making it yourself you could use your own color scheme and letter fonts.
Last modified on February 13, 2018