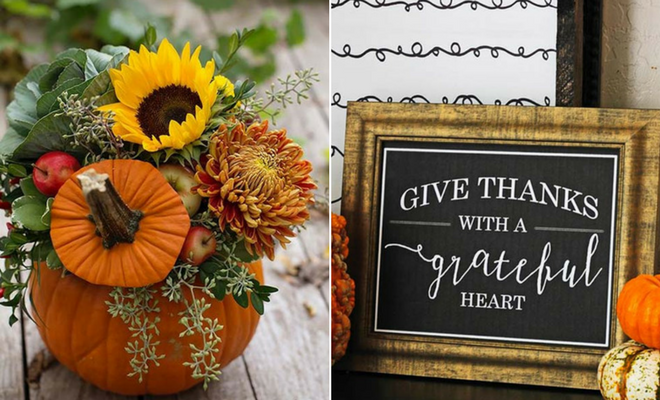 Instagram
Lifestyle
21 Simple and Creative Thanksgiving Decorations
By
|
We decorate our homes for special occasions like Christmas, Halloween and more. So, why not add some decorations for thanksgiving to! This festive occasion brings together family and friends so it is the perfect time to make your house look pretty. To get you inspired we have found 21 simple and creative thanksgiving decorations. There is something for everyone whether you're a crafting beginner or expert.
1. Pumpkin Flower Arrangement
First up we have this cute pumpkin flower arrangement. All the flowers and plants have been put into a pumpkin vase. A creative arrangement like this will look beautiful in any room. You could put it on the dining table for thanksgiving dinner. Try and recreate this with different flowers and plants to.
2. DIY Grateful Decoration
Next, we have a decoration that you can easily make yourself at home. It is a framed picture that features the word grateful. It was created with jute string that was stuck onto a background. You can use a stencil or just create your word freehand. Something like this would look great in any room.
3. Fall Inspired Dream Catcher
If you are looking for decor that is unique then this next idea is for you. It is a dream catcher with a fall inspired design. A dream catcher is a beautiful decoration that would look nice in any room. You could simply make a dream catcher like this at home, there are plenty of tutorials available online.
4. Give Thanks Pumpkins
A simple way to jazz up your home this thanksgiving is with pumpkins. You can make your pumpkins unique by painting them white like these. Try adding on the gold give thanks to. These are cheap and easy way to decorate any room.
5. Thanksgiving Floral Decoration
Liked the floral arrangement from the beginning of the post? Then you might like this next decor idea to. This one features plants and iconic fall pieces in a big glass vase. Something like this will make a trendy decoration that is perfect for the fall and thanksgiving.
6. Fall Wreath
Wreaths are a stylish way to decorate your front door. Not only that but you can be very creative with a wreath as you can easily make them at home. This one is a natural wreath with pretty autumnal flowers. It would look beautiful on any door. You could recreate this with any flowers, you could maybe add in some pumpkins or words to.
7. Thanksgiving Home Decor
Our next pick shows how you can decorate a table or a fireplace this thanksgiving. It features cute pumpkins with a pine cone garland and a colorful banner. The banner looks like pumpkin pie to which is perfect for the occasion. You could recreate something like this easily in your own home.
8. Fall Branch Decoration
If you want a simple decoration idea then this could be for you. It is cute little branches with different colored leaves. This would make a fun craft idea and you could create any leaves you like. A decoration like this will jazz up any vase. You could make as many of these you like.
9. Cute Thanksgiving Banner
Banners are a great way to decorate. You can hang these anywhere from fireplaces to tables to door frames. A banner like this would be a super cute choice for thanksgiving. It features little pumpkins and words like blessed, thankful and grateful. You could also make something like this if you like sewing and DIY projects.
10. Gobble Til You Wobble Decoration
Add some humor to your thanksgiving decor by having a funny picture like this one. It features the words gobble til you wobble. It is a cute picture that will make everyone laugh. You could recreate this in your own font and color scheme.