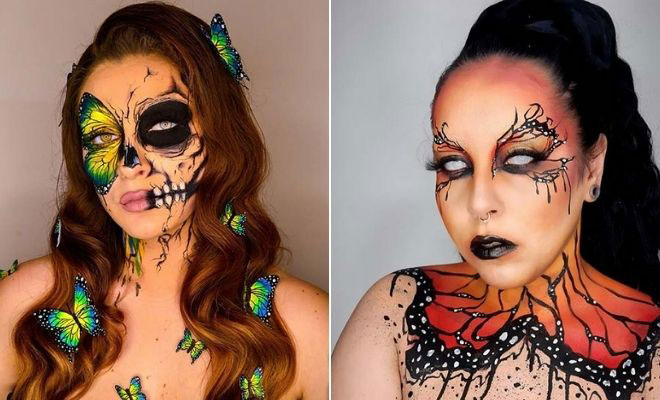 21 Most Beautiful Butterfly Makeup Ideas for Halloween
Looking for Halloween makeup but are fed up with the classic witches, werewolves and vampires? If so, we have just the thing for you. How about butterfly makeup? Makeup inspired by butterflies has become so popular and each artist that has tried the trend has managed to create something beautiful and/or spooky. With butterfly makeup you can create fairy costumes and some artists have even created skull and butterfly combos. To give you some inspiration, we have 21 most beautiful butterfly makeup ideas for Halloween. Take a look and try something new this year.
1. Corpse Bride Inspired Makeup
First up, we this skull and butterfly makeup. The makeup artist has painted her face a blue shade complete with an illusion skeleton eye, nose and mouth. While one eye is decorated with a butterfly. Makeup like this is perfect for Corpse Bride fans because as people who have seen the movie will know, Emily transforms into butterflies and this makeup seems to be inspired by this.
2. Beautiful Blue Butterflies
Next, we have a makeup look that features beautiful blue butterflies. As you can see, the artist has painted butterflies on her face and body. Something like this is great for those who want to dress up for Halloween without being scary. You could even add these butterflies to a fairy costume. There are tutorials online to show you how to paint butterflies.
Products used: Maybelline Dream Satin Liquid Founation in 21 Nude, Kiko Milano High Coverage in 03, NYX Cosmetics White Liquid Liner, Amazon Face Paint Palette, Morpge 35B Palette, Fenty Beauty Diamond Bomb Highlighter, Rouge and Rouge Black Magic Lashes in Noctura and Fenty Beauty Stunna Lip Paint in Uncensored.
3. Half Butterfly, Half Skull
The next makeup idea gives you the best of both worlds. One side of her face has skull makeup and the other side has a gorgeous butterfly wing. So, you can look spooky on one side and pretty on the other. This is a fun and unique look and you can recreate the butterfly wing in any color you like.
4. Pretty Butterfly Eye Makeup for Halloween
If the scary makeup isn't really your thing and you want to look cute on Halloween, then this idea is for you. As you can see, the artist has created beautiful purple eye makeup on one side and on the other, the area around the eye is adorned with a butterfly wing. Wear with a color match dress and you have a stylish Halloween party look.
Products used: IL Makiage Woke Up Like This Foundation, Mineral Baked Bronzer, Infinity Long Wear Matte Lip Cream in shade Flirt Us & F*ck I'm Flawless Concealer, B. by Superdrug Whipped Bronzer, Scott Barnes Cosmetics Color Bomb Palette in shades Shameless & Royalty, Shrine Pink Chameleon Pigment, Maybelline Eye Studio Lasting Drama Gel Liner, Shrine X Mehron Makeup Paint Palette and Kiko Milano 3D Hudra Lipgloss in shade 20.
5. Skull with Butterfly Design
Want to go all out this Halloween? If so, this makeup idea is for you! This makeup was inspired by the movie Beetlejuice. As you can see, she has the elements of the character with the green hair and purple and grey face. But she has made it unique buy combining it with a butterfly skull design. This is an awesome and spooky idea that is perfect for parties.
Products used: Morphe 39S Palette, Makeup A Murder Neon Green, Jeffree Star Cosmetics Black & White Shadow, Senegence International White Concealer & Grape Gloss and Violet Volt LipSense.
6. Butterfly Eye Makeup
This next makeup idea is so pretty and beautiful! Here we have a butterfly wing design on both eyes. This is such a unique and gorgeous idea. You could wear the makeup as is with a stylish outfit or you can use this makeup to create a fairy costume. Pair with a wig, fairy wings and a dress and you will have one cute Halloween costume.
Products used: BPerfect Cosmetics XL Carnvial Palette, Coco Cosmetics By Chloe Dubai Babyyy!, Doll Beauty Shine Bright and P Louise Makeup Blank Canvas.
7. Butterfly Skull Illusion Makeup with Wings
Looking for butterfly makeup for Halloween that will wow? Then this is perfect for you. Here have butterfly and skull illusion makeup on the face. The look is complete with card butterfly wings on the sides of her face. This is such an awesome idea! Recreate this or you can try a version of this by using any color for the butterfly. A blue version would look amazing as well.
Products used: Hand-made Card Butterfly Wings, Revlon Foundation, Makeup Revolution Concealer, Violet Voss x Nicol Concilio Palette, Morphe X James Charles Palette, Mehron Paradise Paints, P Louise Makeup Academy Base, Unicorn Majestic Lashes and ABH Dipbrow in Blonde.
8. Stunning and Spooky Makeup Idea
We love this next makeup idea and it is one of our favorites! The artist has created a skull illusion on one side of her face with a beautiful butterfly wing on the other. She has also added paper butterflies to her hair and on her body to. This is a pretty but spooky idea and it is a great look for any Halloween event from a club to more family orientated party.
Products used: Estee Lauder Double Wear, Dior Makeup Forever Glow Foundation (2W), Benefit Boi-ing Airbrush Concealer in 01, Fenty Beauty Translucent Powder in Butter, Stacey Marie X BPerfect Cosmetics XL Pro Carnival Palette, Eulenspiegel-Schminkfarben Watercolors, NYX Slim Lip Pencl in Mauve & Soft Matte Lip Cream in London and da Vinci Artist Brushes.
9. Pretty Wing Makeup Design
Next, we have another beautiful butterfly makeup idea to show you. For this one, the artist has gone all out and she has created butterfly wings on her face with the same pattern on her body too. It is a stunning idea and you can wear makeup like this with a color match dress or use it to create a magical fairy costume.
Products used: Violet Voss Vibes Bright Palette, Limeade Palette & Rainbow Palette, P Louise Makeup Big Badda Base & Base Rumour 00, Chanel Calligraphie de Chanel Black eyeliner, Black Up Matnifique No Transfer Foundation 17 & 14, Two Way Cake Powder 05, Contouring Powder Palette 04 & Double Effect Liquid Matte Lipstick 02, Fenty Beauty Freestyle Highlighter in Trophy Wife & Gloss Bomb Trophy Wife and NYX Cosmetics Liquid Matte Eyeliner White & Oil Face Paint Palette.
10. Butterfly Wings with a Skeleton Mouth
Like the butterfly and skull makeup ideas? If so, check this out. This one features bold orange butterfly wings on the eyes with a skull design on the mouth. It is another makeup look that is both scary and cute. You can even add contact lenses to make it a little more scary.
Products used: Wet N Wild Beauty Photo Focus Foundation & CCBeauty Flash Palette, IEnvy By Kiss Lashes, RCMA Makeup No Color Powder, NYX Cosmetics Black Liquid Liner, Jeffree Star Drug Lord Liquid Lipstick, Alien Palette and ABH Norvina 3 Palette.
11. Watercolour Butterfly Idea
Looking for unique makeup for Halloween? If so, why not try something like this?! Here we have a rainbow colored butterfly wing that has been painted on the face. It is an artistic and beautiful piece and it will look amazing for parties. You can keep it simple or go all out and wear a wig, contact lenses and more. Maybe even add some skull elements.
12. Magical Purple Butterflies
Earlier in the post we featured beautiful blue butterfly makeup. If you liked that idea, then take a look at this one too. This one has a similar design but the butterflies are pink and purple instead. It shows how you can be inspired by an idea to create something new. If you like the butterfly design, give it a try! This makeup looks magical and it will be perfect for a fairy costume.
Products used: ColorPop Cosmetics Flutter By Buterfly Collection – Flutter Pressed Powder Palette, Jelly Much Shadow in Buttercup, Super Shock Shadow in Ringlet, Super Shock Shadow in Mighty Morphin, Pixie Puff Highlighter in Fly By & Velvet Blur Lipstick in Bloom2bloom & Virgo Moon, Makeup Forever Official Ultra HD Foundation, Lancome Blush in Smile and Blush, TheBalm Liquid Eyeliner and ColorPop No Filter Concealer in 00.
13. Monarch Butterfly Inspired Design
If you have a favorite butterfly, your makeup can be inspired by it. For example, here we have makeup inspired by a Monarch butterfly. It has the beautiful orange color with similar patterns. So, recreate this or use it as inspiration and create your own Halloween makeup based on your favorite butterfly. You can try the look with or without the skull elements.
14. Spooky Purple Skull
Next, we have a spooky butterfly makeup idea to show you. For this look, the artist has created bold purple butterfly wings on her face complete with skull teeth and a nose. This is a such a cool look because it is kinda creepy but cute. You could even wear white contacts to create a ghostly vibe. Also, try to wear a similar hair accessory to stand out from the scary crowd.
15. Beautiful Butterfly Design with a Scary Skeleton Illusion
The next makeup idea is beautiful but scary too. For this look we have an illusion skull with a dark eye and cracks. While on the other eye there is a gorgeous butterfly wing. The costume is complete with paper butterflies. This is such a bold and statement making look and it gives you the best of both worlds. Pretty and spooky.
Products used: Mehron Aqua Paradise Paints, BPerfect Cosmetics Carnival XL Pro Palette, Baby Doll Cosmetics Lashes, NYX Epic Ink Liner and Carter Beauty Comsetics Supreme Gel Liner.
16. Scary Makeup with White Contact Lenses
We love this next makeup idea! This is another makeup idea inspired by a Monarch butterfly. She has dripping wings around the eyes and the same butterfly design is on her neck too. The look is complete with white contacts and black lip color. This is a scary idea and it will give people a fright. Recreate this or you can use any colors for the butterfly wings.
17. Intricate Butterfly Design
If you want to go all out, then this is for you! Here we have very intricate and bold butterfly makeup. As you can see, her face and body are purple. She is decorated with skull elements, two butterflies and amazing patterns. This is such a cool idea and it makes her look like she is from another world. Recreate this or try the look in a different color such as blue.
18. Bold Butterfly Makeup for Halloween
This next makeup idea is cute, spooky and bold which is perfect for Halloween. She has large butterfly wings on her eyes complete with skull illusions. This is a cool makeup idea and you can find tutorials online for both the butterfly and skeleton elements. For a more pretty and fairy like look, you can also try the butterfly wings without the skull design.
Products used: Anastasia Beverly Hills Norvina 3 Palette, Jet Waterproof Cream Color & Liquid Liner, P Louise Rumour Base, Kat Von D Beauty Lock-It Foundation in Light 42 & Lock-It Concealer in White Out, Makeup Forever Aqua XL Color Paint in Lustrous White, Wet N Wild Beauty Coloricon Blush in Mellow Wine, Milk Makeup Kush Mascara and Lady Lash Club Envy lashes.
19. Vibrant Butterfly Makeup
Next, we have a bold and beautiful makeup idea. This one features colorful eye makeup with cute lip color. Her face is also decorated with vibrant butterflies. This is a fun and stylish makeup idea that allows you to dress up for Halloween in a cute and not creepy way. There is a tutorial for this makeup on the artist's page and the link is below.
Products used: BPerfect Cosmetics Carnival XL palette, mmmmitchell X BPerfect Cosmetics Subzero palette, Mehron Paradise paints, P Louise Bases, Maybelline Super Stay in 112, Huda Beauty Liquid Liner, Queenfidence Cosmetics Proverbs 31 and Browluxe in Coffee.
20. Half Skull Butterfly Illusion
Maybe you want makeup that is stunning and that will wow. If so, this is for you. Most of her face has glam makeup that you would usually wear to an event. While the other side features a colorful and beautiful butterfly wing illusion. This makeup is so pretty and it will look great with any outfit.
21. Butterfly Design with 3D Wings
The last butterfly makeup idea is another one with 3D wings. She has created a butterfly wing design on the eyes with a skeleton nose and mouth. The look is complete with wings on the side of her head. This is great if you want unique makeup that makes you stand out. Recreate the red version or try using a different main color. You can also make butterfly wings with card and paint.
Products used: P Louise Rumour 0.5, Morphe X James Charles Palette, Becca Cosmetics Shimmering Skin Perfector Pearl, Esquido Black Gel Liner, Wet N Wild Black Megaline, Gypsy Moon Carolina Lashes, Artiparty Face Paint, Becca Cosemtics Ever Matte Priming Perfector, Wet N Wild Photofocus Foundation, ColorPop Pretty Fresh Concealer, Coty Airspun Setting Powder and Tarte Parkave Princess.
We hope you have found a cool butterfly makeup idea to try for Halloween.