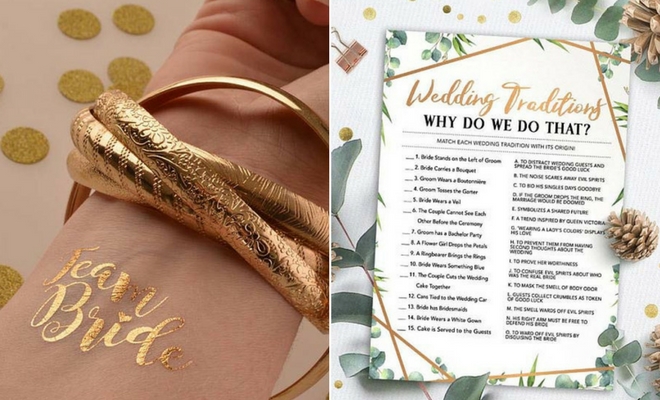 Etsy
Lifestyle
23 Bridal Shower Hacks and Ideas for 2018
By
|
11. Creative and Unique Puzzle Keyring
Next, we have a beautiful party favor idea. Here we have a heart keyring that is split into jigsaw pieces. Each piece makes up the heart and is personalized with a person's name and their role in the wedding. The bridesmaids, mother of the bride, bride and more can have a piece of the heart. It is a meaningful keepsake that anyone would love to receive. You can purchase this one of a kind keyrings from Etsy shop celebrateyourway.
12. Bridal Shower Wreath Idea
If you like the bridal wreath idea that we featured earlier then you may like this one to. This wreath looks natural and has lots of beautiful flowers. The wreath also has a bridal veil. A wreath like this would make a great DIY project. You can buy natural wreaths and add the flowers and veil yourself.
13. I Do Crew Temporary Tattoo Idea
Next, we have another temporary tattoo idea. The tattoo reads "I do crew" and is in a glam gold font. All the guests at the shower will love wearing one of these. Temporary tattoos are fun activity and will make a great memory for the guests. You can get these tattoos from Etsy shop FlairGifts.
14. Pretty Cake Table
Our next idea is this pretty buffet table. The table features cakes and decorations. A table like this would be quite simple to recreate. You could fill the table with cakes and other sweet treats or have food. A table like this could also be used to serve drinks to.
15. Personalized Drinks
Make the shower extra special by having personalized drinks. You could have tropical drinks like this coconut or have your unique creation. Try and make the personalized drink match the shower. So, if you are planning an elegant party have cocktails in pretty glasses.
16. Bridal Shower Photo Booth Idea
A fun activity for a bridal shower is a photo booth. The guests can take photos in a frame. You could have a personalized frame like the one featured or make one yourself if you like crafts. Not only will the guests enjoy the photo booth, but the photos will be great memories to.
17. Bride Sash and Crown
A bride needs a crown and sash for a bridal shower. It will make her feel extra special and it will look great on photos to. You can get personalized sash and you can even have sashes for bridesmaids to. This is a fun and low-cost idea that the bride-to-be will love.
18. Wedding Traditions Game
Next, we have a fun game idea. This game is called Wedding Traditions. You need to match each tradition with the origin. This is a game that will get all the guests involved. You can buy this printable game from Etsy store BridalxLibrary.
19. DIY Flower Jars
If you're looking for low-cost and beautiful decor ideas, then our next pick could be for you. Here we have painted jars with flower inside. You could put jars like this on tables and around the bridal shower. For this project you can buy jars or recycle some from around the house.
20. How Many Kisses Game
Another fun game idea is how many kisses. You fill up a jar with chocolate kisses and have the guests write down how many they think is in the jar. The winner is the person who guessed correctly or the closest. This is a game that all the guests will love.
21. Personalized Wooden Fan Favors
If you want a creative party favor idea, then this could be what you are looking for. You can buy personalized wooden fans from Etsy shop FineGiftsEngraving. You can have all the bridesmaids and others names engraved on the fan. It is a cute favor and the guests can keep it as a memory.
22. Floral Heart Wreath
Here is another wreath idea. This one is in a love heart shape and is full of beautiful blooms. A wreath like this would be a stunning choice for any bridal shower. If you like crafts, you could create your own and choose your own flowers. You can also create a few to decorate the shower.
23. Put a Ring On It Game
Last on our list is this fun ring game. Each guest takes a ring and you are not allowed to say wedding or bride. If you do the ring can be taken from you, if you hear someone say the words, then you take their ring. Whoever has the most rings at the end of the shower wins.
We hope you have found inspiration from our bridal shower ideas.