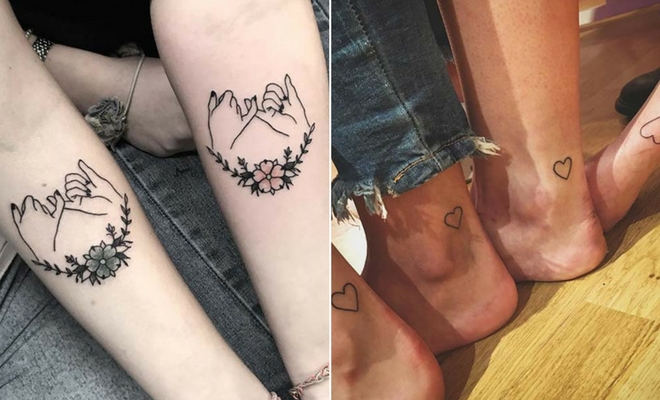 Instagram
Lifestyle
63 Cute Best Friend Tattoos for You and Your BFF
By
|
11. Beautiful Moon and Sun Tattoo Design
Our next tattoo idea features a moon and a sun tattoo. These best friend tattoos match but also look great as single tattoos. You both could design the sun and the moon to make them unique to you both. The moon and the sun are needed together so these are perfect symbols of friendship.
12. Matching Bird Tattoos
Birds can improve our moods with their singing and they are a symbol of freedom and free spirits. So, it is no surprise that birds are popular tattoo choices. These two friends have had matching bird tattoos created. You can recreate something similar with any bird of your choice. Maybe choose the bird you both like the best.
13. Creative Salt and Pepper Design Idea
Here is another quirky and creative idea. These best friends have had a salt and pepper design. One friend has a salt pot and the other pepper. This is a great symbol of friendship because you can't have salt without pepper. You can have a tattoo like this placed anywhere on the body.
14. Stylish, Minimal Circle
If you are looking for simple and subtle best friend tattoos, this next idea could be what you are looking for. Each friend has a black circle outline tattooed on their wrists. These are cute tattoos that will suit anyone. Maybe you can have the tattoos recreated with your favourite colors instead of the black outline.
15. Pretty Olive Branch Tattoo
Olive branches are popular tattoo designs. They are a symbol of peace and goodwill. Olive branches would be a great design idea for friends because it shows you care and want to keep a good relationship. Not only that but olive branches look pretty too.
16. Heart Tattoos
If you liked the heart outlines featured earlier in the post, then you may like our next idea too. These heart outlines have a different design and also have a cute star. We love these tattoos because they are meaningful, matching and look gorgeous. You can also recreate these in different colors.
17. Cute Avocado Tattoo
Next, we have another cute and quirky idea. These two friends have had half an avocado tattooed on each other. The two halves when put together make a whole. It is a fun and meaningful idea that shows the two friends are not complete without each other.
18. Cute Sunshine Tattoos
The sun brightens up the day, the same can be said for friends. You and your bestie can have a sunshine tattoo to show that you will always be there for each other and that you will both bring positivity. You can have a cute sun designed like the one featured or something different.
19. Unique Yin and Yang Feathers
Yin and Yang is a symbol about how to opposite energies harmonize each other. This meaning makes the symbol great for best friend tattoos. These two friends have taken this idea and turned it into a very creative tattoo. Instead of the classic symbol they have had feathers created. We love this unique idea.
20. BFF Tattoo Idea for 3 Friends
Celebrate friendship with this super cute and creative tattoo design. This idea is perfect for 3 best friends.