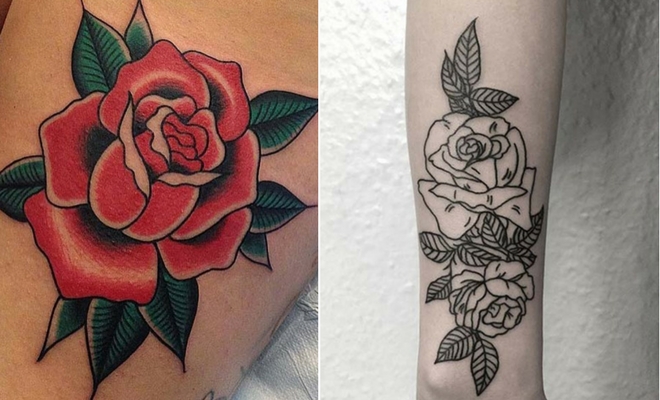 Instagram
Lifestyle
21 Beautiful Rose Tattoo Ideas for Women
By
|
11. Creative Single Rose Tattoo
This cute leg tattoo features a single watercolor rose. This is a trendy example of how flashes of color make a tattoo design look unique. You still get the traditional rose colors with a fresh and modern twist. You could have a design like this tattooed anywhere.
12. Cute Roses
Hip tattoos are super cute. This double rose design features very detailed pink roses. Tattoos like this are stylish and feminine. You could have any color rose in ink like this. If you want something arty have the watercolor and if you're more of a minimalist try just black ink.
13. Rose and Compass
Next on our rose tattoo list is this trendy compass ink. It features a beautiful single rose, compass and feathers. Designs like this can mean different things to different people. But tattoos like these are said to provide protection. This belief comes from sailors who had compass tattoos for protection over the rough seas. It is a unique tattoo that will look stylish on everyone.
14. Bold Red Rose Ink
Here is another tattoo with an old-school vibe. This one is bold and covers most of the arm. The leaves have beautiful dark shading and detail which suits the rich red color of the petals. It is a stunning ink that will make a statement. You could even have smaller roses to create a sleeve design.
15. Pretty Double Rose Design
If you liked the double rose design then you need to check out this collar bone tattoo. This one features two black ink roses with a stem and a smaller rose. This is feminine and very trendy. You could even be bold and have a splash of color added to the roses.
16. Bunch of Roses
Thinking of getting a bold rose design? Then have a look at this bunch of roses. It features three vibrant roses covering the lower arm. Something like this is statement making. A design like this could be made into a stylish sleeve and you could even just use black ink. This tat is a great source of inspiration.
17. Illustrated Ink
Black ink roses are chic and stylish. The design features two roses with no shading just clean and crisp lines. This technique creates a trendy and timeless piece that will never out-date. You could mix it up and have one rose or multiple roses to create a more dramatic finish.
18. Pink Petal Rose
This next tattoo shows how an artist can use multiple techniques to create a stunning design. The ink features a soft shaded pink rose with water colored edges and the rose is finished off with black stem. These three elements combined make a statement ink that will wow. There are many ways you and your artist could re-create a tattoo like this.
19. Shoulder Tattoo
Shoulder tattoos are a very popular choice. You can show it off or cover it up when you need to. This rose design is funky and stylish. You could have a black ink design like this or add a splash of color. A shoulder tattoo would be great for the summer.
20. Rose Sleeve
Our next pick shows how stunning rose sleeve designs can be. This sleeve features a mixture of bold red roses and shaded black ink roses. This color combination looks amazing. If you are thinking about getting a sleeve then use this as inspiration to create the perfect ink with style.
21. Back of the Arm Tattoo
Last on our list is this single shaded rose arm tattoo. This one has the traditional style without the bold colors. Something like this is great if you prefer your tats without color. A tattoo like this will jazz up your t-shirts and will never go out of style.
We hope you have found inspiration for your next tattoo design!