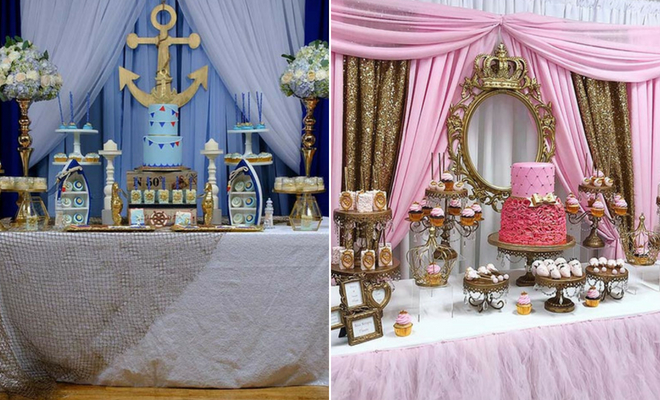 Instagram
Lifestyle
23 Creative Baby Shower Themes for Girls
By
|
11. Vibrant Alice in Wonderland Baby Shower Theme
Alice in Wonderland is popular for birthdays, tea parties and more. Here is how you can use an Alice in Wonderland theme for the baby shower! The vibrant venue is decorated with mushrooms, flowers and more. We love how colorful and quirky this is. You can have food that says eat me and drinks that say drink me too.
12. Disney Baby Shower Idea
Is the mom-to-be a Disney fan? Then throw a Disney theme baby shower. You can choose any movie and create an amazing venue. Here is an example of a theme inspired by The Little Mermaid. There is mermaid decor, blue cakes and more. Something like this would be great in the summer too.
13. Unicorn Baby Shower Theme
Everyone loves unicorns! These magical creatures are popular for any party and you can use them in baby showers too. This baby shower has a unicorn theme and features a unicorn cake, balloons and beautiful decor. You can create something glam like that or something bold and creative with rainbows.
14. Tropical Baby Shower Theme
Planning a summer baby shower? Then consider a tropical theme. You can have flamingos, plants, pineapples and more. For drinks you can have a cocktail and mocktail bar. You could even have the guests wear tropical print outfits. The possibilities are endless for this fun theme.
15. Beautiful Floral Theme
Next, we have a beautiful floral theme. We featured a flower theme earlier in the post but this one is more garden party than glam. This is a great theme because it looks gorgeous and it is fun and vibrant. You can have this theme indoor or outdoors, it would be perfect for the spring and summer.
16. Stylish Shabby Chic Baby Shower
Shabby chic is very stylish and it would be a great theme for a baby shower. Here is an awesome example of shabby chic inspired baby shower. It is simple, trendy and looks amazing. You can recreate something similar or add in your own quirky decor. Whatever decorations you choose, white is a must-have color!
17. Regal Fairy Tale Idea
A baby shower is a very special occasion so make it a day to remember with regal decor. This baby shower uses a very glamorous fairy tale theme. We love the gold and pink together as it looks super elegant and pretty. You can use pink for a girl or yellow for a summery look.
18. Summer Theme
This next baby shower theme is inspired by summer. The decor uses vibrant colors and flowers to bring the outdoors in and to give it a summery look. You can easily recreate something similar. All you need is a nice venue, balloons and beautiful floral blooms.
19. Twinkle Twinkle Baby Shower Idea
Our next theme was inspired by the classic lullaby Twinkle, Twinkle, Little Star. This is an amazing idea because this lullaby is loved by parents and children. The image below is a great example of a Twinkle Twinkle theme, it is pretty and full of stars.
20. Mermaid Theme
Another popular theme is mermaids. You can have so much fun with mermaid inspired decorations. For this baby shower the venue was filled with balloons, mermaids and other underwater themes and creatures. You can have a vibrant mermaid theme like this or choose more elegant decor.
21. Tea Party Theme
Next, we have a super cute tea party theme. You can decorate with stuffed animals, cakes, tea, floral patterns and more. As it is a tea party you can have traditional tea and cake or have herbal tea available. All the guests and the mom-to-be will love a tea party baby shower.
22. Royal Purple Baby Shower Theme
You can create a baby shower theme around a color. This baby shower uses purple. With one color a glam, royal looking baby shower has been created. Purple compliments other colors to like gold, so you can make one elegant looking venue. You can create a shower using any color.
23. Summer Yellow and Bee Theme
Last on our list is this summer, bee theme. The baby shower was decorated with yellow, black and white while the cakes are bee inspired. You can take inspiration from this and have the shower inside or outside. A theme like this would be perfect if the gender hasn't been revealed too.
We hope you have found the perfect theme for your baby girl's shower!