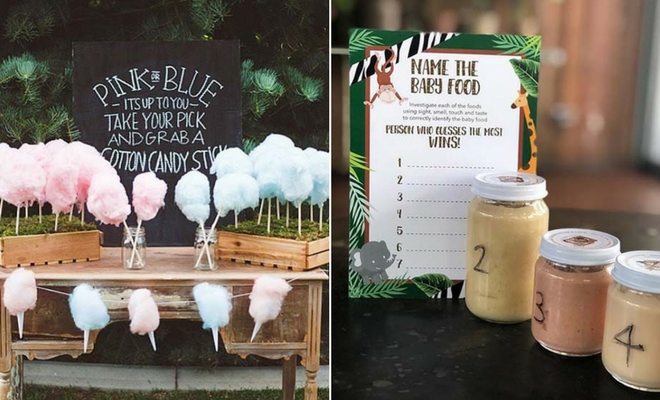 Instagram
Lifestyle
43 Cool and Creative Baby Shower Ideas for 2020
By
|
A baby shower is a celebration for the parents-to-be. It is a time when family and friends can get together, have fun and get excited for the new arrival. If you are planning one of these events, you need to check out our 43 cool baby shower ideas. We have games, cakes, decorations and more that can be used to create an unforgettable baby shower.
1. Baby Shower Dessert Cart Idea
Every celebration needs desserts and cake! Our first idea features this beautiful dessert cart. The cart is blue because the baby shower is for a boy and it is personalized with the family name. You could have something like this in pink for a girl. It is just a special way to present your food and/or dessert. Everyone would think it is awesome.
2. Cotton Candy Gender Prediction Game
Next, we have fun gender prediction game. At a baby shower, you can ask your guests to guess if the baby will be a boy or a girl, there are many styles of this game out there. For this one, each person will make their prediction by choosing either pink or blue cotton candy. It is a game that guests will enjoy, and everyone gets a treat.
3. Baby Shower Gift/Decor Idea
If you are looking for a baby shower gift, then you need to check out our next pick. This idea features a baby bath, bathing essentials and a baby balloon. With this, the parent will get important items for the baby as well as a super cute gift. Something like this could be also be used for decoration.
4. Guess the Baby Food Game
Ever wondered what baby food tastes like? With this game idea you and the guests can find out! This baby shower game is called name the baby food. For this, you will need jars of baby food with a guessing card. Each person tastes the food and writes down what flavor they think it is. Whoever gets the most correct answers wins. This is a simple, creative and fun game that everyone will love.
5. Gender Prediction Photo Booth
If you like the gender prediction game ideas, then you may like our next pick too. This gender prediction is a photo booth, one side of the frame is pink and the other blue. Each person makes a prediction by having their photo taken in blue or pink. This is a fun game, and everyone will be able to look back at the pictures. The photos can be kept as a reminder the special day.
6. Baby Block Centerpiece
The decorations are an important part of the baby shower as you want the room to look party ready. This next idea features baby block centerpieces with flowers on top. These would look so cute on the tables. You could recreate the blocks in any color and these would be a great DIY project.
7. Cute Pink Diaper Cake Idea
When choosing a gift for a baby shower it is a good idea to pick something cute but practical. By buying something that the parents need, you will be helping them for the future. A diaper cake is perfect as it looks – adorable but has a purpose. Diaper cakes feature many diapers arranged into a cake shape. You can get these in pink, blue, yellow with different tiers and in different styles.
8. Mom-Osa Cocktail Idea
Next, we have a non-alcoholic cocktail that is perfect for a baby shower. This cocktail is a twist on the Mimosa and is called a Mom-Osa. The Mom-Osa is a fruity drink that contains no alcohol. You could create a few mocktails and give them baby shower names.
9. Gender Reveal Bath Bomb
While searching for cool baby shower ideas, we came across these amazing gender reveal bath bombs. You put the bath bomb in water and it will fizz either blue or pink to say whether the baby is a boy or a girl. These are so unique and creative! Bath Bombs could be given at a baby shower as party favors so everyone gets an extra surprise after the shower is over!
10. Baby Bottle Balloons
Balloons are a must-have for any celebration. You can get creative with how you display balloons as you can see with these balloon baby bottles! There is a blue bottle and a pink one, you could have one color if you know the gender or have them both if you don't. These would look amazing at any baby shower.