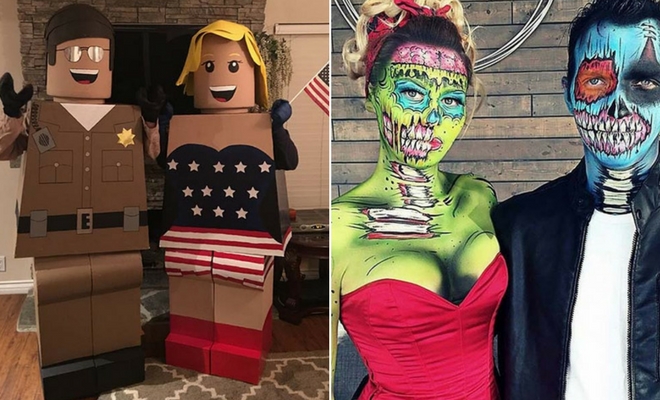 Instagram
Lifestyle
23 Halloween Costume Ideas for Couples
By
|
Looking for Halloween costume ideas for you and your other half? Then you are in the right place! We have found 23 Halloween costume ideas for couples. There is something for every couple from fun and silly to scary and spooky. Take a look at our ideas to find your favourite. Any of these will make you the couple with the best costume at any Halloween party.
1. Corpse Bride's Victor and Emily
First, we up we have this awesome Corpse Bride couple costume. The guy is dressed as Victor and the girl as Emily. This is a fun Halloween costume idea that gives you both a different costume but you're linked to the same movie. You can purchase both costumes online or you could create your own for a DIY project.
2. Pop Art Zombie Couple
Zombies are iconic characters of Halloween. This couple have created a pop art zombie look. The different take on zombies creates a creative and unique look. You could recreate this in any color. These two have used blue and green. Just make sure your outfits work together to like these two have.
3. Matching Skeletons
If you don't want to go too over the top with your Halloween outfit then just try skull faces like these. The couple have matching makeup and simple outfits. Something like this is an easy to create couples costume. You could step up the spookiness and wear a skeleton outfit.
4. Elena and Zorro
Halloween does not mean you should wear a scary outfit. You can use this occasion as an opportunity to dress up as your favourite movie characters. These two have dressed up as Elena and Zorro. This would be a great DIY costume project. You and your other half could dress up as any of your favourite movie characters.
5. Partners in Crime
Our next pick is a fun and simple costume.  This costume is called partners in crime and would be a great choice for any party. It is simple to recreate, you could buy outfits or create them yourself. All you will need is a striped top and eye mask to cheaply create the costume.
6. Scooby Doo's Velma and Shaggy
Jinkies! We have half of the Scooby gang. These two are dressed as Velma and Shaggy from the TV show Scooby Doo. You could choose any two of the group for your Halloween costume. Something like this is a simple but a fun look for any Halloween party.
7. Beetlejuice and Lydia
Beetlejuice, Beetlejuice, Beetlejuice! Dress up as Lydia and Beetlejuice this Halloween. The movie is iconic and a couple's costume like this will be a hit at any party. Both wear a few different outfits during the movie so you have a few choices. We love this look. It would be a fun DIY project.
8. Red Riding Hood and Wolf
This next pick is a fun and scary take on the classic fairy-tale Little Red Riding Hood. One is dressed as the terrifying wolf while the other is a scratched Red Riding Hood. You could add some more scratches and blood or tone it down and go for something cuter. Either way this is a great costume idea.
9. Skeleton Couple
Next, we have a couple dressed as skeletons. These skeletons have a Mexican Day of the Dead vibe which makes the costumes unique. You can make costumes like this yourself, it would make a fun DIY Halloween project. You could as spooky or as vibrant as you like.
10. Ash and Pikachu
If you don't want to take your costumes too seriously you could dress up as something fun like these two. These two are dressed up as Pikachu and Ash from TV show Pokémon. This is a creative outfit that will make you look like a cute couple. You could recreate these costumes in many ways.