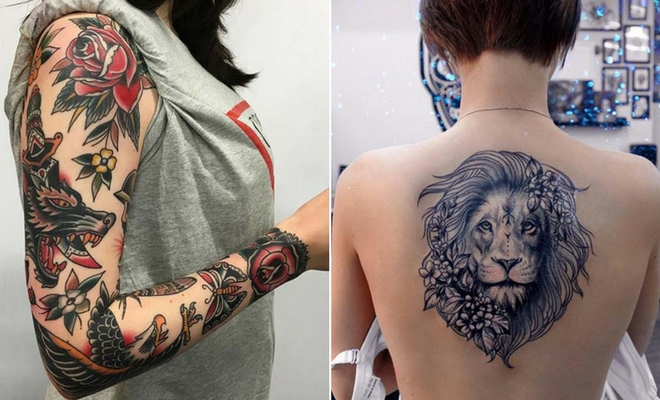 Instagram
Lifestyle
43 Badass Tattoo Ideas for Women
By
|
31. Watercolor Wolf
Our next idea is a beautiful watercolor wolf. Wolves are strong and loyal animals so they often inspire tattoos. This wolf has been colored with stunning purple and blue watercolor shades. The colors just make the wolf look unique. You can create a wolf like this in any color. Maybe choose colors that represent you or that are your favorite.
32. Rock On Tattoo
Let out your inner rock chick with this next tattoo. This design features a skeleton hand using the rock on symbol. This is a fun and small tattoo idea. It would be great as a first tattoo or if you want something cool and subtle. You can have this tattoo placed anywhere.
33. Floral Skull Back Tattoo
Speaking of skeletons, here we have another skull tattoo. This skull has been tattooed on the back with a beautiful floral design. This badass and edgy but also pretty too. A tattoo like this will wow. Try a similar tattoo to this or use different flowers.
34. Floral Skull Tattoo
Next, we have another cool skull tattoo. This one has been tattooed on the arm and has been finished off with flowers and a leafy design. It is a stylish and pretty design that has an edge. It would be a great choice for the ladies who want something that looks cool but beautiful too.
35. Winged Sternum Tattoo
Our next idea is another sternum tattoo. It has a winged design with patterns in the center. We love this piece of body art as it reminds of Rihanna's tattoo because of the wings. This is perfect for the ladies who want a new statement making tattoo.
36. Lioness Tattoo Idea
Earlier we featured a lion and now it time for the lioness. The lioness is another loyal and fierce member of the animal kingdom so is perfect for the badass ladies. This one features beautiful patterns and a flower. A tattoo like this will look amazing on anyone. You can recreate this or try a more realistic lioness.
37. Big Snake Tattoo
Love the snake tattoos? Then this idea is for you. Here we have an amazing snake tattoo that starts on the hip and ends on the chest. This is a stunning piece of body art that will make a statement. It will be painful and it will take a while but the end result will be worth it!
38. Floral Rib Cage
Next, we have a unique tattoo idea. This design features a rib cage that is the shape of a heart with flowers on the inside. We love this tattoo because it is cool, creative and artistic. You can create a similar tattoo to this or try using different flowers on the rib cage and maybe add some color too.
39. Unique Wolf Tattoo Idea
Here we have another wolf. This one is not colorful like the last. Instead it is black ink and has been created with beautiful patterns. There is also a gorgeous lotus underneath too. This is a pretty and badass tattoo. It is another one where you get the best of both worlds, beautiful but edgy.
40. Snake and Flowers
The next tattoo we have to show you is another snake. This one is a smaller and features a snake that is wrapped around flowers. It is a beautiful and unique design. You can recreate a similar tattoo or try using different flowers and a different snake design.
41. Mandala Underboob Tattoo
Earlier we featured a sternum tattoo that was also an underboob tattoo. Here is another version of the tattoo. This one does not go on the sternum it is just under the boob. It is a stunning mandala pattern that fits in the area perfectly. This is great for anyone who wants a unique and subtle tattoo.
42. Floral Shoulder Tattoos
Our next idea is beautiful matching tattoos. The design features beautiful flowers that have been tattooed on each shoulder. This is a stylish and edgy design. Try this floral look or try different flowers. You can even add some vibrant color too.
43. Ouija Planchette Design Idea
Love the paranormal? Then this tattoo is for you. Here we have a Ouija board planchette. It is such a creative and unique idea. It is perfect for the lovers of horror and ghosts. You can have a cool tattoo like this placed anywhere. We love this tattoo.
We hope you have found the perfect badass tattoo!