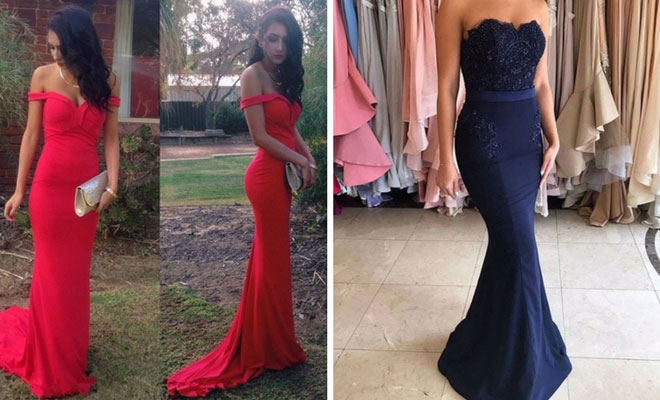 Instagram
Fashion
31 Most Beautiful Prom Dresses for Your Big Night
By
|
11. Off the Shoulder Prom Dress
If you don't like your stomach, opt for a dress with detailing and pleats across the front. This will help to mask it, as such, and also to draw attention away. The same approach applies to any area of your body that you're not overly confident with. Strapless dresses can have straps applied, and you can even add capped-sleeves in the form of lace or material to cover arms if you don't like them. A shawl or shrug is also great for that. (Trust us, we know.)
12. Black Mermaid Two Piece Dress
If you are buying a dress online, make sure you do your research first. This is an important dress for you and the last thing you'll want is for it to turn up and look NOTHING liked you had planned. Make sure all the measurements correspond, and ask for measurements if none have been provided. You can tailor a little yourself at home, or by paying a seamstress to do it for you, but  buying from a dodgy site will leave you looking less than desirable.
13. Short Floral Dress
A prom dress doesn't need to be worn just the once. This design, for example, could easily be worn to a wedding, and might even double-up as a bridesmaids dress, if you're shopping around on a budget. If you're going to a summer prom, opt for dresses that you CAN wear again, and the expense won't be quite as shocking.
14. Black Midi Dress
Make sure you pick the right dress for your size. We know you'd like to pretend you're a size down from what you really are (because we do that too), but an ill-fitting dress will not be flattering. Worse than that, you won't feel good in it. Don't you want to feel a million bucks? Figure-hugging dresses can easily be taken in a tiny bit if necessary, so always opt for one size bigger than smaller. There is nothing flattering about a too-small dress. If you're that worried about it, just cut the size tags out. That's what we do!
15. Long Velvet Dress with Slit
Remember that your accessories are going to be really important, and this definitely applies to the footwear your pair with these most beautiful prom dresses. If you're wearing heels, you might need a slightly longer length on the skirt of your dress. Make sure you account for this is you turn up to your fittings wearing a pair of sneakers or flat ballet pumps!
16. Long, Off the Shoulder Red Dress
If you're planning on having alterations made to your dress to ensure that it fits just perfectly, make sure you leave plenty of time. As a general rule these alterations will take two to three weeks, especially if a little more altering is required. Do not leave things too late, otherwise your gown won't look anywhere near as amazing as this stunning creation.
17. Long Mint Dress with Straps
A high empire waist is a great look for girls who considered themselves to be "apple" shaped – carrying the weight towards the middle of the body. The long and loose length at the bottom will allow the fabric to give over your curves, and nothing will stick or cling. All in all, we think this is a great choice. And we're totally in love with that mint colour too!
18. Tight Sweetheart Dress
Figuring out the right underwear for a sweetheart dress can be hard work, but we've done the research so you don't have to. There are a few different options here.
You could have bra cups sewn into the lining of your dress if you want some support without the actual support.
You could also go for a long-line and strapless, but full-supported, bra. A longer length will generally mean it'll stay up easier. Having a bust doesn't mean you can't go strapless, you just need to know how.
19. Modest Mermaid Dress
You don't often get the opportunity to dress up like a real princess for the night, so really make the most of it. Treat yourself, if your budget will allow, and go for the while works – nails, hair, dresses, etc. Your hair is important, by the way, and the detailing of your dress will usually depict how your hair should go. A very detailed back, for example, is wasted underneath a mass of hair extensions. The details only count if people can see them …
20. Red Dress with Long Sleeves
If you don't like your arms, just wear sleeves. Covering up one part of your body just gives you the opportunity to show off another. If you like your midriff, for example, you could opt for a cut-out gown, just like this stunning red design. The glittery waist helps to nip you in at the waist, and there's the right amount of under-boob to make the whole thing sassy and sexy. What do you think? Would you rock the sleeved look?