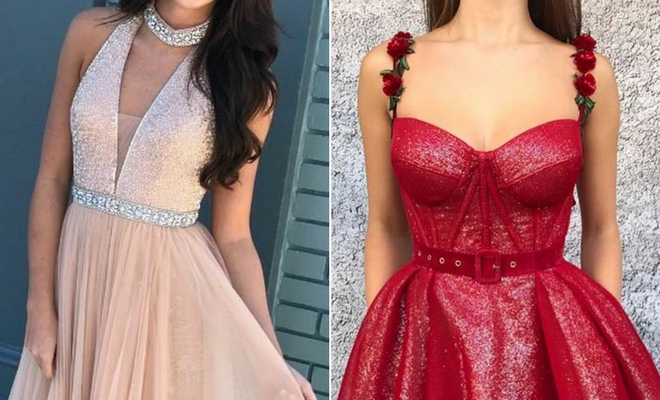 Instagram
Fashion
25 Beautiful Prom Dresses for 2018
By
|
11. Regal Prom Dress
Our next dress has a regal vibe and will make you look like a prom queen. The bodice has beautiful floral embellishments and straps while the skirt is floor length and full. It's not just the features that are gorgeous but the fabric to. The fabric looks high quality and is patterned like lace. We love this stunning dress!
12. A-List Black Dress
Next, we have a prom dress that looks ready for the red carpet. This black dress has a plunging neckline and thigh high split. A dress like this would look beautiful in plain black fabric but the style game has been stepped up and sparkly black fabric has used. The sparkles just give the dress an extra special finishing touch.
13. Crop Top Dress
Crop tops have been a must-have for a few seasons and the style isn't going anywhere anytime soon. This next idea features a crop top dress. Both the bodice and skirt match which makes the look flow and makes the two pieces one. A dress like this is for the anyone who wants to make a stylish statement.
14. Red Rose Prom Dress
We love this next dress! The dress is red with a subtle sparkle and has roses on the straps. The red roses make the dress look straight out of a fairy-tale. Floral straps like these would look beautiful on a sleek back dress to. You could take inspiration from the look and wear a red dress with roses as accessories or even a rose in your hair.
15. Side Split Dress
If you prefer a more minimal look then this dress could be for you. The dress has a few different features such as a halter neck, long overskirt and cut-out but as the dress is black and sleek it keeps the look simple. A dress like this is easy to wear and would suit anyone.
16. Statement Sparkly Dress
Our next dress looks straight out of a fashion magazine! The backless dress features sheer panels on the sides and a stunning floor sweeping fishtail skirt. The fabric is a beautiful shade of purple that has a subtle sparkle. A dress like this will wow and would look gorgeous in any color.
17. Gorgeous Navy Dress
Looking for a dress with a vintage vibe? Then this dress could be for you. The dark navy dress features sparkles, thin straps and a beautiful skirt. With a dress like this choose a vintage hairstyle and wear with sparkly jewelry. Dresses like this would look gorgeous in other colors like black, red and silver to.
18. Sparkling Princess Dress
Prom is a special occasion where you want to dress up and feel like a princess. This next dress idea is the way to do it. The dress's main color is a soft pink with silver sparkles over the top and the skirt is long and floaty. A dress like this is feminine, pretty and delicate. Wear with soft and romantic hair and natural makeup.
19. Trendy Cut Out Dress
Want a dress that has a modern, trendy and edgy vibe? Then this next pick could be for you. The black floor length dress features a cut-out fabric with lace up sides. A dress like this is for someone who wants to be bold and daring. You can also take inspiration from this and choose a cut-out dress or a lace up dress you don't need to have both features.
20. Beautiful Blue Prom Dress
Next, we have this stunning blue dress. The bodice has sheer blue panels, sequins and trendy straps. While the bodice has a lot of features the skirt is simple and blue. A dress like this will wow and you will steal the spotlight. You could choose a similar dress in a different color to, but the blue is super stylish.
21. Sparkling Black Dress
Here we have a gorgeous black dress. The dress sweeps the floor and has a beautiful backless feature. We love the fabric as it is sparkly and sheer in some places. With this dress and one like it you could wear your hair up or for a vintage glamour vibe wear your hair on the side.
22. Sparkly Goddess Dress
Our next dress looks fit for a goddess. This dress's fabric is light, floaty and is a soft pink color. The bodice has a beautiful gold detail and the dress also has a subtle sparkle. A dress like this will suit anyone, it is easy to wear and effortlessly gorgeous.
23. Chic Black Tassel Dress
We love this next dress! The black figure-hugging gown sweeps the floor and has a stunning tassel detail. This dress is just beautiful. Wear with an updo or flowing curls. For a vintage look try wearing red lipstick and smokey eyes to finish off the look.
24. Lace Detail Prom Dress
Next, we have a super stylish lace prom look. This idea is like the crop top and skirt, but it shows how you can wear it as a formal gown. The top and skirt are both in a grey lace and match perfectly. You could wear something similar in black.
25. Vintage Glamour Dress
Bring vintage glamour to the prom in a dress like this. Our last idea features a nude dress with beaded embellishments. It looks straight out of an old Hollywood movie. Wear with your hair up or on the side with a dress like this to show off the backless feature.
We hope you have found your perfect dress. Any of the dresses featured would look beautiful for any prom.