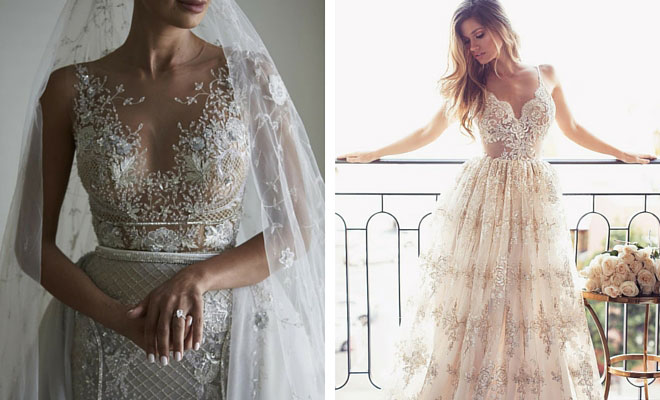 Instagram
Fashion
31 Most Beautiful Wedding Dresses
By
|
11. Wedding Dress with Long Sleeves
Opting for a long sleeve dress can be due to many reasons. Maybe you're getting married in the autumn or winter and need to take the chill off your arms.  You may not like your arms and want to cover them with lacy long sleeves.  Whatever the reason, long sleeves look regal and sophisticated.
12. Gray, See-Through Wedding Dress
Add sparkle and mesh to your grey see-through dress. This will look absolutely amazing when the lights hit your dress.  Trick your guests with a mesh top, which looks like your skin.  The sequins will definitely capture your fiance's heart at the altar. With a dress like this, you don't even need jewelery.
13. Lace, Cape Sleeve Wedding Dress
A wedding dress doesn't need to be sleeveless to look stunning and elegant. Take a look at this lace, cape sleeve wedding gown and you will see how beautiful it looks.  Lacy material gives off a girly and feminine style whilst the cape sleeves look effortless and chic.
14. Plunging Neckline Wedding Dress
If you love your body and want to show it off, go for a low plunging neckline like the photo below. This will accentuate your top half to show off your amazing figure.  As you can see from the photo, you do not need to go for sparkle with the bottom skirt, plain and simple looks more than enough when being teamed with a decorated top.
15. Champagne & White Lace Mermaid Dress
Having a white dress is frightening to some girls. White tends to not suit many people.  If you have a fair complexion, 9 times out of 10, white will not suit you and wash you out.  You don't want to feel like this especially on your wedding day, so opt for a different colour.  This is a magnificent mermaid style wedding dress, which is finished in champagne and white.  Don't worry as you still have the white lacy effect but with a subtle hint of champagne to compliment your skin tone.
16. White Lace + V-Neck Dress
White and lacy work so well together. You have the white colour for the tradition bridal look and the lace to show off your vintage side.  You also have the sexy top with the v-neck style.  A long train looks amazing with this style dress so ensure you opt for this to finish the look.
17. See-Through, Long Sleeved Gown
Have you been dreaming of the Princess fairy-tale wedding dress since you were a child? If you have, was it something like this dress?  This is a perfect Princess style wedding dress with see-through long sleeves.  To finish the look, go with a Cathedral veil which is the long veil you see in the photo.
18. Strapless, Dark Nude Wedding Dress with White Details
If you are not keen on the typical wedding dress colours, white or ivory, then go for a dark nude colour. This colour has been on-trend for a few seasons now and it's not going anywhere.  Grab your wedding dress in this shade to show your style and figure!
19. Short, V-Neck Wedding Dress
For the biggest day in your life, go for something different. If you have long sexy legs, show them off with a short wedding dress. This is ideal for dancing all night too. Everyone will be wondering what dress you have chosen so shock them with a sexy, short wedding gown.
20. Deep V Neckline Wedding Dress
A deep v-neck will elongate your body and make you look and feel taller. Go for a ball gown bottom to add to the effect.  This princess-like skirt will be comfortable, flowy and make you feel pretty and special.