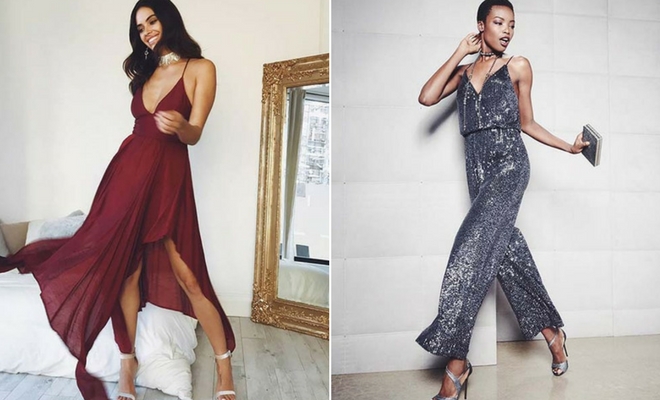 Instagram
Fashion
23 Glamorous NYE Outfit Ideas
By
|
11. Sequin Jumpsuit
Like to wear jumpsuits? Then this idea for you. Our next pick is no ordinary jumpsuit, it is covered in sequins! The sequins used are silver which gives it a sparkling, glitzy look. You will definitely steal the spotlight in a jumpsuit like this. You could also try a jumpsuit in other sequin color such as gold.
12. Elegant Black Dress
We couldn't have a NYE outfit ideas list without mentioning a little black dress. Black dresses will suit any occasion from dinner at a restaurant to a night out in a club. This black dress is classy, elegant and stylish. Choose a dress like this if you want something simple, easy to wear and gorgeous.
13. Matching Lace Top and Culottes
Looking for an outfit that is a little different? Then this idea is for you. The outfit is made of a lace top and lace culottes. Even though these are separates they still match. We love this outfit idea because you could wear them together like this for NYE and wear them as separates for other nights out in the future. Any color would look gorgeous to.
14. Sequin Skirt
Sparkle this NYE in a sequin skirt like this one. A sequin skirt is a great for the ladies who want to wear sequins without going too over the top. With a skirt you can tone down the look with a simple top. This sequin skirt was paired with a blouse, it is such a cute and pretty look that is perfect for a party. You could recreate this with any sequin skirt and blouse.
15. Glam Gold Skirt
Bring glamour to the NYE celebrations with a gold skirt like this one. Gold is a luxurious and stylish, so it would be perfect for a party or night out on the town. You could wear a gold skirt with simple top like the one featured or wear something sparkly. Either way a skirt like this is a must-have.
16. Vibrant Sequin Dress
If you want an outfit that is bold, fun and vibrant then this next pick is for you. This short dress is covered in multi color sequins! We love this dress because it is so sparkly and glam. Something like this would be perfect for a night on the town. Everyone on the dancefloor would have style envy if you wore a dress like this.
17. Red Chiffon Dress
Dark red is a must have color for the season. Our next pick features a floaty dark red chiffon dress. You should go for something loose and light like this if you want to look elegant and pretty. You will be the belle of the ball in a dress like this.
18. Trendy Red Velvet Dress
Spice up your NYE look with a red dress like this one. This dress is made in a red velvet and has a plunging neckline. The dress is short and has funky sleeves. Something like this would be perfect for a night out in a club. This is for the ladies who want to stand out from the crowd.
19. Sequin Skirt and Sweater
Next, we have beautiful sequin pencil skirt. A pencil skirt is figure hugging and will give you a sophisticated and elegant look. A skirt like this will suit women of all ages. Wear with a simple black top as this will compliment the sequins and the sequins will stand out.
20. Sequin Pants
If you liked the sequin trousers from earlier in the post, then you may like these to. Instead of using just one color sequins in plain pattern these have stepped up the style game. These trousers use silver sequins and black ones to create a funky pattern. Trousers like these will wow! Wear a plain top with trousers like these so your outfit is not too busy.
21. Velvet Top and Skirt
Like velvet but want to wear it in a subtler way? Then wear a velvet top and skirt like this. The top allows you to wear velvet in a chic way that isn't too much. You could wear any color velvet top, try to choose a black skirt because it will suit anything. It is perfect for the ladies who want to try the velvet trend for the first time.
22. Chic Sequin Dress
Next, we have a light sequin dress. This color is stunning and looks feminine and pretty. You could wear a similar color dress with or without sequins, but the sequins give it sparkle. Sparkle is perfect for NYE. Wear a dress like this with simple accessories. Gold would be a great color choice for your accessories.
23. Sequin Suit for NYE
Last on our list is this amazing sequin suit! We love this sparkling jacket and trouser combo, it is a fun and glitzy look which would be perfect for a party. You could also wear the jacket and trousers for NYE and then wear them as separates on nights out in the future. As this is a two piece keep the color in a dark shade like black.
We hope you have found the perfect outfit for NYE!