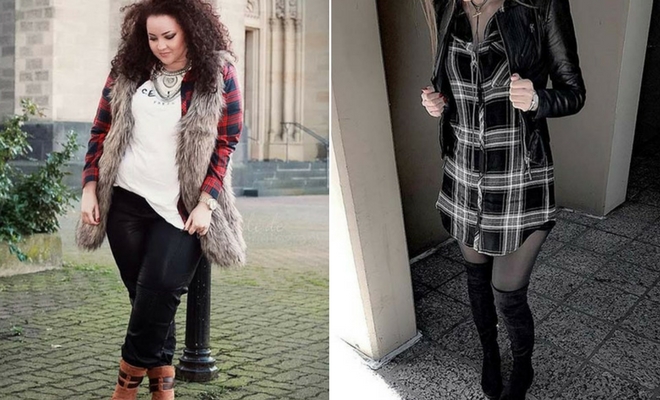 Instagram
Fashion
21 Stylish Flannel Outfit Ideas for Fall
By
|
11. Flannel Dress and Boots
A must-have for the fall is a flannel dress. Flannel transforms the dress into a piece that can be worn in colder weather. This dress was paired with boots and a leather jacket. All these elements create a rock chic look. With an outfit like this you will look stylish and can keep cozy to.
12. Flannel and Faux Fur
Faux fur always comes back into fashion in the fall and winter. Wear your faux fur with a flannel shirt and you will have a multi trend outfit. This combination is super stylish and will suit everyone. You could wear any color flannel shirt with your fur. Pair with jeans for a casual look or a skirt or pants for a glam look.
13. Flannel and Leather
Flannel is an iconic piece of 90's grunge. This fashionista has taken the grunge style and gave it a fresh and modern look. The shirt has been worn with a high waist leather skirt. You could wear any outfit like this with boots for the fall. We love this rock chic style!
14. Ultimate Fall Flannel Outfit
Our next pick features a flannel shirt and fall t-shirt. The t-shirt features all of the awesome things about new season. Pair a shirt like this with flannel and you will have the ultimate fall outfit. You can purchase t-shirts like these online. There is a style to suit everyone.
15. Off the Shoulder
The off the shoulder trend was huge in the summer. With a top like this you can take the style into the fall to! This flannel top has an off the shoulder feature. It looks super cute with jeans and you could wear it with a skirt to. A top like this will suit every girl.
16. Grunge Flannel Outfit
If you liked the grunge look from earlier in the post, then you might like this one to. This outfit has a rock n roll top with a flannel skirt. This combo creates the perfect grunge look. You could recreate this with any band t-shirt. We love the grunge style!
17. Chic Flannel Dress
Looking for a flannel outfit that is chic and stylish? Then this next pick is for you! This outfit features a flannel shirt dress with a tie around the waist. There are many dresses available like this one. These are easy to wear, will keep you cozy and will suit any age. A flannel dress is perfect for the fall.
18. Sleeveless Flannel
Our next pick features a sleeveless flannel shirt. This is creative way to wear the shirt and it does give it a grunge vibe. You could wear a shirt like this with a long sleeved top or sweater on chilly days. A sleeveless shirt will go with everything and it will give any outfit a trendy vibe.
19. Fall Glamour
Our next pick shows how to glam up flannel. This fashionista has worn her shirt with a necklace, high waist skirt and belt. These elements create a super stylish look. You can easily recreate an outfit like this, use any necklace and belt. The key is to accessorize.
20. Chic Flannel Outfit
Our next outfit features a flannel shirt with trousers. This creates chic and tailored look. You could wear something like this for work or if you want to dress up a bit. We love this look as it shows that flannel is not just for casual days. You could recreate this look with any color shirt.
21. Cute Fall Flannel
Our last pick is this cute fall outfit. It features a bright flannel shirt with jeans and boots. We love this look because it is casual, relaxed and very stylish. An outfit like this can be worn by all ages. Wear any shirt, jeans and boots to create your own unique fall look.
We hope you have been inspired by our flannel outfit ideas for the fall!