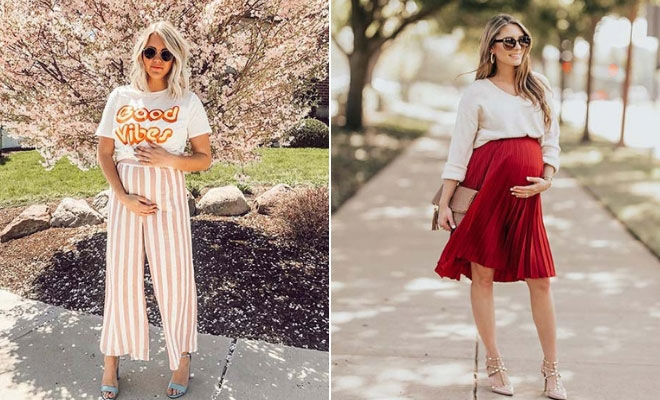 Instagram
Fashion
23 Cute Pregnancy Outfits Worth Copying
By
|
11. Summery and Glam Jumpsuit
Earlier in the post we featured a jumpsuit. If you loved that idea, then you need to see this next outfit. Here we have another jumpsuit but this one is a bright yellow shade and it has been accessorized with a cute belt. It just shows how you can use a garment like a jumpsuit to create so many different looks. This is a glam and summery outfit that will suit everyone.
12. Chic Pregnancy Outfit
This next outfit idea is chic, classic, comfy and easy to wear. The outfit features ripped jeans, a simple top and a navy body warmer. We love the body warmer because it keeps you cozy, but it is not bulky like a coat and these are perfect for chilly days. It is just a casual and stylish look that is perfect for the more relaxed occasions. You can find the outfit details and where to buy each piece on the page below.
13. Stylish Skirt and T-Shirt
Next, we have another leopard look to show you. This time a mom-to-be is wearing a black T-shirt with a leopard print skirt and sneakers. It is such a cute and stylish outfit. You can recreate this outfit or give it an edgier vibe by wearing with a faux leather jacket. Leopard print skirts and black shirts can be bought online and there will be different styles of skirt available too.
14. Cute and Comfy Maternity Outfit Idea
Need a casual outfit that is cute and comfortable? If so, this idea could be perfect for you. This outfit features a black T-shirt, jeans, a cardigan and flat shoes. We love how simple, stylish and easy to wear this is. These are key items to have in your closet because you can recreate this outfit and you can wear each piece with other clothing too. The cardigan really makes a statement with its unique print and it is available at Happy Creek Chíc.
15. Little Black Dress
One of the outfits that us ladies love to wear is a little black dress. Next, we have an outfit that shows how to wear an LBD while you're pregnant in style! This mom-to-be is wearing a mid length black dress complete with black heels and a silver necklace. As you can see, she looks so chic and elegant. There are lots of little black maternity dresses online and these are great to have in the closet for the occasions where you want to dress up and look glam.
16. Neutral Outfit with a Sweater and Flares
If you love neutral colors and stylish minimal outfits, then you need to check this out. This outfit features a white knotted top and light flared pants. It looks like such a comfortable outfit. This is another easy to wear look that is chic and it will suit everyone. You can find similar tops and pants online.
17. Rock and Roll Pregnancy Outfit
Unleash your inner rock chick with this edgy pregnancy outfit. This mom is wearing a midi skirt with sandals and a Rolling Stones T-shirt. It is such a trendy look and you can recreate this or try a different midi skirt with a different band T-shirt. You can check out the outfit details and where to buy the pieces on the page below.
18. White Outfit with a Statement Shirt
This next idea is cute and stylish. Here we have an all white outfit with a statement shirt. The look features white joggers, with a top and sneakers. It is such a trendy idea and it would be perfect for the summer. You can recreate this or you can try a similar all white outfit without the shirt. Either way, your outfit will look gorgeous.
19. Oversized Sweater Dress
Earlier in the post we featured a sweater dress. If you loved that, then you need to see this next outfit. Here we have another sweater dress but this one is oversized, is a dark shade and is worn with sneakers. As you can see, you can wear a sweater dress with different clothing and accessories to create different looks. You could buy one sweater dress and wear with boots and sneakers to create both outfits featured in this list.
20. Trendy Outfit Idea for Pregnancy
The next outfit is perfect for the trendy moms-to-be. This outfit features jeans, a white top, a burgundy vest, shoes and stylish accessories. The color palette used is gorgeous and the vest is a tailored but easy to wear piece. This would be a great look for the fall and you can wear a similar outfit for any occasion. Wear the vest with black jeans and you will have a more formal look.
21. Denim Dungarees
Next, we have a super cute outfit and it is one of our favorite looks! Here we have a mom-to-be who is wearing denim dungarees with a light floral top and stylish scarf in her hair. It is a casual and easy to wear look and it would be perfect for the spring and summer. Dungarees are comfy and can be bought online in different colors. You can wear dungarees with any top.
22. Long Dress and T-Shirt
Fashion inspired by the 90's is back and next we have a stylish way to wear the trend if you are pregnant. This look features the classic 90's T-shirt and dress combination. The T-shirt is black and the dress has a leopard print pattern. We love the colors and the long dress is stunning. You can wear a similar look or you can try any dress and T-shirt to create your own trendy 90's maternity outfit.
23. Good Vibes Outfit
The last outfit that we have to show is quite summery and fun. This mom is wearing bright striped pants with a good vibes T-shirt. It is a stylish, positive and colorful outfit. If you want to recreate the look, you can find the pants and T-shirt at Soel Boutique. The T-shirt would look amazing with jeans and sneakers too, so there are different ways to wear a similar outfit.
We hope you have been inspired by these cute pregnancy outfits!