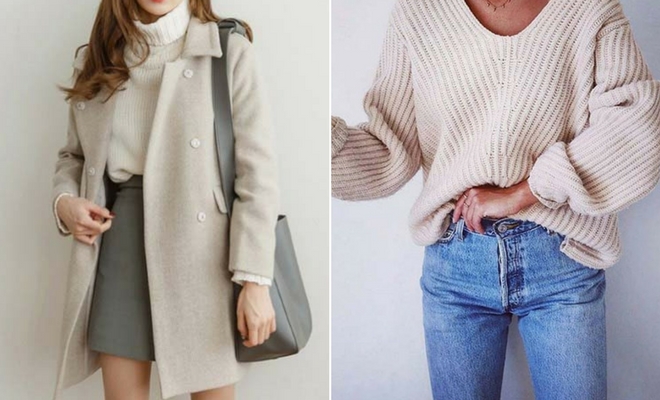 Instagram
Fashion
21 Cute Fall Outfit Ideas for 2017
By
|
11. Fall Burgundy Jacket
Burgundy is a fashion favourite for fall and this next pick shows how to wear burgundy in style. This fashionista has a burgundy jacket and has worn it with jeans and accessorized it with purple. A jacket like that is an easy way to wear the season's hottest color.
12. Neutral Fall Outfit
You don't need to splash out to get a new fall outfit. Just pair jeans and boots with a nice sweater like this one. You could even get a new hat to. Simple pieces like a neutral sweater and hat will make all the difference. If the neutrals are not for you then try the sweater and hat in a darker color.
13. Cute Light Jacket
The weather in fall can be unpredictable. There can be the last days of sunshine and rainy days. So, you need a light jacket like this one. It's cute, will go with everything and will keep you dry. Something like this is a fall must have. It would look stylish in any color.
14. Sweater, Skirt and Boots
Our next pick shows how to wear a sweater and skirt in style! The light sweater, skirt and boots looks chic and fall ready. There are so many styles available of all these pieces so the outfits that can be created are endless. We love this fall combination.
15. Chic Black Jacket
A black jacket like this will be a chic addition to any outfit. Jackets like these are versatile and will go with everything. You can also dress it up or down to suit any occasion. It would look great with a scarf to so you can keep warm on the colder days.
16. Statement Top and Jeans
New trends will arrive with the new season. Statement tops and statement sleeves are a big trend for the fall. This fashionista shows how to wear fall colors and trends in style. This top with statement sleeves looks great with the black jeans. An outfit like this will suit everyone.
17. Cute Green Jacket
Add a pop of color to your look with a green jacket like this. This jacket will look stylish for the fall. It will go with everything and it will look even cuter with a pretty top. We love this jacket, it would look great with jeans, skirts and dresses.
18. Stylish Coat and Dress
Our next pick features a chic dress and coat. These two will look great separate and together. The prints are very stylish and suit the fall perfectly. An outfit like this will look great on everyone. You could pair any dress and coat as long as the colors complement each other.
19. Scarf and Jacket
Next, we have a cute fall outfit. It features relaxed jeans, a trendy jacket and bright scarf. This is an awesome fall outfit. You can wear each piece together and separate. Have a few scarves like these so you can change up your look easily. You can wear the same jacket and jeans with a different scarf and it will look like a new outfit.
20. Sweater Dress
A sweater dress is a stylish choice for the fall. It allows you to wear a dress but also to keep cozy in the colder weather to. A sweater dress will go with all shoes and there is a print and color to suit everyone. Stripes like these are a trendy choice for the fall.
21. Cute Rolled Up Jeans
Last on our list is this outfit with rolled jeans. Rolled up jeans are super cute and will look great on everyone. On nice days wear with flats like this. On rainy or colder days, you can wear with boots to. It is just a trendier way to wear the classic jean.
We hope you have found inspiration from our cute fall outfit ideas.