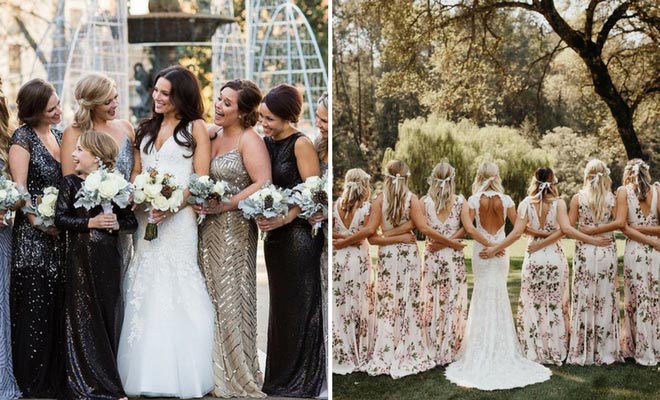 Instagram
Fashion
25 Most Beautiful Bridesmaid Dresses for Spring
By
|
20. Short, Green Lace Dresses
Simple, short dresses are often overlooked in the hunt for the most beautiful bridesmaids dresses, but as these lacy little green numbers show, short doesn't need to mean not suitable.
With the right colours, the right hair, and the right accessories, it doesn't matter how long or short your garments are, or if they're even different lengths for that matter. If your gal pals have killer legs, let them show them off. Why wouldn't you? Wouldn't you want the freedom to do the same when you're asked to be their bridesmaids?
21. Black and White, Striped Dresses
You wouldn't normally think of black and white stripes when looking for the most beautiful bridesmaids dresses, but just how stunning are these chevron printed numbers? For a wedding that really screams style and personality, the monochrome one is a good one, and it's an easy one too.
Black is always super flattering so no one can complain too much about the dress, plus it's a really unique look too. At least you can be sure that none of the other brides on the block are rocking the same frocks that you are!
22. Simple, Long White Dresses
If your flowers really are a thing of beauty, show them off by leaving the dresses relatively simple, just like these simple, long white dresses, probably not something you would have even considered for a bridesmaids dress … right?
White isn't really a traditional colour at a wedding for anyone other than the bride, but who says you can't break the rules. If your pals deserve to be brides themselves, let them share your limelight. Wouldn't you marry them all if you could?
23. Long, Pink Dresses
The colour pink symbolises everlasting love, making it one of the best choices for bridesmaids dresses. Understanding, compassion, unconditional love – these are all words used to describe the link between your wedding day and the colour pink. Why wouldn't you want that?
It's a feminine shade, and a caring one too, and doesn't that symbolise your bridesmaids perfectly? Even the one who always says the wrong thing at the wrong time?
24. Long, Navy Blue Dresses
Theres no need to feel blue when you have the most beautiful bridesmaids dresses, and these are definitely beautiful!
Blue is a comfortable and non-threatening shade, which means everyone will feel relaxed and at ease throughout your big day. If you wanting a calming colour scheme, blue is the colour!
25. Short, Neutral Dresses
These little dresses are as stunning as they are simple, and although this neutral colour may seem incredibly daunting at first, the shape helps to make it very flattering.
The length helps to elongate the legs, especially with nude heels, and that flows chiffon fabric will glide over the skin. Each of your girls will feel like a princess! Plus those sleeve work great for all arm shapes and types. Also, and you probably didn't notice, the necklines aren't the same across the board … But it still works perfectly!
We hope that we've given you plenty of inspiration, and definitely some unique ideas to help create a wedding day that is every bit as wonderful as you are. Just remember that it is YOUR big day – you and your partner – so if you need to remind your bridesmaids of that from time to time, do so. Just do so nicely. You want them to have the most beautiful bridesmaid dresses, but at the same time, you want them to go with your vision too.
Congratulations, newly-engaged ladies! We can't wait to see your bride + bridesmaid shots!