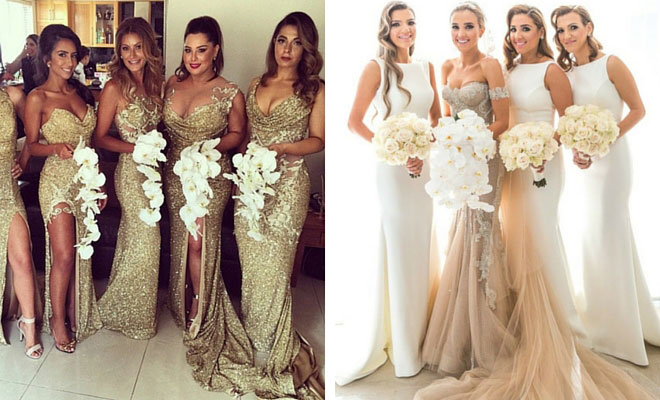 Instagram
Fashion
21 Stylish Bridesmaid Dresses That Turn Heads
By
|
11. Mismatched Pink and White Dresses + Nude Heels
Nude heels are the best and go with any colour dress.
They will elongate your legs and work so well for weddings.  These mismatched pink and white bridesmaid dresses look stunning and sweet.  The colours match even though they are different style dresses.  Mismatch dresses are the perfect way to keep all of your bridesmaids happy!  They even have different shoes on, but the same colour.  Don't worry too much about getting your bridesmaids to wear matching dresses and accessories.  You can see if they don't, it looks amazing!
12. Burgundy, Off the Shoulder Dresses
If the bride is wearing an off the shoulder wedding dress, the bridesmaid will look amazing in an off the shoulder bridesmaid dress.
Burgundy is a lovely dark colour that will complement the bride.  If you are having a light bouquet, the contrast will look amazing.
13. Sequin, Open Back Dresses
Add a touch of sparkle of glamour to your wedding.
If you are a bride and love sequin, maybe you don't want to wear something as sparkling yourself but you can add it by asking your bridesmaid to wear a rose-gold sequin colour dress.  They will not say no!  They will feel amazing and sexy.
14. Peachy, Strapless Dresses
Peach is a great wedding colour.
Peach is a light, girly and summer colour.  If the wedding is in summer, this is the perfect colour and style to have.  It will keep you cool and look stylish.
15. Black Dresses + White Bouquets
Do you want contrast?
Many brides choose a darker colour bridesmaid dress so everyone instantly knows who the bride is.  With black bridesmaid dresses and white bouquets, the contrast will shine!  Everyone will immediately be drawn to the dresses and flowers.  Keep the flowers either a white or an ivory colour so you do have the contrast.
16. Long, White Dresses + White Bouquets
Long white bridesmaid dresses with sideslips look stylish and timeless.
These dresses look great with ivory coloured bouquets and will look amazing walking down the aisle. They look fresh and ready for the day!
17. Black, Mermaid Dresses
Mermaid dresses are perfect for bridesmaids.
The bride will be in white and the bridesmaids will be in black so there will be the contrast and you can spot who the bride is.  These dresses look stunning and keep within the wedding theme, complementing the bride.
18. Sequin, Blush Dresses
Blush colour is a light pink.
Light colour bridesmaid dresses look stylish and elegant.  They scream wedding and will suit any wedding venue or theme. The sequins will shine bright when the disco lights shine down on them.  These are slightly different styles but the same fishtail splits.  From thin to off the shoulder straps, they all look great!
19. Mismatched, White Lace Dresses
Are you a bride looking for bridesmaid dresses?
If you have a few bridesmaids that have different styles, you could opt for mismatch dresses.  This way, they are all happy and get to show off their style and character.  These white lace dresses have the same vibe but different styles.  They all have the same shoes and bouquets so they do match in different ways.
20. Gold Sequin Dresses
Many weddings have a theme.
Gold is a popular choice of theme and these dresses will match that!  Gold sequin bridesmaid dresses look glamorous and stylish.  They are fun, sexy and add that touch of sparkle to any wedding.
21. Strapless, Navy Blue Dresses + Ivory Bouquets
Navy blue is a rich and stylish colour to choose.
Having your entire bridal party in matching navy blue bridesmaid dresses, with ivory colour bouquets, looks exquisite.  They are stunning, beautiful and stand out.  Ivory wedding dresses look amazing with navy blue bridesmaid dresses.