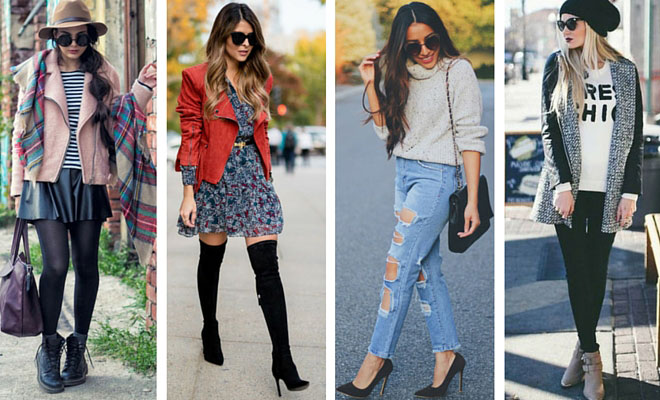 Fashion
21 Comfy & Stylish Thanksgiving Outfit Ideas
By
|
11. The Plaid Jacket
Every girl should have a cute plaid jacket in her closet and if you don't have one in yours, it's about time you got yourself one. You can team it with anything – a pair of simple jeans, a cute black frilly skirt, or even your sexiest LBD. Despite it's colourful appearance it's one of the most versatile jackets you could rock this Thanksgiving.
12. It's a Hat Thing
Thanksgiving and the fall / winter seasons in general are great for wrapping up warm and there's nothing better than a good old hat! Hiding a multitude of sins, the simple beanie hat looks great with long, curly hair and really gives off a whole edgy appeal.
If you're not brave enough to try an attitude-packed beanie, why not try a bobble hat instead? It's a great way of instantly reviving a boring outfit AND a bad hair day!
13. Statement Sweaters
Statement tee's were all the rage for spring and summer 2015 and the look is set to carry on right through to fall and winter but this time, with statement sweaters! This simple idea is a great way to vamp up an otherwise lacklustre outfit. Pair with jeans, a flirty skirt, or even chino-style pants for casual right through to dressy.
14. Tailored Trousers
Smart tailoring is always a winner regardless of what time of year you're planning your outfits for. Thanksgiving can be made easy with a smart pair of tailored trews and although you'd on't need to go as bold and daring as these patterned ones, a one-color pair in the right size and shape for your body can instantly transform an old sweater, top and shoes.
15. Leopard Print Loving
Everyone loves a bit of leopard print and the orange, brown and black design is just perfect for fall and Thanksgiving! This leopard print skirt is very bold and daring but as you can see, teamed with nude shoes and leaving things neutral up top keeps things surprisingly simple. If you're not quite bold enough to go for a skirt, you could always consider throwing on a leopard print jacket, a cardigan, or even a simple pair of shoes.
How leopard do you dare to go?
16. Statement Bags
All girls love handbags and this year, dare to go bold with something a little different than what you're used to. There are plenty of designers coming up with weird and wonderful bags, of all shapes and sizes, and Moschino is just one with their McDonalds-inspired range. If fast food isn't your thing, go super-cute with something like this kitty-cat bag.
17. Sequinned Style
Sequins are PERFECT for the festive season. Add a pair of black heels to blue a sequinned dress, and finish the look with your favorite leather jacket. You'll end up with a great going-out outfit that takes seconds to throw together. Little black clutch is optional!
18. Red Jumpsuit
The jumpsuit is an outfit in one – top and trousers included, just add shoes and accessories. This red piece is stunning but you could always go for something more neutral such as black to begin with. It's also very flattering for the curvy ladies out there! Just add pumps and casual denim jacket for a day-look, or heels with some blinged-up accessories for a going-out outfit.
19. Boho Babe
Thanksgiving gives you the time to play around with colors and tones you wouldn't normally wear and these rusty hues make the perfect start to a boho-inspired look. Think fringed dresses and shirts with those black boots we mentioned right at the beginning of this Thanksgiving guide, and you could even add thicker, darker tights for when it gets a bit cooler.
20. Make it Clash!
We all know that blue and green should never be seen but this outfit shows that sometimes it pays to break the rules. When all the trees are losing their green during the fall, inject a bit of the color back into your life by mixing those chambray shirts you were wearing all summer, unbuttoned over your white vests and pair them with a rich green pair of jeans and trousers. Add a neutral shoes and a neutral bag and you have yourself the perfect Thanksgiving outfit.
21. All Grey Everything
First it was fifty shades of gray and now the color has taken over the world… Or at least for fall and Thanksgiving 2015. In fact, many designers used this neutral hue in their FW15 ranges. It's one of the easiest looks you could throw together. All you need is all grey everything! Different shades add more depth to the look.
So there you have them – 21 looks you should be rocking for Thanksgiving this year! Many of the pieces you may find you already have in your closet so why not mix and match things up a little more to recreate some very on-trend looks you didn't even realize you could achieve!