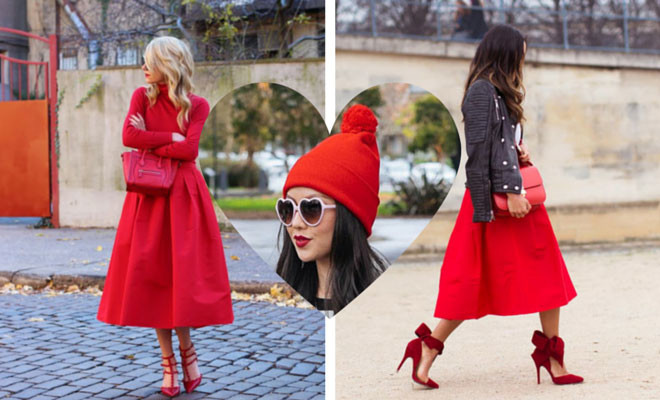 Fashion
18 Cute Valentine's Day Outfits
By
|
Regardless of your relationship status, Valentine's day is the perfect holiday to wear hearts and lips on your heels, skirt, blouse, or accessories. Surely, Valentine's day outfit isn't complete without its quintessential colors – red and pink.
Check out the list we've put together featuring looks for every style – from cute to flirty to sophisticated to edgy. These 18 outfits are ideal for February 14, whatever you've planned for this lovely holiday.
1. All Red Everything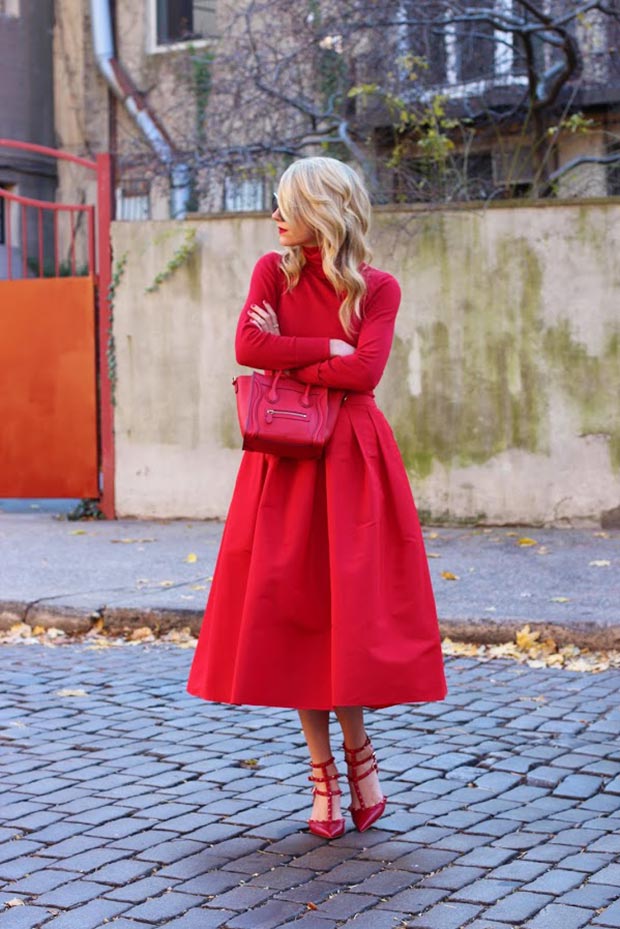 This outfit is jaw-dropping. Valentine's day is the perfect occasion to rock the monochromatic look. Red midi skirt paired with red turtleneck is proof that you can be hot without revealing.
2. Red Tailored Jumpsuit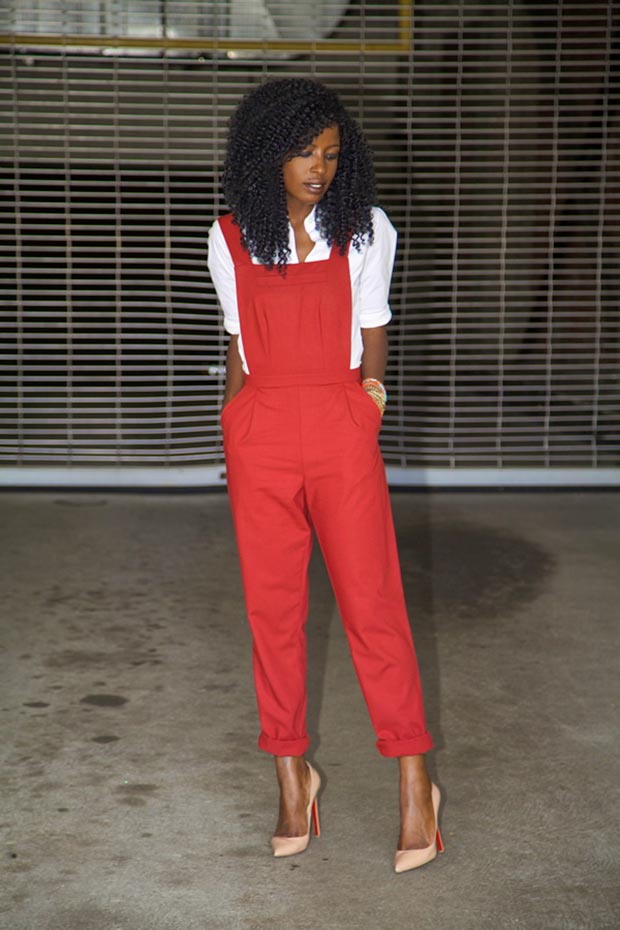 A simple, red tailored jumpsuit becomes fabulous when paired with nude high heels and white button-up shirt. We love jumpsuits because they are just as good for day as they are for evening.
3. Casual Outfit for Valentine's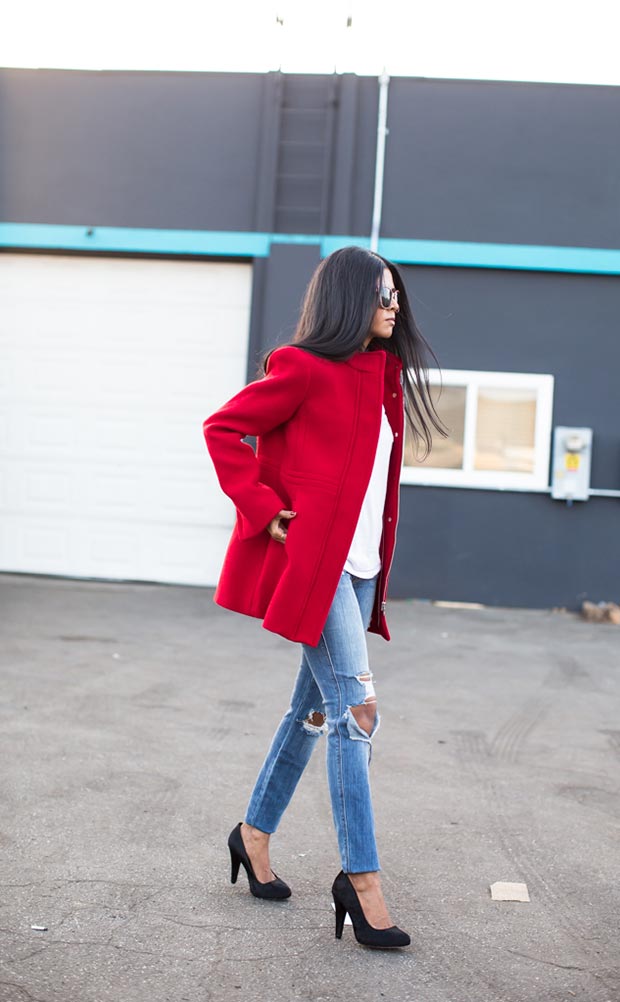 Technically, you're just wearing your comfy and casual outfit but it looks festive thanks to the gorgeous red coat. This look would look great with red blazer, too. Also, don't forget red lips and nails!
4. Heart Sweater Outfit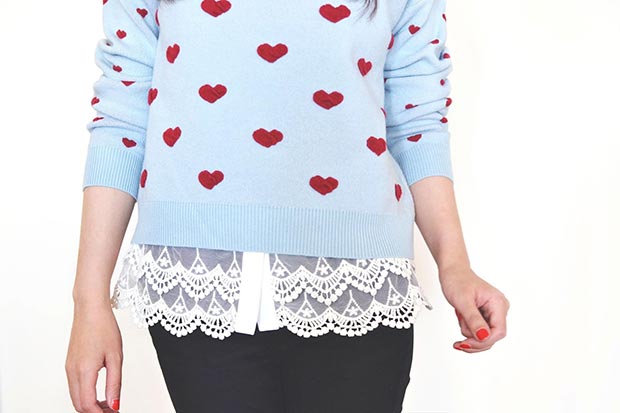 This eye-catching sweater makes a cute and comfy Valentine's day outfit. This look is perfect choice if you're spending your V-day relaxing with your partner. Add a little hint of romance with some peeking lace.
5. Little Red Dress with Open Back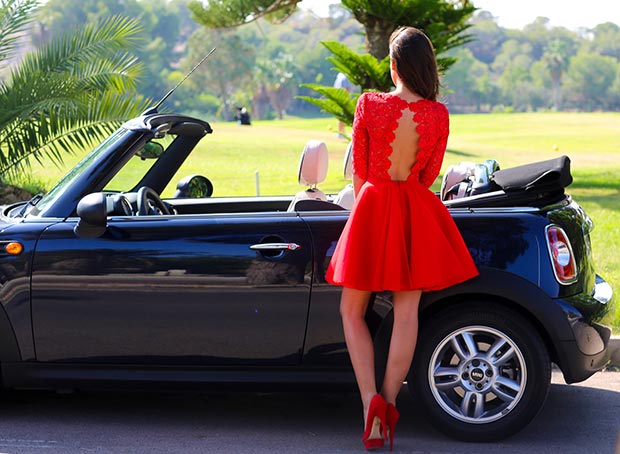 For a romantic dinner or a night out, we recommend cute red dress and matching shoes. Open back dress is sexy without going overboard. Don't leave the house without your favorite fragrance.
6. Red Midi Skirt + Leather Jacket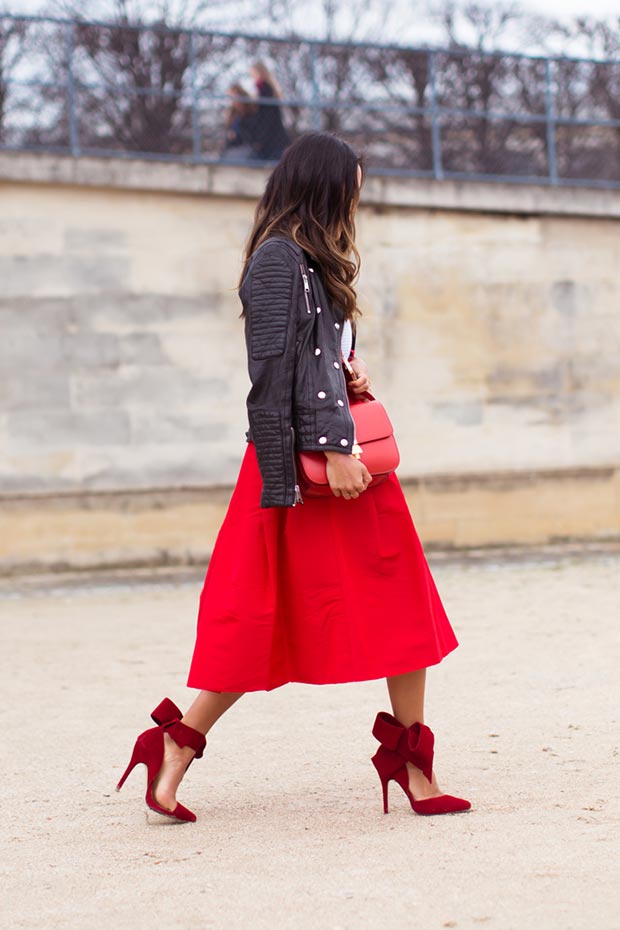 This elegant midi skirt paired with simple white shirt makes the perfect outfit for a romantic dinner. Leather jacket, red bag and bow pumps finish off this look beautifully.
7. Comfy Valentine's Day Outfit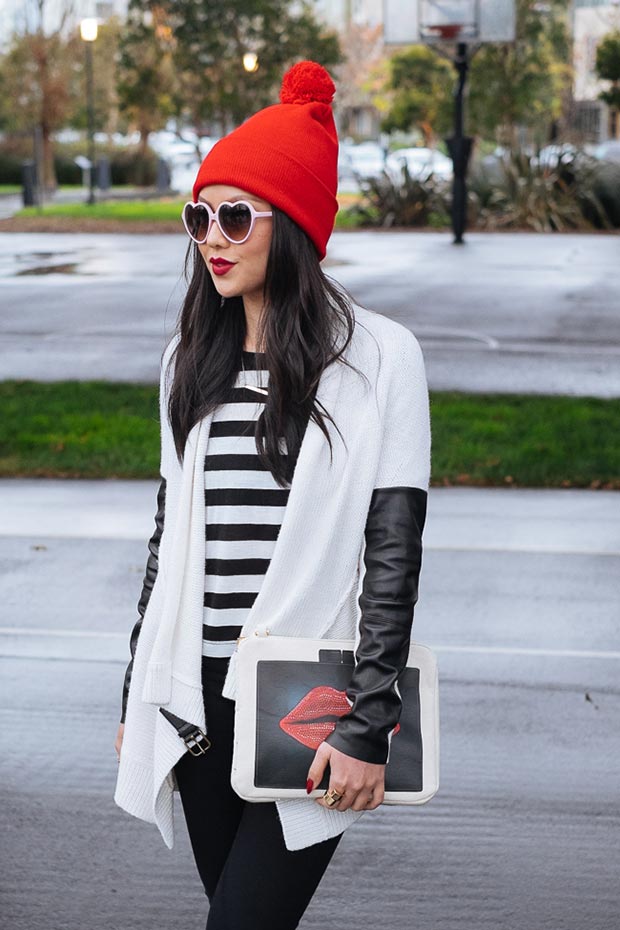 If you have to run some errands on the 14th, you'll need comfy but cute outfit. Throw on your favorite black  leggings, striped shirt and cardigan. Red accessories will make this outfit feel festive.
8. Red Leather Pants + Red Coat Outfit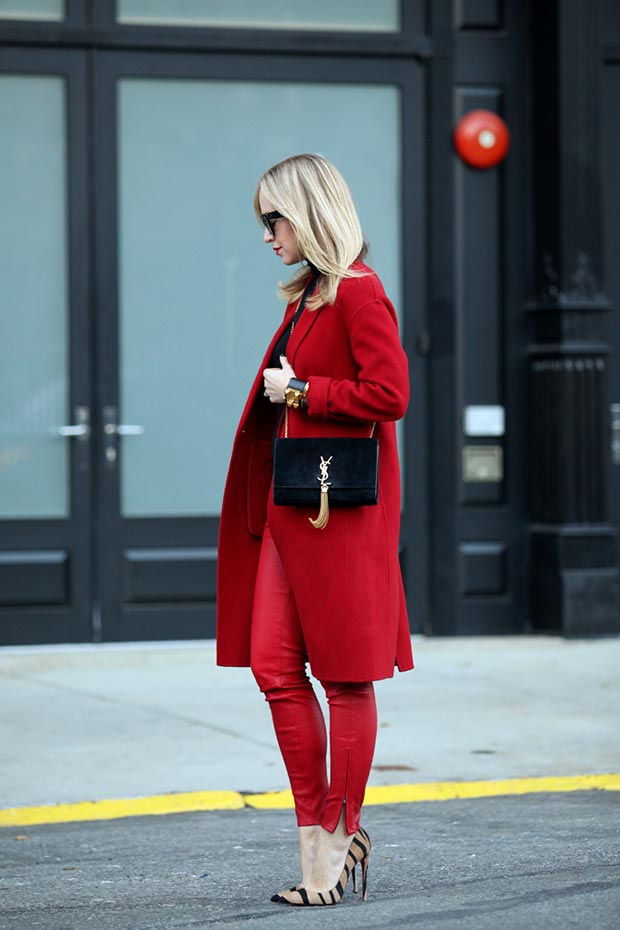 Who knew red and leo print could be such a great match. Pair your red leather pants with black turtleneck, throw on red coat and you're good to go! You gotta love all-red outfits, right?
8. Heart Blouse Outfit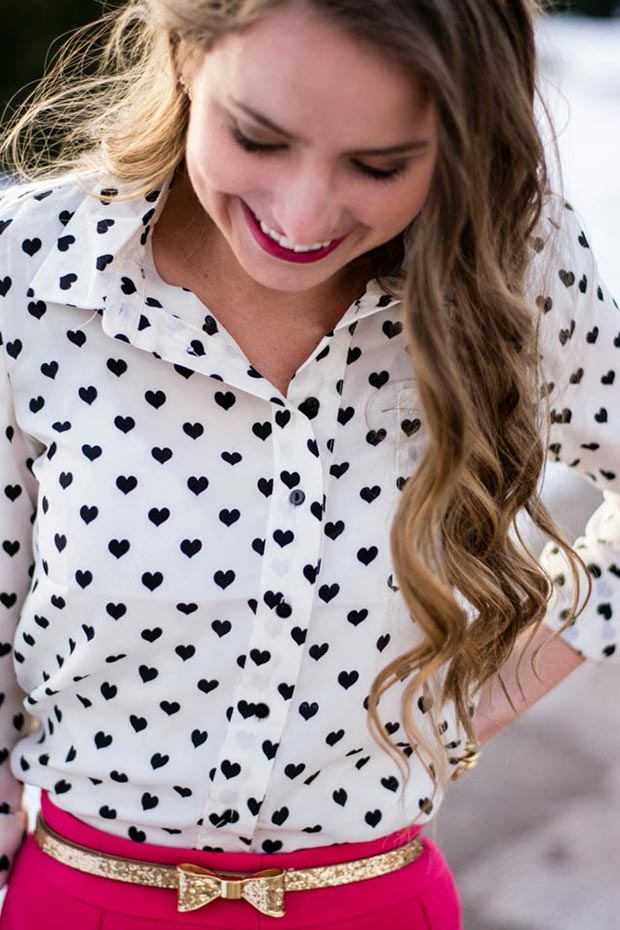 If you don't want to experiment with bold reds, we've got you covered. Pair a comfy button-up shirt with heart print, hot pink skirt and cute gold glitter belt. This look requires minimal effort.
10. Edgy Valentine's Day Outfit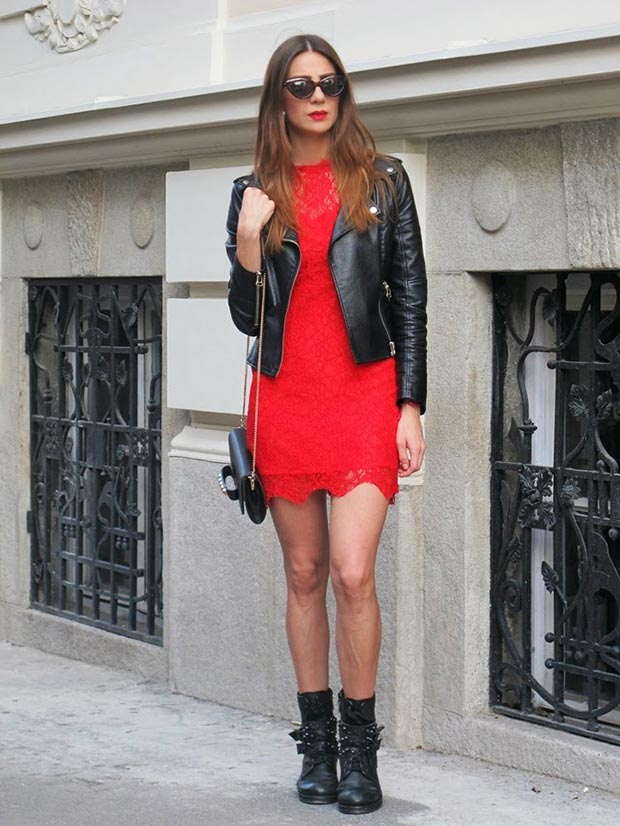 Leather boots and jacket add a nice edge to the look. Lace dresses are simple and easy to style. You can rock them in feminine and sexy way or add some edginess by accessorizing them with funky jewelry, leather jackets and ankle boots. Add some red hot lips and you're ready to win over cupid's heart!
11. Heart Trousers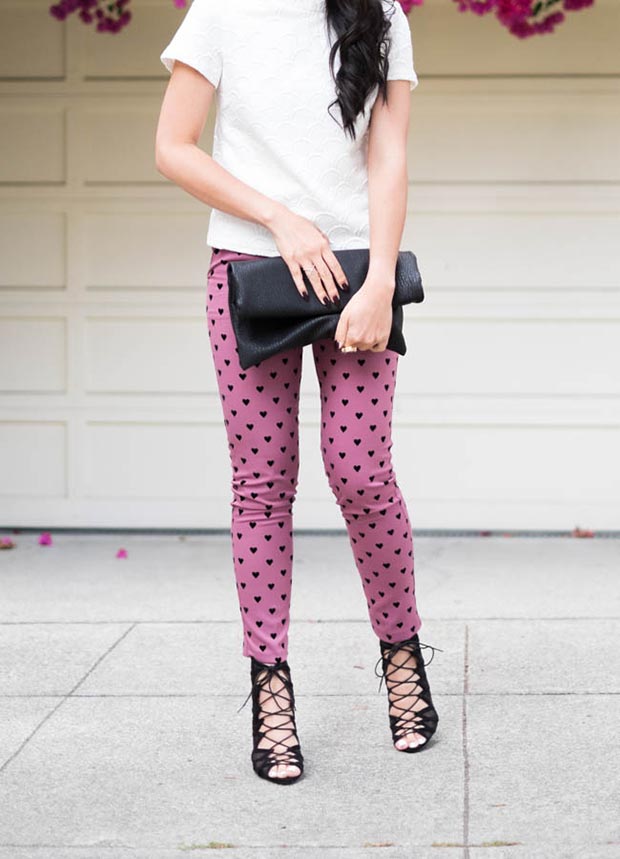 Add a a dash of heart print and color through your trousers. This look is chic and effortlessly girly. You really can't go wrong with suitable look like this one.
12. Red on Burgundy Outfit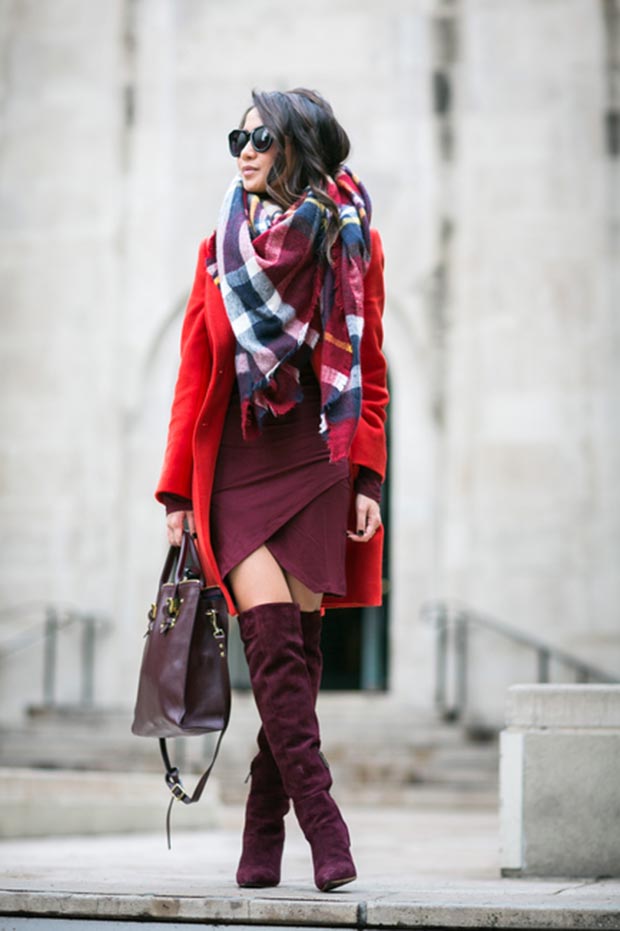 This look is 'to die for'! It looks so effortless but super fashionable. The outfit is completed  with a big plaid scarf to keep the neckline warm. Over-the-knee burgundy boots are a rich color alternative to the traditional brown and black.
13. Lip Sweater + Leather Midi Skirt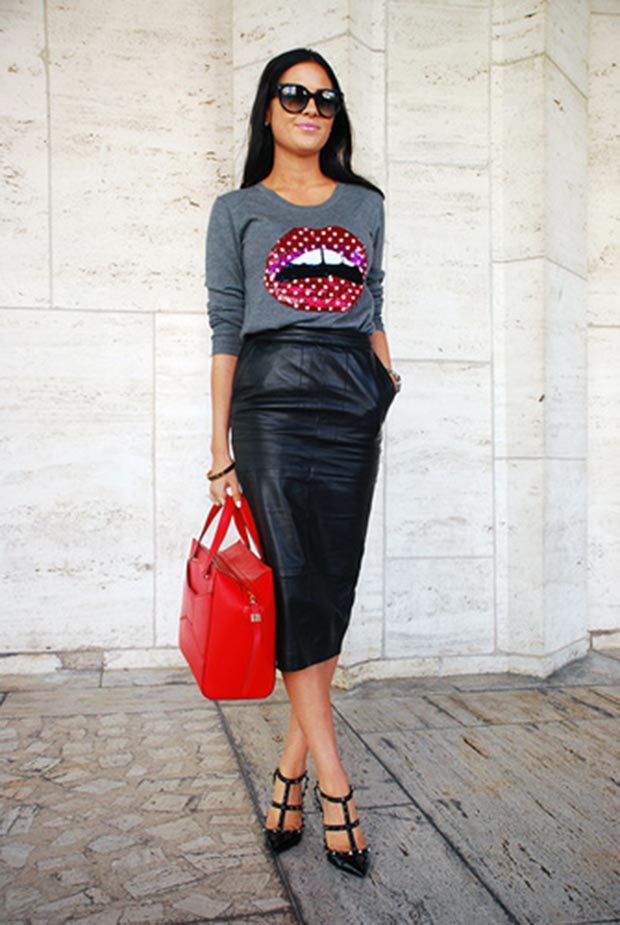 This look will make you stand out from the brightly colored crowd. We love the interesting pairing of faux leather skirt and simple graphic sweater. Why not show your love in leather?
14. Red Peplum Top Outfit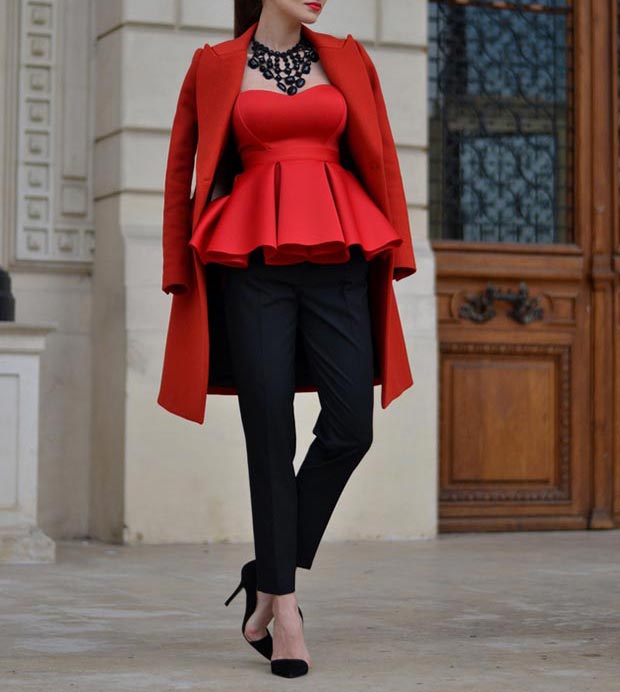 As you can see, the ultimate cover-up for Valentine's Day is definitely red coat. This black and red outfit will light your date's fire, we guarantee it! With a peplum top, this look's right on the trend.
15. Floral Dress Outfit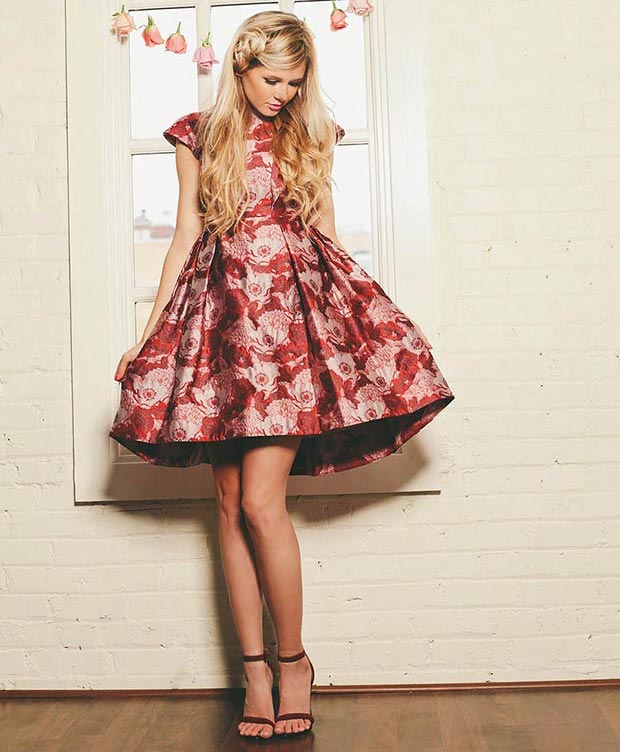 For a dressy dinner, choose romantic floral skirt and pair it with your favorite heels. This outfit will make his heart beat fast.
16. Pink Outfit for Valentine's Day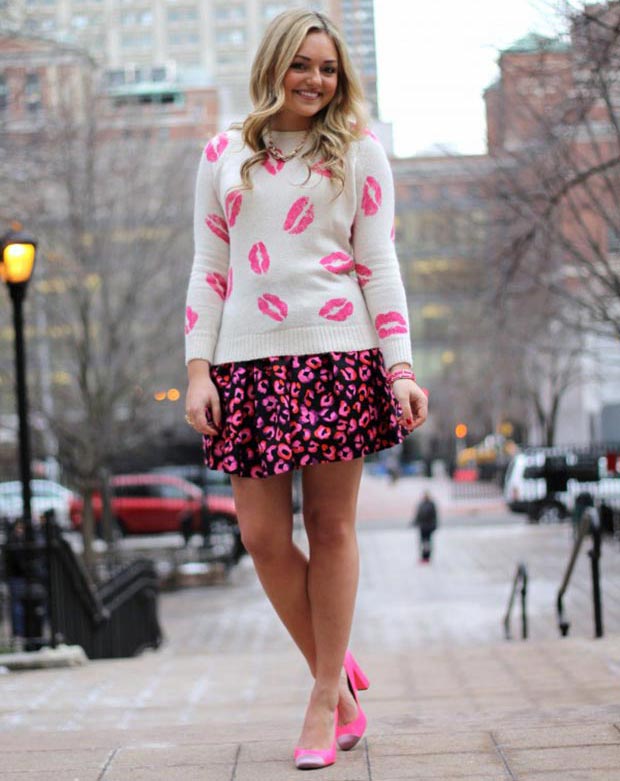 Pink is such a sweet and romantic color and that's why it's a perfect choice for a cute look on V-day. This look is everything but boring!
17. Lip Dress Outfit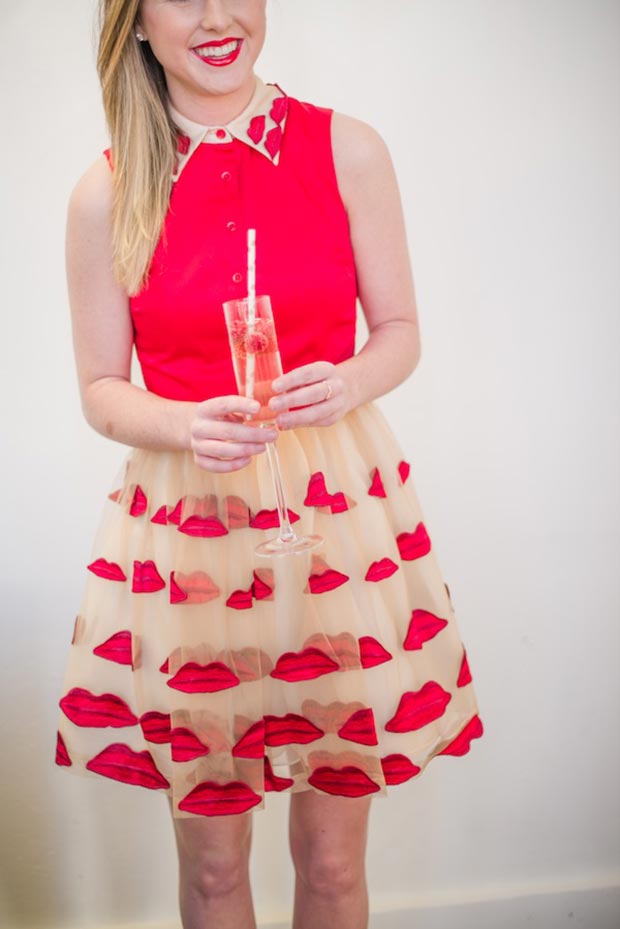 Make a statement in this gorgeous red dress. On Valentine's Day you can't say no to a lip print. Finish the look with some comfy heels in nude or red.
18. All Black Outfit with a pop of Red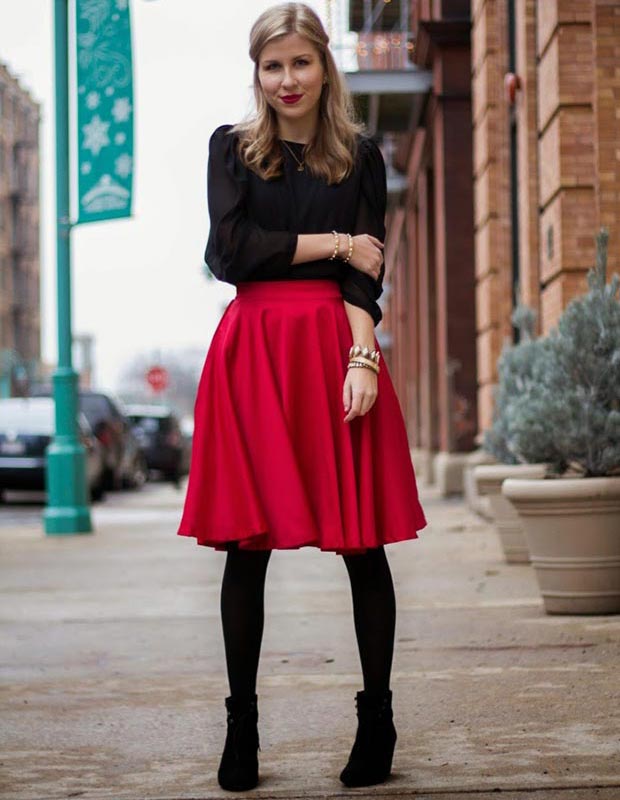 This outfit looks all Valentine-y thanks to the red midi skirt. To give the look a touch of glam, add some gold jewelry.