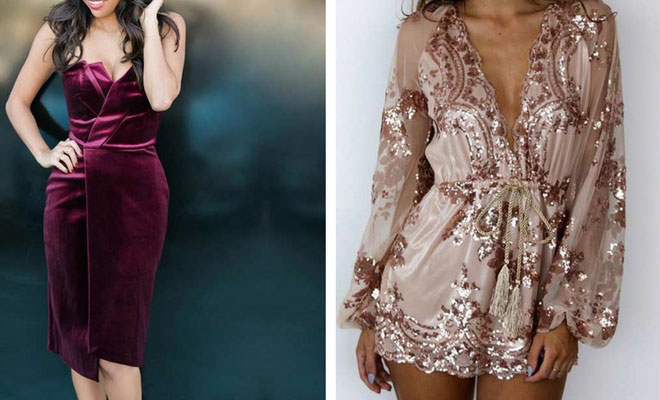 35 New Year's Eve Outfit Ideas
We know how it is – New Year's Even is a really big deal. Everyone gets dress up, everyone wants to party, and when everyone is in the party mood, out comes the party outfits! If you're struggling to think of a great outfit idea for this year's celebrations, don't worry. We've done the hard work so you don't have to, and here are 35 New Year's Eve outfit ideas:
1. Burgundy Velvet Dress
Velvet is a big trend right now, and red / burgundy is a great colour for Christmas. So … when you think about it, this burgundy velvet dress is perfect for the occasion. It's a wonderfully tailored dress, and that's great for when you want something to nip and tuck. Just remember to grab a shawl or a throw – it might get chilly watching the fireworks outside in the cold!
2. Sequin Playsuit
Wow! What a beautiful playsuit! Sequins were made for New Year. They go together much like New Year and glitter goes together. And with these sequins, it'll look like you're wearing glitter, which instantly makes it a winner for us. If you're worried about the cold, team it with tights. You could also consider throwing it on with some thigh-high boots for a real kick-ass look, and we can't help but think a faux-fur jacket over the top would go pretty well too.
3. Pink Sequin Jumpsuit
For then the playsuit is too chilly, how about the pink sequin jumpsuit? We're a little bit in love with this sparkly little number. In fact, there's no "little bit" about it. We're wholeheartedly obsessed. When you wear nude shoes, particularly heeled and pointed shoes, it automatically makes your legs look longer, which is why these nude beauties go so well with this sassy little jumpsuit. We think it's damn fabulous!
4. Little Black Dress
You can't really go wrong with a LBD – little black dress – and it's a great one to wear for the cold too. Team with tights and pretty shoes, or even boots, and you have a look that you could quite easily wear to the office during the day. Glam things up with sparkly accessories for the evening, and you have  one of the most perfect New Years Even outfit ideas.
5. Green Sequin Dress
And for when a little black dress just won't do the trick, how about a little green dress? A little green sequin dress to be precise? And don't worry, if green isn't your colour, we've seen this in red, blue, gold, silver, and a whole host of other colours, all of which can still be worn with tights and heels, just like you can see here.
6. Velvet Top + Midi Skirt
We told you that velvet was a big deal, and if you feel like showing off what mama gave you, how about this sassy little number? It's definitely sexy, and that beautiful midi skirt really gives you a silhouette to be proud of. An pencil-style skirt like the one is so flattering for a wide range of body shapes and types. You could even team it with a body or a sweater if you wanted something a tad warmer.
7. Sequin Bottoms
For when you're not really feeling the dress vibe, how about some sequin trousers instead? There's something very jazzy about these, and in case you were wondering how you would wear them, this look gives you a very classic way. Team a crisp white mens shirt with an oversized black bow tie, and you have a masculine yet feminine look that's just perfect for the New Year festivities. As far as New Year's Eve outfit ideas go, this one is so sparkly, we couldn't possibly ignore it.
8. Metallic Red Dress
Do you remember when we said you could get that green sequin dress in a wife range of colours and shades? Well … Ta Dah! Red is such a classically festively colour, perfect for Christmas, New Year, any time of the year in fact. A dress like this would be an investment – it's not the kind of dress you'll only wear once. We bet you'll be dying for any old excuse to wear it, New Year or no New Year.
9. Black & Gold
Proud of your cleavage? If you've got a killer one, why not show it off? This black and gold dress is just the right amount of sassy-sexy, but not too much. You could still get away with wearing this sultry number when the family are still about. Once again, a nude shoe has been added to lengthen and elongate those legs, but this time, a gold embellished shoe has been chosen. We think it's the perfect choice!
10. Navy Blue Velvet Dress
Velvet can be quite hard to wear, especially if you've never given the fabric a shot before. But it's such a luxurious material, even Princess Diana was said to be a big fan, that we couldn't possibly go without having a little mention for this blue beauty. If you're worried about wearing velvet for the first time, opt for a darker shade. It'll be easier to wear than something really bright, bold and in-your-face.
11. Dark Green Outfit + Red Lips
We're back to the playsuit again, which can only mean one thing – they're very much in trend. Again, this can be quite a daunting move if you've never braved one before, but pairing it with tights can help you to feel less self conscious. Another great tip for when you've got your legs out is to always wear a heel, even if it is only a little one. It'll make your legs seem longer, elongated, and more muscly.
12. Black & Gold Sequin Dress
Of course, when you're wearing a short dress, you can't forget about the important details … such as your legs. You'll need to prepare in advance if you're going for an outfit like this. It's not like you'll be able to rush into the tanning salon last minute on New Year's Even if your legs are much whiter than you'd like. Get your stuff ready early enough, and you won't have any problems. The last thing you'll want is to put your dress on NYE and it not fit … Just try, prepare, and get ready before the big day.
13. Embellished Playsuit
When you're wearing something as bright and shiny as this embellished playsuit, you may find that you'll need to be a tad more conservative with your jewellery choices. Too much bling surrounding this look can cheapen it, so try to go for fine pieces that won't take too much attention from the outfit itself.
14. Gold Sequin Dress
A wrap-around dress is perfect for a number of occasions – for when you're not feeling your best, for when you've just had a baby, for when you're trying to lose those post-Christmas pounds … It's a flattering dress-type, and one that easily be made bigger or smaller, making it perfect for maternity, or just after. Plus … it's beautiful. Don't you think?
15. Velvet Jumpsuit
That 70's kick flare style is back again, but when you take a peek at this blue velvet jumpsuit, we're sure you won't be complaining. Elegant and simple, it's quite daring in the cleavage department, but if you're feeling self-conscious, you could always throw on a lacy bandeau bra. We're a little in love with this one – how about you? (Plus it'll be warmer than a legs-out playsuit!)
16. Sequin Party Dress
Next, we have a stunning sequin party dress. The dress is quite short and it features long sleeves. It is a beautiful and glitzy dress that is perfect for NYE. You can buy dresses like this online. Look for a similar color for a glam outfit or you can be more bold and choose bright sequins like gold, blue or pink! Either way, you will look fabulous.
17. Black and Gold New Year's Eve Outfit
This next outfit is one of our favorites! Here we have a glam and gold NYE outfit. This look features a black sweater that is worn with a gold sequin skirt, pantyhose and a black blag and shoes. It is a chic, comfy and easy to wear look. Recreate this or swap the shoes for black boots if it is too cold. This would be great look for a house party.
19. Chic Sweater with Edgy Faux Leather
If you want to look cute but comfortable, then this is for you. This outfit features a chic sequin sweater that is worn with edgy faux leather leggings. We love this combo of pretty sequins with rock chick leather. The sweater is from French Connection but currently it is sold out. You will be able to find similar sweaters and leggings online.
20. Sequin Dress with a Tailored Jacket
We love this next outfit! It is trendy, glam and easy to wear. Here we have a sequin midi dress that is paired with a white tailored jacket. The color combo is stunning and it is still a little festive too. An outfit like this can be worn anywhere from a club to a cocktail party. The sequin midi dress is available at TOPSHOP.
21. Wintry Playsuit
Playsuits are usually worn in the summer because of the short legs. This next fashionista shows how to wear one for a wintry NYE event. She is wearing a stylish sequin playsuit with pantyhose and stylish gold accessories. As you can seem the dark colors and covered legs transform this from a holiday outfit to a glam, evening one. You can buy playsuits like this online and in any color, this particular one was from Zara.
22. Oversized Sweater and Sequin Trousers
Oversized sweaters are comfy and casual but they can be glammed up for special occasions too. Here is a great example. This outfit features a black sweater with black sequin leggings. She is also wearing black shoes and a red bag. This is a glitzy and cute outfit that is perfect for NYE.
23. Sparkly Dress with Thigh High Boots
If you love statement making dresses, then this is perfect for you! This look features a short, black sequin dress. It has been worn with thigh high boots and gold accessories. A dress like this will wow at any NYE event. You can recreate this look or wear a similar dress with pantyhose and boots. The dress was bought from Zara.
24. Sequin Top with Stylish Skirt
Next, we have another sparkly sequin outfit to show you. Here we have a sequin top with a short and stylish skirt. For this, a sequin body suit from Express was worn but you can wear a sequin top if a bodysuit is too uncomfortable to wear. The skirt is also available from Express too. This is the perfect party outfit.
25. Trendy Party Dress
The next idea features a trendy party dress. This dress has a low neckline, side split and there is a stylish belt too. It is a beautiful wrap dress that can be as glam or as low-key as you like. You will be able to find similar dresses online and these can be worn with strappy heels, wedges, boots and more.
26. Sparkly Trousers with a Sweater
Don't really like wearing dresses but still want to look glitzy and glam? If so, you need to see this outfit. Here we have gold sequin pants that are worn with a chic sweater. This is such a trendsetting idea! With this outfit, you can be comfortable and party ready. These are Free People Night Moves Sequin Harem Pants that you can wear with any top. We love this outfit.
27. Floor Length Gown
If you really want to wow this NYE, then this is the outfit for you! This outfit features a floor length gown. The dress is a stunning blue color and it is covered in sequins. A dress like this would be great for more formal events. You can recreate this look or use it as inspiration to create your own glam NYE outfit. There are tons of dresses like this in so many different styles and colors.
28. Stunning Sequin Jumpsuit
We love this next outfit, it is another one of our favorites! Here we have a full black sequin jumpsuit. It is so stunning and the sheer sleeves look amazing. This is an outfit that will make sure all eyes are on you! You can buy sequin jumpsuits online and these will look amazing on everyone. Recreate the black look or be bold and try a different color. Gold or silver would be fabulous!
29. Stylish Party Dress
Next, we have another stylish party dress to show you! This one is long, off the shoulder and it is covered in sequins! It is a statement dress and it looks quite comfortable too. You won't have to worry about it clinging or riding up because of the loose and long fit. It is a beautiful dress and this can be worn in different ways. You could even wear a similar style dress with a belt.
30. Faux Leather and Velvet
Like edgier fashion? If so, this is for you. Here we have a trendy NYE outfit. The top is velvet with statement sleeves and she is also wearing faux leather shorts. This look is finished off with a trendy belt. We love the combo of leather and velvet, it is perfect for those who like to let out their inner rock chick. The top is from Zara and you can buy shorts like these online.
31. Sequin Trousers and a Blouse
The next outfit is another one with sequin trousers. This time the outfit features black sequin pants with a beautiful white blouse. It just shows how you can pair sequins with anything from a cozy jumper to a pretty blouse. This is a gorgeous outfit that will suit everyone.
32. Bright Dress with a Bold Coat
Love colorful clothes and outfits that make a statement? If so, this is the perfect look for you! Here we have a multi color sequin dress that is worn with a bold blue coat. We love the coat and you could wear this after NYE is over. You can find similar coats and dresses online. This outfit is great for a party!
33. Black Sweater with a Gold Skirt
Earlier in the post we featured a black sweater and gold skirt combo. If you loved that idea, then take a look this one too. This is another version of the look. A black sweater is worn with a gold skirt but this skirt is long and more unique. It is chic and stunning outfit that will be amazing for any NYE event.
34. Sexy Sequin Dress
Next, we have another sequin dress. This is quite short and it has a sexy backless feature. A dress like this is perfect if you are celebrating NYE with a night on the town. You can find dresses like this online. So, recreate this or you can try a similar dress in a different sequin color.
35. Chic Outfit with Bold Shoes
If you are not ready to let go of festive colors like red when NYE arrives, then this outfit is for you. Here we have the popular sequin pants and sweater combo. This time though, the outfit features bold red shoes too. An outfit like this celebrates the whole of the holiday season all in one look.
Getting your New Year's Eve outfits ideas together early enough is the key to having a successful night. The earlier you're prepared, the earlier you can rectify any problems, such as the wrong footwear, for example, or even the wrong underwear. With looks like these, the correct base is important, and that means getting the right undies!
We hope you have a great New Year! And we can't wait to see what you lovelies chose to wear for the occasion!