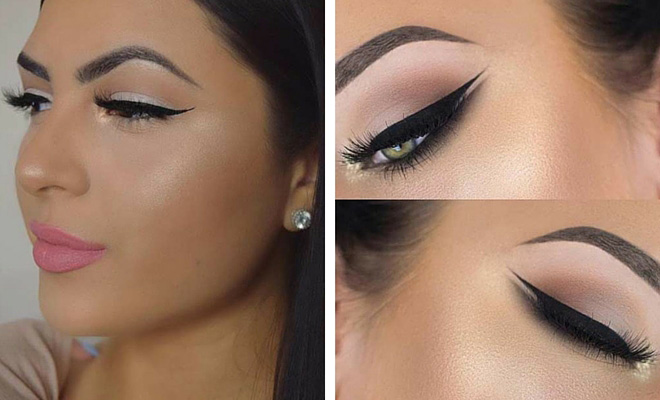 Instagram
Beauty
31 Beautiful Wedding Makeup Looks for Brides
By
|
21. Cut Crease + Glitter Lower Lash Line
This is a photo ready look.
Cut crease with a glitter lower lash will instantly make your eyes look wider and brighter.
22. Soft, Peach Look for Blue Eyes
Peach tones look stunning with blue eyes.
The earthy peach tone will enhance your blue eyes and make you feel like a Princess. Don't be overwhelmed with all the different colours and techniques. You know what looks good with your eye colour so go with your heart.
23. Champagne Eyes
Have a toast with champagne and wear champagne on your eyelids to celebrate your wedding.
Champagne eyeshadow is the must have for a wedding. It's chic, timeless and goes with everything. Make your dark eyes stand out with this stunning champagne colour eyeshadow. Apply it to your eyelids and the inner corner of your eyes for a wide-eyed look.
24. Silver Glitter Eyes
If you prefer silver rather than champagne or bronze shades, try this.
It will immediately boost your confidence and silver will look amazing with your wedding dress.
25. Peachy Brown Smokey Look
Smokey eyes are sexy, classy and perfection.
Mixing your smokey eyes with a peachy tone will highlight your eyes and add a warm tone.
26. Natural and Simple
If you want to keep your makeup natural looking, add a rose gold or pink shimmer to your eyelids.
This glossy shade will set highlight your whole face and add a deep natural looking glow to your skin. If you choose to not have false eyelashes, this eye makeup will look equally stunning, with or without false eyelashes. The perfect lip colour for this would either be a light pink or a nude colour with a matte finish.
27. Dramatic Cut Crease
If you're wanting a heavy, cut crease makeup that will last all day, take a look at these photos.
There's no doubt that this is a heavy, deep and sensational look. It's all down to you, the bride, on what you want for your special day. Bear in mind that it will be a long day so you do need your makeup to last and this is guaranteed to do so. The heavier the makeup, the better at staying put. This dramatic cut crease will catch everyone's eye and make you look stunning.
28. Thick, Black Lower Lash Line
Black think eyeliner can do wonders for some eyes.
It can make your eyes seem smaller and even make your eyes sparkle. By applying a lighter eyeshadow you will create a solid and bold contrast between the two. Don't forget to add the lighter colour to your tear ducts too.
29. Perfect Wedding Look
This style is classy, elegant, feminine and perfect for your wedding.
Make sure you blend the colours on your upper eyelids so you can see the different colours shining through. A nude, pink, coral, red or even a clear lip gloss will look divine. Many brides are also opting for a mauve colour which is a pale purple shade – this would be perfect as it would match your eye makeup. Whatever you choose, it will complement your makeup.
30. Golden Eyes
Golden eyeshadow works well with any eye colour.
Whether you have blue, green or brown eyes, this will look fantastic. Define the bottom of your eyes with a thick black liner to revitalize your golden eyelids.
31. Smokey Outer "V"
For intense and dramatic makeup, you could opt for this.
Mix smokey and orange shades to create an outer "V" section and boost your eyes. This is a unique bridal look and looks amazing for photos. To ensure you have fuller looking eyelashes, apply two coats of mascara and a pair of natural looking falsies. With this trick, your lashes will look natural, long and striking.
Whatever you decide upon, if you are having a makeup artist on the day, ensure you schedule an appointment for a makeup trial a few months before your wedding day. The sooner you choose your colours and makeup look, the earliest you can relax and not worry.