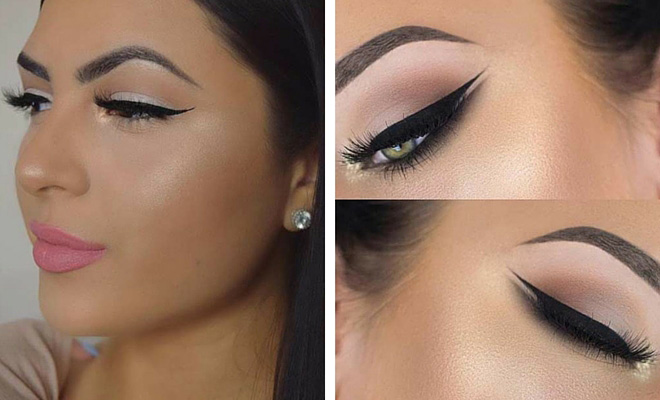 Instagram
Beauty
31 Beautiful Wedding Makeup Looks for Brides
By
|
11. Pink Glitter Eyes + Pink Lips
Glitter can be a girl's best friend, especially on her wedding day.
Glitter on your eyes, as well as your lips, will definitely stand out. This is makeup look is soft and girly. As you can see, you don't need to use bright colours to sparkle.
12. Smokey Brown Cut Crease
Add a dramatic stare by having winged eyeliner and cut crease look.
This is a heavier look compared to your standard bridal makeup but it's whatever you feel comfortable and special with during the day. Every bride is different so don't be worrying about whether this is too heavy, it's your day and you make your own rules. This cut crease looks perfect in brown.
13. Glitter Lower Lash Line
Instead of having glitter on your eyelids, try adding it to your lower lash line.
This will widen your eyes and make your face look full of life. Go simple on your eyelids so the focus is all on the lower lashes.
14. Perfect Look for Brides with Blue Eyes
Do you have blue eyes?
We all want to show off our gorgeous eyes and this makeup look is ideal for brides-to-be with blue eyes. Soft, neutral colours with a nude lip colour looks angelic. Use white eyeliner to line the inner water line, which will brighten up your eyes and make them appear bigger. This is timeless and elegant. In a few years down the line, you will look back on your wedding photos and you'll be glad you decided on this makeup.
15. Red Lips
Recently, more brides are opting for sexy red lips.
It can be hard to find a perfect red lipstick at the best of times, let alone for our wedding. You need to be confident that it will stay on all day, but there are so many different brands out there, so do not worry. Being a fan of red lips can benefit your wedding in many ways. It can tie in with your theme and it can be a vintage inspired look. Applying red lipstick can sometimes be tricky so practice before your big day. To ensure that your red lips last all day, ensure you apply a thin layer of primer or foundation to your lips before you apply your lipstick and drink from a straw during the day. Before you walk down the aisle, check your teeth to make sure there is no lipstick on them! Keep your eyelids simple and glitter free. The emphasis must keep to your red luscious lips. Use a red lip liner to make your lips look bigger and fuller.
16. Sparkly Eyes with Long, Voluminous Lashes
It's all about the eyes.
When your husband-to-be looks into your eyes, he will think he's the luckiest man alive. Make him stare at your gorgeous eyes by having sparkly and voluminous lashes. If you're uncomfortable with false eyelashes, maybe you could think about getting eyelash extensions a few days before.
17. Makeup Look for Brown Eyes
Brown eyes look incredible with brown glitter eyeshadow.
Make sure you use a brown eyeshadow for underneath your eyes and slightly smudge to add effect.
18. Sparkly, Romantic Eyes
Wearing glitter for festivals and other events can be simple.
Wearing glitter for your wedding can be a different story. You need to think about the colour, the texture, will it go with your dress, your wedding theme and even your lip colour. This sparkly, romantic look will go with any dress and all you have to think about is your lip colour. Go with a nude lip-gloss or a nude matte lipstick.
19. Wedding Makeup Look for Brunettes
Wearing shades that suit our hair, is vital to our style.
We love this style for brunettes. Glistening eyeshadow in this tone complements dark hair. Dark eyes and dark hair goes together so well with shimmering eyeshadow.
20. Smokey Glam
When it comes to your wedding day, anything you want goes.
If you want smokey eyes on your day, you will have smokey eyes. Getting married is a big step and you need to feel yourself and comfortable all day. Take a look at this gorgeous, glamourous, smokey eyes look. Your face will look flawless and sophisticated all day. If you decide on doing your own makeup like Kate Middleton did on her day, make sure you get as much practice in as possible before your big day. The more you practice smokey-eyes, the more you'll be at ease on your wedding morning. We all know what happens when our makeup doesn't go according to plan on a night out, think about how you'll feel if this happened? You need to iron out any creases that you have beforehand so if you come across any makeup problems, you'll know what to do and stay calm.